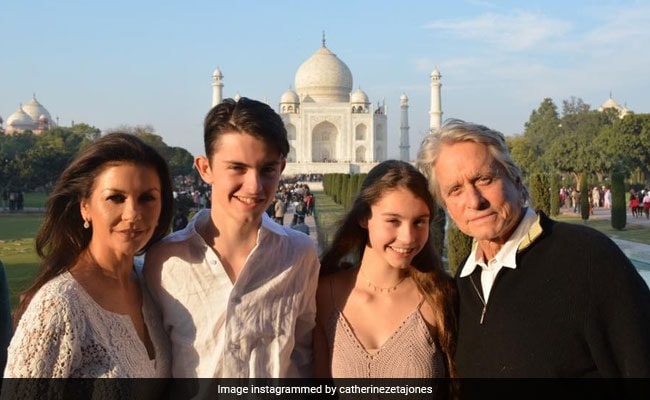 Highlights
Michael Douglas and Zeta-Jones are on their holiday in India
Zeta-Jones shared beautiful pictures on social media
"It was a dream to visit India," Zeta-Jones wrote
New Delhi:
Hollywood couple Michael Douglas and Catherine Zeta-Jones are currently in India on their holiday with children Dylan Michael and Carys Zeta. The couple are making beautiful memories on their family-only vacation by visiting some best places in India and enjoying the Indian culture. Michael Douglas and Zeta-Jones have lots of adventures on their vacation itinerary and are checking them off one by one. They have already made pit stops at some famous places in India, first of which was the capital city New Delhi. From enjoying the breathtaking view of the Taj Mahal at Agra and exploring the streets of Delhi to rejoicing the colours of Rajasthan, Michael, Zeta-Jones along with their children, have done it all - we know all of this because Zeta-Jones, 48, has filled up her social media account with gorgeous pictures from India.
On Friday, she shared a video on Instagram in which she looked excited while observing the colourful outfits somewhere in the streets of pink city Jaipur. "Life in the city. The colours, the sounds, so exciting to be amongst it all," Zeta-Jones Instagrammed. "Excuse me, where are you?" Douglas, who shot the video, asked Zeta-Jones. "I'm in Jaipur. Welcome to Jaipur," she said.
Earlier this week, she shared a video of herself and Douglas walking hand-in-hand in front of the Taj Mahal and wrote: "The Taj Mahal, today in India. Breathtaking to view and experience. It's just the ultimate love story."
A family photo worth looking at:
Besides this, the family also witnessed
the wildlife in Agra. On Wednesday, Zeta-Jones shared a video in which she and Douglas looked amazed as they saw a tiger. "Before breakfast this morning, we watched tigers eat theirs," Zeta-Jones wrote.
The actress also shared that it was her "dream" to visit India. (Thank you, Zeta-Jones for such a sweet gesture)
Zeta-Jones is best known for her roles in films like
Chicago
,
The Terminal
and
Broken City
while Michael Douglas, 73, has appeared in films like
One Flew Over the Cuckoo's Nest
,
Wall Street
,
Solitary Man
and
The American President
.
It was a pleasure looking at your pictures Michael and Zeta-Jones. Visit India again.