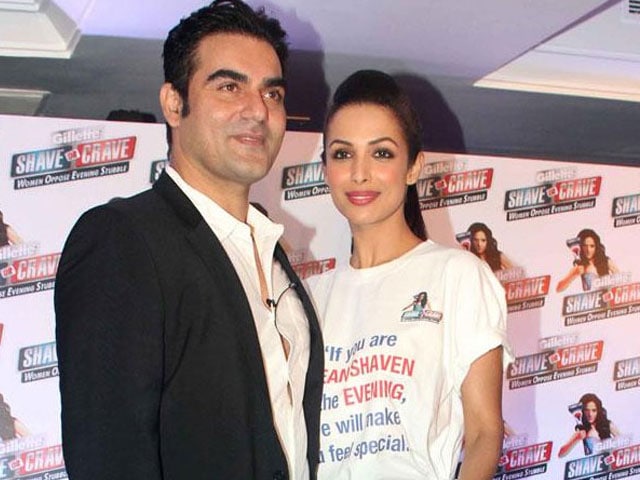 Highlights
Malaika and Arbaaz married in 1998
Malaika and Arbaaz will reportedly file for divorce by yearend
Malaika worked with Arbaaz in Dabangg
New Delhi:
On Monday, celebrity couple Malaika Arora and Arbaaz Khan pleaded for privacy in a joint statement to
DNA
that revealed they had separated. It was, or appeared to be, the final word after weeks of rumours that suggested their 18-year marriage was over. But the story continues to be told in the press with the Mumbai Mirror now reporting that Arbaaz, actor Salman Khan's younger brother, may have made the statement singly without Malaika's involvement.
Mumbai Mirror
quotes an unnamed 'friend' of the couple as saying: "This statement is only to try and salvage his tarnished reputation. There is too much pressure on him from his family to separate with dignity."
The 'friend' also told
Mumbai Mirror
that Salman, 50, has been ordered to stay out the matter by father Salim Khan and that Malaika's family are none too happy with Arbaaz: "Malaika's sister, Amrita (Arora Ladak) is also furious over Arbaaz's insistent efforts to reconcile with her sister, despite her repeatedly making it clear that Malaika no longer wants to be a part of the Khan family."
Arbaaz responded to the Mumbai Mirror report in a series of angry tweets on Tuesday:
No more reaction from me henceforth, If they are not sensitive and don't respect people's privacy then they are not worth losing sleep over

— Arbaaz Khan (@arbaazSkhan) March 29, 2016
This is what Mumbai mirror decides to print. Look in the mirror first.. https://t.co/aGkvgFtnDB

— Arbaaz Khan (@arbaazSkhan) March 29, 2016
You got to be dumb and bankrupt for news to write the same bullshit over and over again. Get a life guys, show some respect. It's not a joke

— Arbaaz Khan (@arbaazSkhan) March 29, 2016
Not a day passed after giving a joint statement and saying not to believe sources or supposed friends...

— Arbaaz Khan (@arbaazSkhan) March 29, 2016
On Monday, Malaika shared Arbaaz's Instagram post with a link to the joint statement, which suggests she wasn't entirely in ignorance.
The statement in
DNA
said that the couple were taking a break and dismissed rumours of third party involvement and Malaika's having consulted a lawyer. It seemed to be endgame after weeks of silence from the couple. (Also Read:
Arbaaz Khan is 'Afraid of Losing' Malaika. Here's Why
)
Malaika, 42, and Arbaaz, 48, married in 1998 and have a son together. Malaika has starred in movies like
Housefull 2
,
Welcome
and
Dabangg
. Her husband Arbaaz produced and starred in
Dabangg
while brother-in-law Salman played the protagonist in the movie.