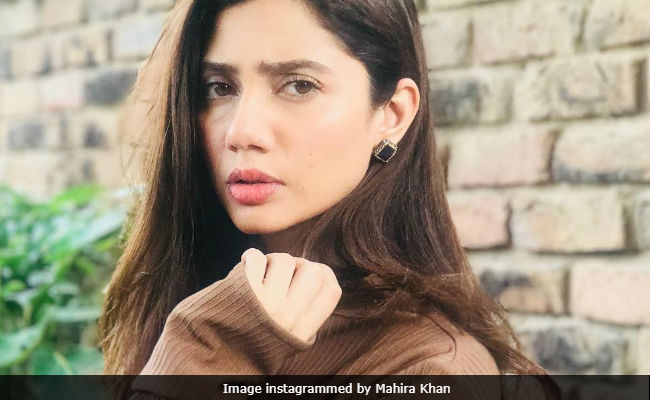 Highlights
Mahira Khan's Verna released to mixed reviews
Some Instagram users liked the said disclaimer, said it was 'necessary'
Just go wherever you want to go: one user told Mahira
New Delhi:
Actress Mahira Khan's embattled film
Verna
recently hit the screens to mixed reviews. The film was
initially not cleared for release because of the film's plot
- rape of a woman by a governor's son - which was slammed by the Pakistani Censor Board. Now that the film has released, Mahira Khan, who plays a rape survivor in film, shared what she says is the disclaimer shown before the film begins. It reads: "Everything in this film is imaginary. Imaginary because the reality is too bitter to be told or shown. Events shown in this film are jokes compared to what has actually been happening in countries like ours." It is not known if the disclaimer below actually displays before the film or if Mahira shared it to highlight the sorry state of affairs. In either case, the point Mahira wanted to make was made with this Instagram post:
Several Instagram users praised Mahira's bold move and said: "This thing was necessary." But there were also those, who did not appreciate "the disclaimer" (and also the film) and said: "Nothing is happening in our country. Other countries have much worse situations. If you don't like it here... just go wherever you want to go... just leave my country."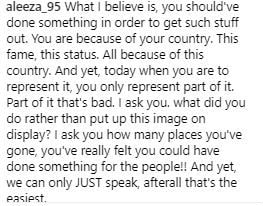 Verna
is directed by Shoaib Mansoor, who has earlier made critically acclaimed films like
Bol
and
Khuda Ke Liye
, which also depicted certain follies of the state of affairs in Pakistan. "Why Shoaib Mansoor never finds a positive side of our country to make a movie on?," objected one Instagram user.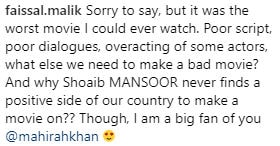 The effect of the hate comments was dimmed by some positive comments like these: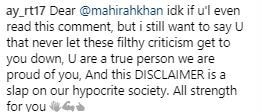 Initially, Pakistan's Central Board of Film Censors took time to review the
Verna
while he provincial censor boards, which operate independently in Pakistan's Sindh, Punjab and other area did not issue any certificate for the screening. A member of the Punjab Censor Board told news agency PTI that they had found several objectionable scenes in the film. "Firstly, it shows a governor's son involved in a rape case - which was the biggest objection. Secondly, it includes many bold dialogues and scenes. The general plot of the movie revolves around rape, which we consider to be unacceptable," he was quoted as saying.
But
Verna
released as per schedule on November 17.