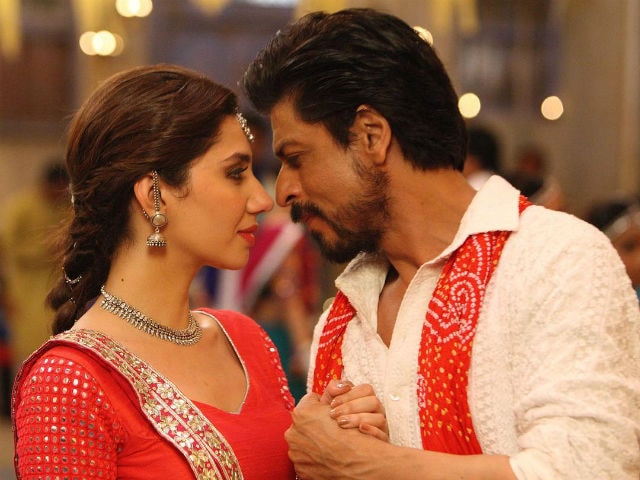 Highlights
'I wasn't in my surroundings and my comfort zone,' said Mahira
'There were so many things I experienced,' Mahira added
'Don't know whether I could put Raees into one word,' she said
New Delhi:
For Pakistani star Mahira Khan,
it was like a dream come true to make her Bollywood debut
opposite Shah Rukh Khan in
Raees
. A star-struck Mahira did not shy away from expressing her excitement and her thoughts about how lucky she was to be chosen as the "face" opposite SRK in Rahul Dholakia's
Raees
. However, as they say, there's many a slip between the cup and the lip, and Mahira's hopes of promoting the film and being on the same platform as SRK were dashed. Weeks after the film released, Mahira told NDTV in Karachi, "It's my film, it'll always be my film. And yes, I would have loved to promote it in India because I think a lot of the fun is promoting it, going out there meeting people, doing interviews - of course I would have enjoyed that. But am I upset about it. No, I am actually very happy, I am part of the real promotions - whether it's the songs or the trailers."
Ahead of the release of Raees, Mahira spoke to
Pakistani publication Dawn
about how disappointed she was to be excluded from promotions - "it's my right," she said. Now, she tells NDTV, "The kind of love I've received is honestly enough. And I can say this now after the film has released. Before the film had released I was like what's going to happen. But once it's successful and once I've received all the love - honestly everything else seems so little compared to it."
It wasn't meant to happen this way but the Uri attack, the surgical strikes and the ongoing cross border strife diminished cultural exchange between the countries. So much so, Shah Rukh Khan visited Maharashtra Navnirman Sena chief Raj Thackeray,
reportedly to reassure him that Mahira Khan would not be involved in the promotions of Raees
. Months earlier, Mr Thackeray had attempted to stall the release of Karan Johar's film
Ae Dil Hai Mushkil
, in which Pakistani star Fawad Khan had a small role.
There was more disappointment in store for Mahira after Raees opened in India
. Pakistan lifted the ban it had imposed on screening Indian films last week and a bunch of films were said to be pending clearance from the country's Censor Board. Hrithik Roshan's Kaabil made the cut but
Raees
was declared "unfit" for screening as it allegedly cast the Muslim community in an unflattering light.
Raees
stars Shah Rukh as liquor bootlegger Raees Alam, who operates in 1980s Gujarat.
Mahira Khan features as Raees Alam's wife in the gangster drama
. However, Mahira said Raees was all she had wished for and even more.
"It's like a bucket wish list - and it's a dream come true. It's nothing I pursued too hard and nothing that I was actively wanting to get. It just came my way and I feel very grateful.
Raees
also means two years of experience. It was like a school, almost. You know, Asim Raza (who directed her in 2016's Ho Mann Jahaan) says take it like you went to university and that's what it really was. I wasn't in my surroundings and my comfort zone and there were so many things I experienced, so many relationships that I made. So, there's so much, I don't know whether I could put
Raees
into one word. But there are so many things I've learnt on set and outside of set. I've learnt what it means to really work hard, work in a set up that is that big. I've learnt patience. I've learnt nothing lasts forever, good or bad -
Raees is very special
," Mahira told NDTV.
The actress made her acting debut opposite Atif Aslam in the 2011 drama Bol. The same year, she became a household name after she featured in the hit Pakistani TV series
Humsafar
, co-starring Fawad Khan. Though another Bollywood film at the moment seems unlikely, Mahira Khan said she has nothing planned as of now.
"I can't plan, I can't plan, I cannot - I can tell you one big goal out in the future, another dream I might have, but these things I can't plan. What will happen in next? Will I get another film? Will I be able to work there again? Or here? I really don't know. I just know what I am doing right now - I am really happy
Raees
is successful. Right now, I just feel all the hard work and everything that came with it has paid off," Mahira added.
Video: What Mahira Khan Said About The Success Of Raees
Mahira Khan, 32, who is a single mother, recently told the press that she is an "anomaly in Pakistan" and hoped there would be many like her in the future. "I am an anomaly in my country. I hope in the coming years, there will be more women like me," she told reporters.
Raees
and Hrithik Roshan's
Kaabil
released on January 25.