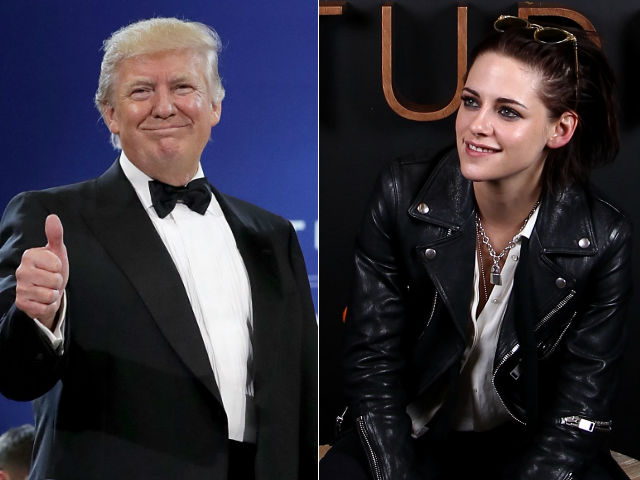 Highlights
Donald Trump had advised Robert Pattinson not to reunite with Kristen
"At that point, he was just, like, a reality star," said Kristen
Kristen Stewart is promoting her film Come Swim
New Delhi:
Actress Kristen Stewart has described US President Donald Trump's tweets
about her private affairs
some years ago as 'obsessed' and 'f*****g crazy' in an interview to
Variety
. President Trump, who has newly assumed office over the weekend, tweeted a series of comments when Kristen and actor Robert Pattinson were ending their romance in 2012. Asked by
Variety
, Kristen says now, "He was mad at me a couple years ago, really obsessed with me a couple years ago, which is f*****ing crazy. I can't even understand it. I literally cannot even understand it. It's such far-out concept that I don't want to believe that actually is happening. It's insane." The 26-year-old actress was promoting her new film
Come Swim
at the Sundance Festival.
In 2012, Kristen Stewart was less bothered by Donald Trump's tweets than she is now. "At that point, he was just, like, a reality star. I had no reference. It wasn't like really a thing. But in retrospect, somebody reminded me of that and I was like, 'Oh my gosh, you're right!'" she told
Variety
.
"He's probably going to tweet about this," added Kristen, who is not on Twitter herself.
In 2012,
Twilight
co-stars Kristen Stewart and Robert Pattinson broke up very publicly after the actress was pictured in an embrace with Rupert Sanders, her
Snow White And The Huntsman
director. In a series of tweets, including
the typically offensive-worded
one below, Donald Trump advised Robert Pattinson
not to reunite with his former girlfriend
.
Robert Pattinson should not take back Kristen Stewart. She cheated on him like a dog & will do it again--just watch. He can do much better!

— Donald J. Trump (@realDonaldTrump) October 17, 2012
Donald Trump is now the President of the USA and Kristen Stewart told
Variety
that while she's not the most 'politically charged person,' the Trump presidency is less about politics and more about being 'humanitarian'.
Kristen Stewart, who began as a child star, was seen in the movies
Cafe Society
and
Personal Shopper
last year.
Come Swim
is a short film she's directed and she will next be seen in
Lizzie
, a biopic of murderess Lizzie Borden.