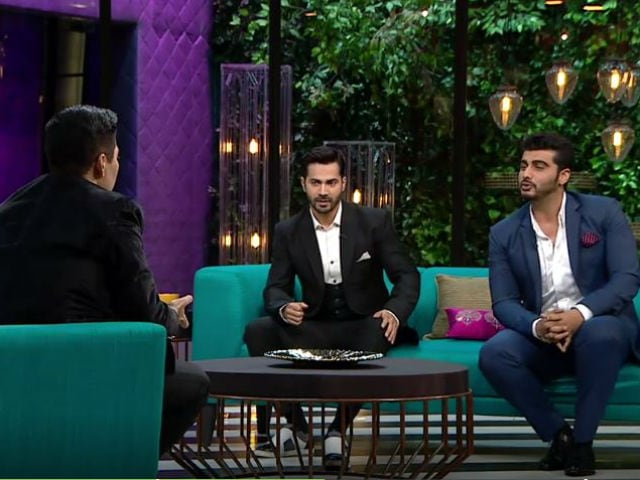 Highlights
Varun and Arjun were on the third episode of Koffee With Karan season 5
Both Varun and Arjun would 'kill' Katrina Kaif in the Marry-Hook-up-Kill
Arjun won the rapid fire round
New Delhi:
Varun Dhawan and Arjun Kapoor had a tough job
, we'll give them that. It was never going to be easy following an act like
Twinkle Khanna and Akshay Kumar
- and
Shah Rukh Khan and Alia
before them - so yes, Varun and Arjun had big shoes to fill on the last night's episode of
Koffee With Karan
Season 5. But they could have tried. Host Karan Johar tried every weapon in his arsenal - insults, cajoling, sarcasm - to provoke his recalcitrant guests into making the Rapid Fire interesting. There were a couple of sparks but mostly it was a slow, boring affair.
First in the line of fire was Varun, who lost the prize hamper to Alia Bhatt in the last season and so had incentive to win this time. But alas.
Pretty much the only fun thing we learnt was that both actors want to 'kill' Katrina Kaif, for reasons best known to themselves. Also, Varun Dhawan is very competitive. We would like to remind him that when another competitive actor Emraan Hashmi was pitted against veteran Mahesh Bhatt in the last season he came up with such brilliant answers that even Karan was left embarrassed.
Varun, 29, answered the 'rapid' questions at a snail's pace. He was embarrassed and uncomfortable over having to pick who he would marry, hook-up with or kill out of Deepika Padukone, Anushka Sharma and Katrina Kaif.
'I would kill Katrina for reasons,' Varun said. Karan was quick to ask those reasons. Varun replied, 'Can't do anything (else)". Mystified? So are we. So was Karan.
It was easier for him to choose between the men. Varun would hook-up with Sidharth Malhotra because he is a "good looking guy" and kill Ranveer Singh because "he is doing too well." He tried to pad it up by saying Ranveer is an inspiration to which Arjun asked, "He is an inspiration you want to kill?" Varun responded with, "Already too inspired don't want more." Maybe we are just spoilt now be Twinkle Khanna's sharp repartee.
All we got to know about Varun after the Rapid Fire is that Nargis Fakhri is his all-time favourite.
Next was Arjun Kapoor, who was slightly better.
So Arjun also picked Katrina to 'kill' in the Marry-Hook-Up-Kill game. Karan even remarked that Katrina is "off the guard for both of you, I wonder why," to which Arjun smirked and said "You should ask." We'll give him extra points for that.
When it came to the men, Arjun would marry Ranbir for the 'prestige.' He seemed quite thrilled about the prospect of becoming the
bahu
of the 'first' Kapoor family and also because Ranbir has 'good taste.' Arjun also picked Karan Johar over Aditya Chopra and Shoojit Sircar over Anurag Kashyap.
Asked to pick between Deepika Padukone and Katrina Kaif, however, Arjun fumbled and looked uncomfortable. Perhaps because he's publicly referred to Deepika, his co-star from
Finding Fanny
, as 'bhabhi' in the past? We could be wrong.
Another awkward moment came when
Ishaqzaade
actor had to choose between
Parineeti Chopra
and Sonakshi Sinha, with whom he was rumoured to be in a relationship. Varun tried to rattle him but then Arjun calmly chose Parineeti.
Of course, Arjun Kapoor won because he was sharper with his answers. He got the hamper and then offered it to a sulking Varun Dhawan. Karan had to say, "You know I love you, right?"
Our verdict: dull. *Eagerly awaiting Ranbir Kapoor and Ranveer Singh on the next episode*