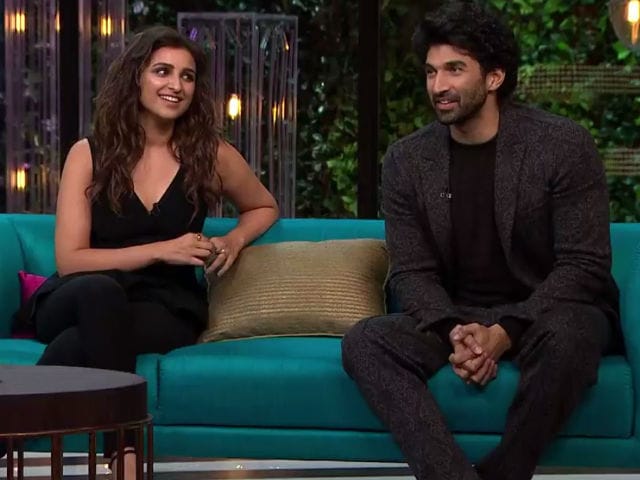 Highlights
Parineeti Chopra said she's scared of Katrina Kaif
Parineeti talked about her love-hate relationship with Varun Dhawan
She also talked about the low phase of her life and depression
New Delhi:
Filmmaker Karan Johar is quite a collector when it comes to his talk show
Koffee With Karan
. After last week's
reverberating episode with Ranveer Singh and Ranbir Kapoor
, this week KJo returned with
Daawat-E-Ishq
co-stars Aditya Roy Kapur and Parineeti Chopra on the
Koffee
couch. Parineeti, dressed in a black outfit with messy hairdo and smokey eyes, had all our attention and that of the viewers too. She had quirky answers to Karan's cheeky questions and revealed many, many secrets of her many, many co-stars. In short, she served the
Koffee
, just the way we like. Thank you, Parineeti.
Reminder
: Aditya and Parineeti were also part of the Dream Team entourage including Katrina Kaif, Alia Bhatt, Varun Dhawan, Sidharth Malhotra, Karan Johar and rapper Badshah. There are many references of the tour in the show.
Now, Parineeti and Aditya entered doing Tango and that's says much about the rest of the episode - it was entertaining. Here are the highlights of the show:
Nefarious Affairs?
It all started with Karan Johar's inquisitiveness regarding Parineeti and Aditya's "strange lingo" which they use often. Parineeti started talking about Aditya and her love for linguistics and somehow slipped into 'tales' about Aditya's "nefarious activities that starts after midnight." Apparently, Karan Johar's source told him that there's a new work-out lady every day and Aditya suspects the source is Ranbir and discredited him entirely.
From Aditya to Parineeti, the trio also discussed Parineti's relationship with director Maneesh Sharma. Parineeti said that the rumour had never died only now it's a last season rumour. The current one is that now she's alone and single and depressed.
And back to Aditya, this time discussing Shraddha Kapoor. Karan said that last season when Aditya featured on the show with his
Aashiqui 2
co-star only a "possibly clueless person would say that you were not in a serious relationship with Shraddha." Then he asked was it easy to work with Shraddha again (in
OK Jaanu
). "After the rumoured affair and alleged break-up, it was lovely to work with Shraddha," replied Aditya.
Parineeti also said that she would not be able to date an actor. "I would only date a non-actor," said Parineeti, and Karan interrupted saying, "Yeah, only date a director," and she replied saying: "I'm not a person who'll be able to last long with actors I want to be with a person who'll be obsessed me. I'm not the dating types."
Parineeti is Scared of Katrina Kaif
"But why?," asked Karan Johar, alothough he brought this to our attention.
I'm very scared of her even today. It's like when she enters the gym I raise the speed of my treadmill. She come upto me and say, 'what have you done'and increase five more minutes. "There was a time, during my weight loss year (adding air quotes) when I'd use to watch all her songs and run on the treadmill. I was like, 'her body is the body that i want to have.' There was a day (during the Dream Team tour) when all six of us were in the gym at the same time and I was doing a chillax workout and Katrina was like, 'Pari, workout with me' and I was like, 'gayi yaar.' Katrina is very sweet that ways she takes the time to care. She's a beautiful person even today she helps out with me.
Aditya also confessed that Katrina can be intimidating as she says things with a straight face. In the rapid fire round Aditya said Katrina would make a good principle. Yes, they're definitely scared of Katrina.
Dreaded Rapid Fire Round Round-Up
KJo wanted quick, rapid and fiery answers, and he got some, from Parineeti.
Aditya, like Parineeti thinks Katrina is very meticulous when it comes to workouts and said he'd dare Katrina to get fat. The weirdest rumour he said ahe;s heard about himself is that "I'm dating Rihanna." He revealed somethings about Parineeti - She judges people's character by finger nail and is extremely scared of snakes.
Parineeti started with a quirky disclaimer, "
Main jo kuch kahungi hamper ke liye kahungi
." When asked what the meanest thing she's hear about herself, Parineeti said she read somewhere, "Parinneti looks like a hot air balloon." "It was a true at one point of the time," she added as an afterthought. She made a fantastic
kabhi Khushi Kabhie Gham...
reference saying hottest actor in India is Fawad Khan, only, "Is he still in India, technical problem Mr Raichand."
Parineeti won, enuf said.
Post Dawaat-E-Ishq Phase
Parineeti and Aditya starred in the film whihic tanked at the box office. Thereafter, Parineeti said that she sort of went into depression. "I handled it badly, two washed out films. I had never seen that, I went into a definite low, like even with my financial position. There was a time when I was really depressed. You (pointing towards Karan Johar) know, I've cried in front of you. I always thought I was a strong person but my down time showed that was not. But now I can handle it. Now I know if I ever go through it again, I can handle it." Aditya too wans't thrilled but he said that
OK Jaanu
ensured he couldn't spare much time sulking. "When
Fitoor
also didn't do well, I was depressed but I was lucky
OK Jaanu
came my way and I had something to take my mind off things."
Love-Hate Relationship With Varun Dhawan
At first Parineeti did not want discuss Varun Dhawan (or did she?) and then added, "He's crazy, he would check the lighting before the show. He can be overwhelming. He's like '
mujhe dekho... mere baare me baat karo
.' When Karan suggested there may be some 'sexual tension between Varun and Parineeti," she returned with a 'vehement no' and said, "There' only tension there."
During her rapid fire round Parineeti was asked who would get Varun Dhawan arrested and what said: "I would get Varun arrested for no charges, just arrest him."
When Parineeti Pulled a Leaf out of Karan's Ae Dil
When Karan asked Parineeti to act like a gold digger opposite Aditya playing a rich man, she started acting like Lisa Haydon from
Ae Dil Hai Mushkil
and said, "I love this
vaatavaran
." Karan seemed to have enjoyed that.
Aditya's Brain in a Teaspoon
Aditya's bloopers and inability to catch up at a
F.R.I.E.N.D.S
reference (or any other for that matter) made Parineeti say that because Aditya's brain is the size of a teaspoon. And enacted it.
Aditya goofed up bad in the quiz round too and said that Shah Rukh and Hrithik bond over badminton in
Kabhi Khushi Kabhie Gham...
.
Currently in its fifth season, Karan Johar has so far hosted Shah Rukh Khan and Alia Bhatt (who opened the show's season) followed by Twinkle Khanna and Akshay Kumar and Ranveer Singh and Ranbir Kapoor. The upcoming line up is equally impressive - Salman Khan with his brothers Arbaaz and Sohail will feature in next week's episode
which is also the 100th episode
of the show.
Shahid Kapoor and Mira Rajput
are also in queue.