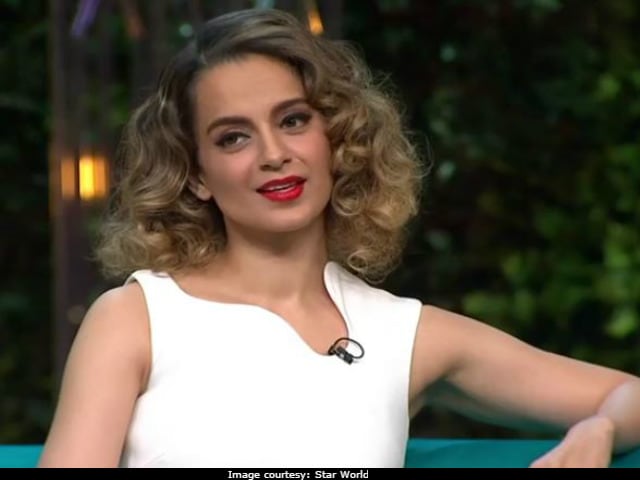 Highlights
'I try and be as normal as I can,' said Kangana
Kangana declared that Karan Johar has "verbal Diarrhea"
Shahid Kapoor briefly joined Kangana and Saif on the talk show
New Delhi:
Kangana Ranaut brewed some good
Koffee
on the
Koffee With Karan 5
episode which aired on Sunday night. However, for show host Karan Johar, the
koffee
must have been really strong as Kangana took him for a ride at every possible instance. On the
Koffee
couch, Kangana was accompanied by her
Rangoon
co-star Saif Ali Khan.
A Koffee surprise came in the form of Shahid Kapoor
, who briefly joined Kangana and Saif on the talk show. From discussing skinny-dipping and experimental sex to being jealous about the success of other stars, Kangana and Saif made their
Koffee
session very, very interesting. Saif Ali Khan also addressed the controversy about naming his son Taimur Ali Khan. Meanwhile, Kangana declared that Karan Johar has "verbal Diarrhea." At some point during the show, Karan was heard saying: "Kangana has really attacked me on this show. I love that!" Umm...Do You?
Here are some of the hand-picked moments from the show. You're welcome.
"Karan, Of Course You Made Fun Of My English!"
Beginning of the show, Karan introduced Kangana as a two-time National Award winner and said that he's a fan of Kangana's performance. Kangana, who simply could not stop at just a 'Thank you,' added: "I'm so happy to hear this from you as well because you've been the driving force in my life. If it wasn't for your rejections and mocking and all those... of course you made fun of my English on this and you made fun of everything. I'm not complaining about it. I'm just saying. Somewhere these things do drive you."
Karan Said Kangana Is Hatke Dukaan Happening
Karan asked if Kangana can be termed as "
Hatke Dukaan
Happening" and she said: "I think that's who I am. Also because I come from a different background. Also, I think with stardom and this profession comes a lot of abnormalities in terms of how your life can be. I try and be as normal as I can." When asked about having friends in the industry, she said: "No, not really. Because I have consciously made efforts to not have friends. Initially I did and it got very complicated."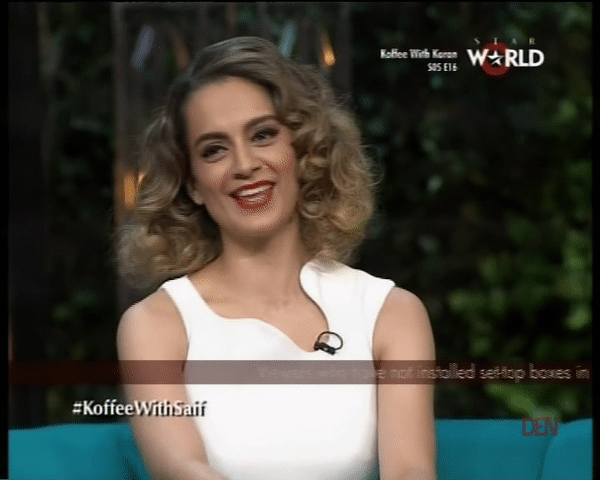 Alia Bhatt's Comments On Kangana's Airport Look
Alia Bhatt had once told Karan Johar: "I love Kangana's airport look but I don't know where she is going." As Saif rolled his eyes, Kangana explained that Alia's response was to the question " 'Who would you like to stalk?' Karan is putting words in her mouth! And now Saif, you're putting words in my mouth to say something."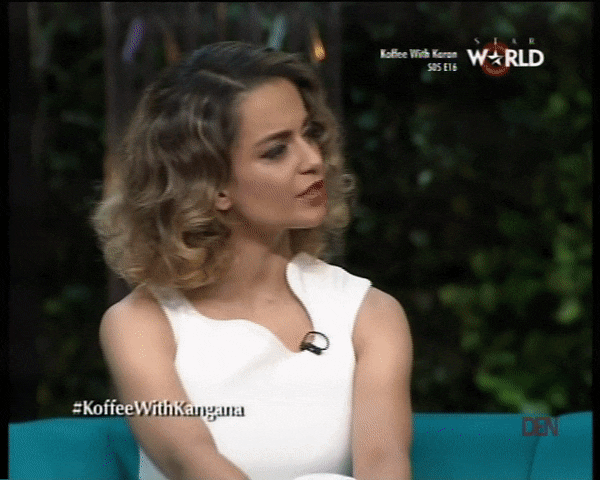 "I Fight With My Directors"
"If a set does not have creative conflict then something is not going right," said Kangana. "It's not about taking instructions, and going about doing things and pleasing people, it's about really collaborating and diving into it. I think my directors really like that about me. And the ones who don't I don't like them either," Kangana added.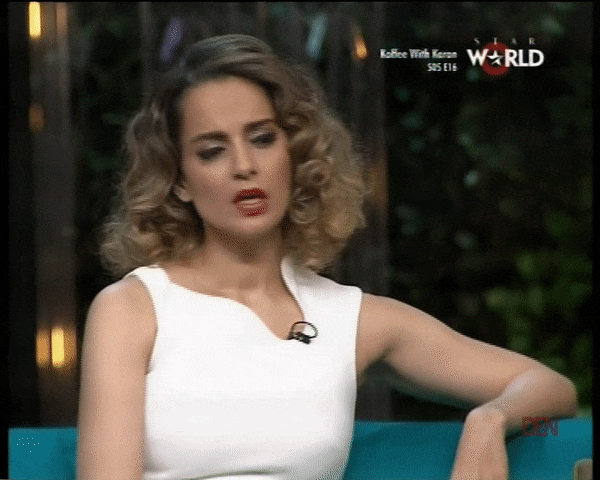 Did You Know, Saif Ali Khan Was Offered Fawad Khan's Role In Kapoor And Sons?
"Wow, wow!" said Kangana. Saif Ali Khan, who gave up the role for personal reasons, confessed: "The wife at home was saying you're being incredibly stupid. Shakun is one of the best directors you'll ever work with."
Been Jealous Of Another Film's Success
Kangana, who was quick to gulp down a shot, said: "
The fact that Dangal made so much money
...like so much?"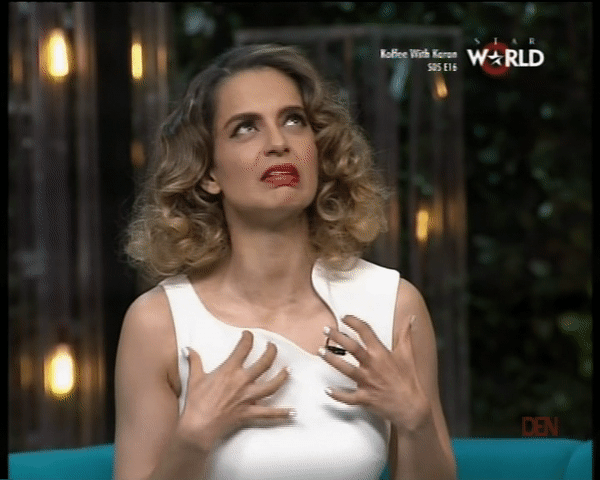 Kangana And Karan Are From The Same Camp
Kangana was asked if she has been experimental in sex with someone of the same gender. Along with the question, Karan added: "I think you're a girl from my hood darling. Sometimes, we could all take some chances." An embarrassed Kangana was made to confess when she said: "A girl has kissed me. I was in California and there was a Spanish girl who fell in love with me. I was drunk and she kissed me. But the sad story is that the next days he showed up in my hotel and said that she's in love."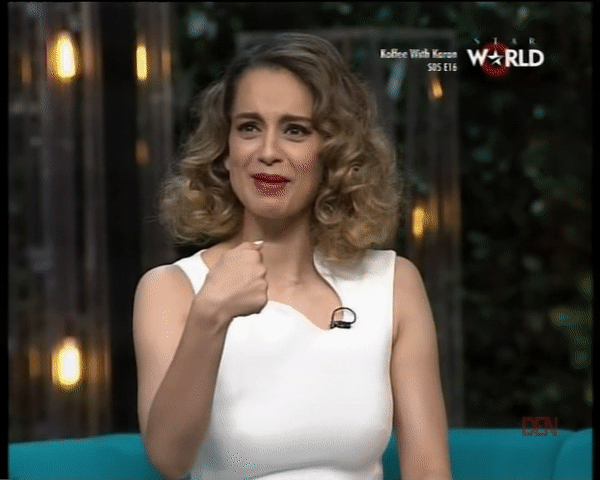 The
Koffee
hamper was undoubtedly taken by Kangana, and Saif did not seem to mind at all.
Saif Ali Khan
, Kangana Ranaut and Shahid Kapoor will work together for the first time in the vishal Bhardwaj-directed war drama Rangoon, which is scheduled for February 24.