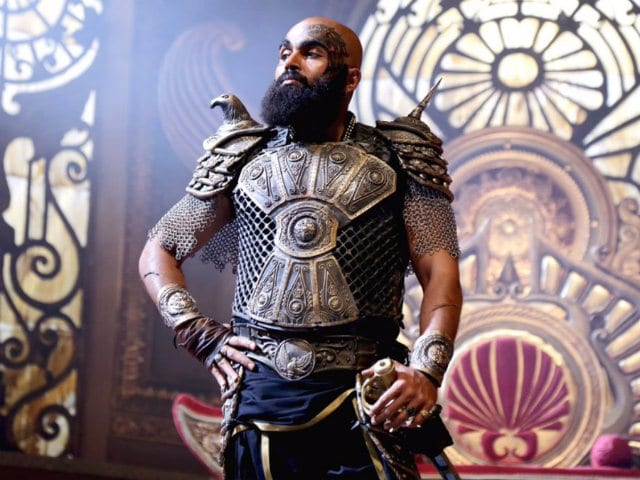 Highlights
'Surprised to discover Katappa and Rajnayak looked similar,' said Karthi
Karthi plays the role of a pilot in Mani Ratnam's Kaatru Veliyidai
Kaashmora is the biggest film of Karthi's career
Chennai:
The first look poster of this film has taken social media by storm.
Kaashmora
, and its hero, Karthi, brother of Southern star Suriya, were trending on Twitter the moment the poster of the film was released with a tweet by Karthi on Wednesday night (August 17).
#Kaashmora First Look Posters! pic.twitter.com/riZNitbsdj

— Actor Karthi (@Karthi_Offl) August 17, 2016
And the accolades and trend continued well into Thursday morning.
Fans and the industry were amazed with the evil, fierce warrior-like transformation of a bald Karthi sporting an arrogant attitude and a giant eagle tattoo on his face with a long beard and solid armour, leading a swarm of soldiers. This was a vast transformation for the soft-spoken and affable hero who plays a suave pilot in Mani Ratnam's
Kaatru Veliyidai
.The sheer grandeur, the period look, the war scenario and the resemblance to Baahubali's
Katappa
, in the first look poster gave rise to an instant comparison with the magnum opus
Baahubali
. In an exclusive chat, we spoke to Karthi to find out how justified were people in expecting
Kaashmora
to be another
Baahubali
.
Karthi's Katappa Moment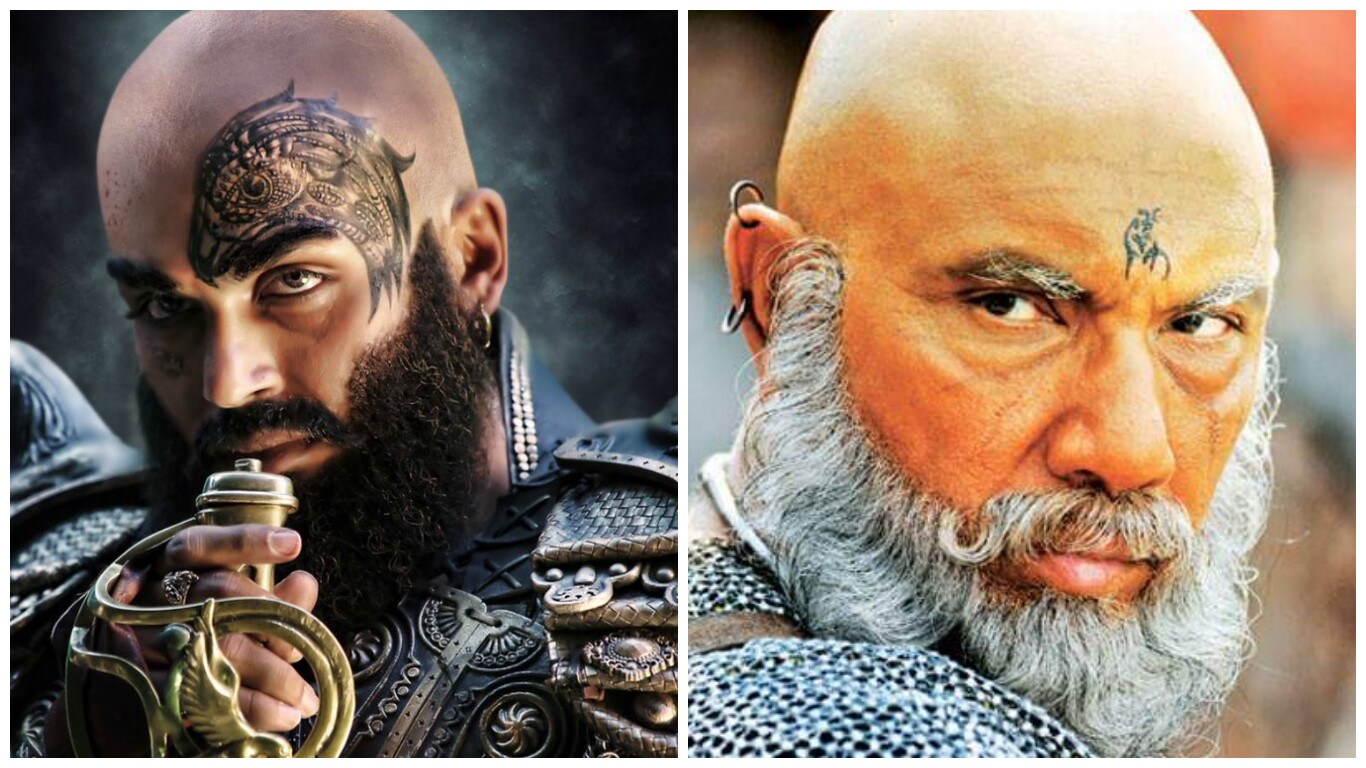 Kaashmora
is the biggest budget film of Karthi's career, produced by Dream Warrior Pictures, with Nayanthara and Sri Divya as co-stars. Touted to be a fantasy-thriller, presenting him in 3 roles, the film directed by Gokul with camerawork by Om Prakash, has been kept hush-hush since inception. With the poster of the bald and fierce Karthi, covered in armour from head to toe, comparisons were natural, with the famous Katappa of
Baahubali
. Katappa is now a household name, thanks to Satyaraj's neat performance and the curiosity the character generated in Rajamouli's epic film last year. People began calling Karthi, Katappa Junior and Katappa's Son when the posters hit social media. Ask Karthi about the comparisons to
Baahubali
and he replies, "For three years, we kept this look a secret, ever since the inception of this character called Rajnayak. The day I heard the script from Gokul, I was raring to start the film but the making and pre-production took time."
"I went on to do
Komban
and
Thozha
before commencing shoot for
Kaashmora
. Meanwhile, halfway through our preparation,
Baahubali
hit the screens. We were surprised to discover that Satyaraj's Katappa was similar looking to Rajnayak. But the team had chosen this look from dozens of different variations suggested. A lot of planning and designing and several test shoots, had gone into the final selection of this character. We knew that Rajnayak was younger, fierce and vastly different in character from Katappa and there was no similarity whatsoever. So we decided to keep it as it is. But Rajnayak and
Kaashmora
have no similarities at all to
Baahubali
. However, when they now call me Katappa Junior, I feel good. Satyaraj uncle is a close family friend and a wonderful actor. So to be compared to Katappa is a compliment," he adds.
But getting into character and costume were not an easy task for Karthi. Refusing to use prosthetics for the bald look, Karthi actually took the bold step of shaving his head completely for the role and could be seen sporting a cap for several months, at public functions. Speaking about it he says, "Prosthetics would never work for the long hours and months of shooting required for this look so I opted to shave my head. It was a requirement of the script and so I went ahead without any qualms. Putting the make-up and special tattoos by an artist, all over my face and body and getting into that heavy armoured costume would take three hours each day. The weight of the nearly 15 kilo armour and body gear from top to toe was tough to endure and to wear that in the heat of Chennai was strenuous. I often wondered how tough a time Kamal Hassan would have endured with prosthetics for the 9 other characters he played in
Dasavatharam
."
As if that were not enough, Karthi also had to ride a horse, wield a sword and handle a chariot with all the heavy gear intact. "The armour was specially designed by Art Director Rajeevan and his team to look strong and protect me from injury during fights. But additionally, it also had to made from a special material in order to be malleable, wearable, bearable and flexible at the same time. Most importantly, he took great time and care to source a special material that was lighter in weight than real armour. Had it been real, it would have easily weighed 30 kilos. When I was in costume I would think back in admiration about the ancient warriors who actually wore real, heavy armour made of iron during wars and fought with it in the battlefield! But I was happy to do it all as an actor, because we just had to show the difference between the multiple characters I play in the film," says Karthi.
Working in Baahubali Helped Kaashmora's VFX Team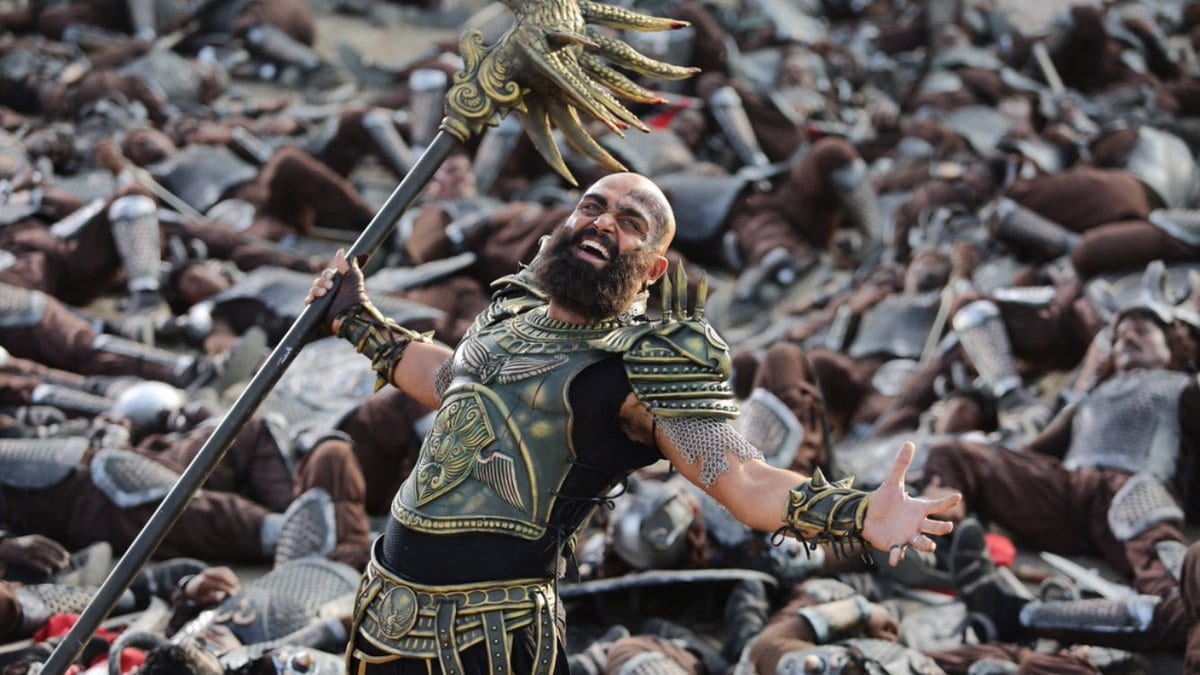 The comparison to
Baahubali
may not be justified entirely but there is a similarity they share. According to producer SR Prabhu, "The same VFX (special effects) studios and technicians have been used by
Kaashmora
as well. Though the period look in
Kaashmora
is only for half an hour and is based on fantasy, not history, the comparison to a full-fledged period film like
Baahubali
is a huge complement to our team. In fact,
Baahubali
has helped us in the making of
Kaashmora
, because we used the same VFX technicians and studios in Chennai, Pune, Hyderabad, Canada and Ukraine. Special effects are a major part of
Kaashmora
, since it's a fantasy-period thriller."
"These technicians have worked in world class Hollywood films and having worked on
Baahubali
too, they were more exposed to the Indian sensibilities we required. The high quality of
Baahubali
's special effects has set a high benchmark and these technicians were therefore able to use all that technical finesse they gathered for
Kaashmora
as well. So we were able to achieve higher quality content in a shorter time span thanks to their exposure to
Baahubali
. Overall, we are elated over the response and comparison. When we have been holding back a special look for 3 years and when it's finally revealed and starts trending on social media, it's a great feeling of satisfaction for the entire team who has worked on it," he adds.
(Except for the headline, this story has not been edited by NDTV staff and is published from a syndicated feed.)