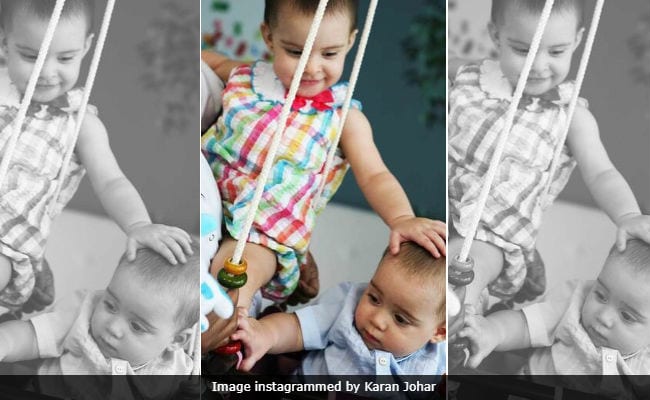 Highlights
Roohi and Yash will turn one-year-old in a few weeks
KJo shared a picture of Roohi and Yash playing together
Roohi and Yash were born via surrogacy
New Delhi:
Karan Johar shared one of sweetest pictures of his twins, Roohi and Yash, which could totally double as a scene straight out of a Dharma movie. In the picture Karan captioned "Sister love," Roohi can be seen caressing her sibling Yash, who is enjoying on a swing.
Yash and Roohi were born via surrogacy
in February 2017. Karan Johar told news agency IANS that he is able to aptly balance his personal and professional commitments ever since his twins arrived. "The schedule of life has changed. The mornings start from two beautiful faces and ends with two beautiful faces. How am I balancing it (work and personal life) I have always done six things at one time. So for me I am doing seven things at one time now. It's no different," he told IANS.
Take a look at Roohi and Yash playing happily together:
Karan Johar also told IANS that co-parenting the twins with his mother Hiroo Johar is the best thing that could happen to him. "Being a parent is a huge responsibility and I am so happy that I'm co-parenting with my mother. It's a blessing that she's at home with the babies every day. It's a beautiful feeling."
KJo is also not a fan of bringing the twins to his work place. "I don't want them to grow up on a film set. I don't want them to grow up with that you have to be a part of a film industry only."
Roohi and Yash were born prematurely last year and Karan Johar waited until his children healthy to make the official announcement about their arrival. Yash has been named after his late grandfather while Roohi's name is derived by rearranging Hiroo Johar's name.
(With inputs from IANS)