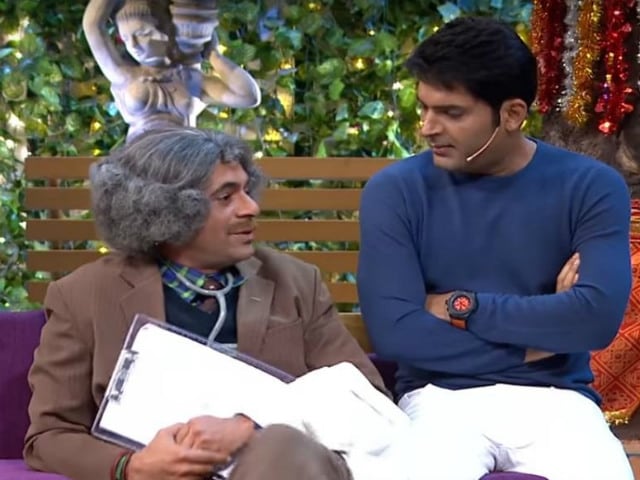 Highlights
'Kapil has stopped taking any effort now,' said the source
'He did a lot and he had enough,' the source added
Sunil Grover was recently part of a live performance in New Delhi
New Delhi:
Has
Kapil Sharma given up
? The comedian-actor is apparently done with his efforts of convincing comic Sunil Grover to return to his show
The Kapil Sharma Show
, a source close to the show told
Indian Express
. Kapil Sharma has reportedly accepted that there will be a Sunil Grover-sized vacancy in his show and moved on as Mr Grover is unwavering in his decision. "When you keep trying, apologise, try over and over again to convince someone and the person is still unmoved, then there's no point left. Kapil has stopped taking any effort now. He did a lot and he had enough. Not only him, a lot of other people involved with the show, the topmost authorities tried talking to Sunil but he is not ready to change his mind,"
Indian Express
quoted a source as saying.
The source also added that Mr Sharma treated Mr Grover more as a friend than colleague, reported
Indian Express
. "Generally production houses have contacts with artistes but Kapil never had such a contract with Sunil. He always maintained that Sunil is a friend, it's his show as much as Kapil's and he is free to join and leave the show whenever he wants. Had there been a contract Sunil would have had to return to the show,"
Indian Express
quoted the source as adding.
Kapil Sharma's alleged misbehaviour with Sunil Grover did not go down very well with Mr Grover's co-stars of
The Kapil Sharma Show
. Actors Ali Asgar, Chandan Prabhakar and Sugandha Mishra
boycotted the show in support of Mr Grover
, who featured as Dr Mashoor Gulati and Rinku Bhabi on Kapil Sharma's show. Mr Sharma is accused of physically assaulting and verbally abusing Mr Grover during a flight back from Melbourne. Politician and TV personality Navjyot Singh Sidhu was also reportedly absent from Friday's shoot as his duties as the newly-elected minister in the Punjab government kept him occupied. He is also speculated to consider giving up his career in television. Meanwhile, the viewership ratings of Kapil Sharma's show have witnessed a sharp dip and the show has hit an all-time low on YouTube with more dislikes than likes. Sunil Grover, Navjot Singh Sidhu, Ali Asgar and Chandan Prabhakar were also part of Mr Sharma's previous show
Comedy Nights With Kapil
, which Mr Grover quit over payment issues.
It was recently
speculated that Sunil Grover may
consider returning on the show for a higher salary but Mr Grover, 39, dismissed such reports in a tweet, in which he laid down his intentions clearly: "My intentions are to act and to entertain with dignity. For me, money can't be the only reason to do something, or not to do something."
Last month, Kapil Sharma admitted to an altercation with Mr Grover and posted an apology of sorts writing: "Sorry if I hurt you unintentionally. You know very well how much I love you." This prompted a stern reply from Sunil Grover, who wrote: "Don't act like God."
Meanwhile, Kapil Sharma's efforts to put back together his show include comedian Raju Srivastava joining as a "new entry." Mr Srivastava however confirmed that he has not joined as a replacement for Sunil Grover.
The Kapil Sharma Show
's contract with television channel Sony Entertainment was expected to expire in a week from now but has reportedly been extended by a month.
Sunil Grover, who has not appeared on Mr Sharma's show since the alleged fight, was recently part of a live performance in New Delhi and also featured in a comedy gig on the grand finale of
Indian Idol 9
. Sunil Grover will next be seen
in an app-based commentary of the IPL
match scheduled for April 13.