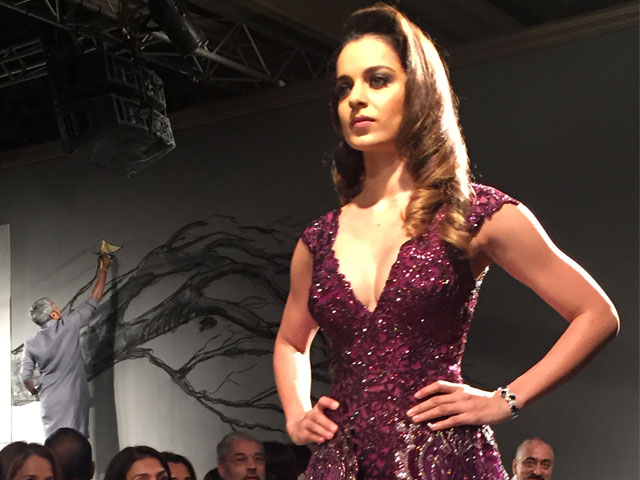 New Delhi:
She defines her sense of fashion as being 'moody.' One day it could be 'lazy', the other day 'fabulous.'
"It depends on how I feel," said Kangana Ranaut, the current
Queen
of Bollywood, whose reign is not restricted to the box office but extends to the ramp as well.
Wearing Manav Gangwani, the actress was the showstopper for the designer's collection at India Couture Week. The collection was titled 'L'Amoureuse,' translated as 'my beloved.'
So, who is Kangana's beloved?
"You think I am telling you that?" the actress laughed and added that she was 'nervous' about tripping on stage.
Carrying herself with confidence, Kangana was smiling as she has been praised by none other than actor Amitabh Bachchan, with whom she will be seen soon in a Rajkumar Hirani-directed ad film. The actress said that having worked and interacted with some of the 'biggest names in the industry,' there is no one who compared to Big B. The
Tanu Weds Manu Returns
actress said he was an 'institution by himself,' because of his 'commitment towards his craft, his understanding and his intelligence.'
The actress said, "I wish I was working with Mr Bachchan in a film. I have worked with big stars, but when I saw myself with him on the big screen, I couldn't believe it. He's so approachable, intelligent, driven and childlike. He has the energy of a child. We spent a lot of time discussing films, acting, and ideas."
But strangely enough, Kangana's roster of films doesn't boast of big leading men. Were they wary of the empress stealing their thunder?
Kangana said, "Nothing of that sort really. It doesn't matter to me. The industry is like a wave, you need to ride it. I know there are people for who big names matter, but I am not of that thinking, it doesn't matter to me. When I was at rock-bottom, people refused to work with me. And I thought they are so dumb. I am evolved when it comes to these things, but some girls and guys do get carried away by these things. I'm not a conventional person."
But yes, the industry's attitude toward her has changed. They are taking her 'far too seriously' now.
So, is there a dream role?
Kangana said, "Yes, I would like to do something like
The Theory of Everything
- The hero's role. I don't know if they will make one here, but yes, I would love too."
We didn't want to remind her we had a
Guzaarish
, which unfortunately not many people saw.
Is there a song she likes to hum when low? "Yes, yes.
Jaane Woh Kaise Log They
(from
Pyaasa
)," she laughed, singing the song for us.
Kangana is practicing martial arts for her upcoming film
Rangoon
. But it's
Katti Batti
, her next film with Imran Khan, that she is most looking forward too. And she has another wish - to dance like a ballerina.
Do Rani, Tanu and Datto - her characters from
Queen
and
Tanu Weds Manu Returns
- still live on in her heart?
"Yes, of course they have left a part of them with me and me with them," said Kangana.
Watch