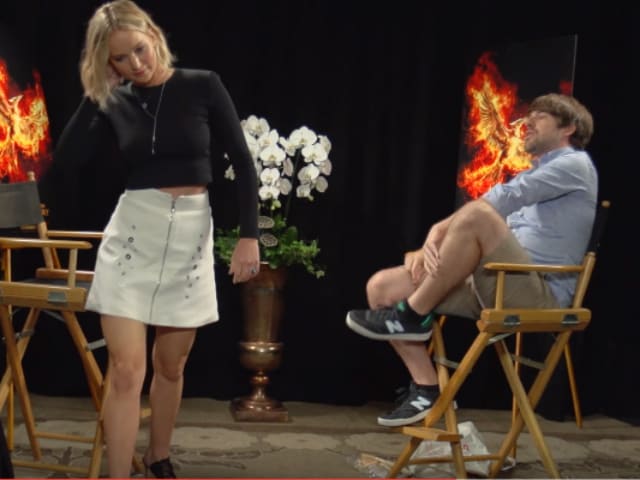 New Delhi:
Jennifer Lawrence's rep as a good sport appeared to take a beating somewhat when she walked out of an interview while doing press for her new
Hunger Games
movie. And that might have been that had it not been one big joke at the expense of the 25-year-old actress' interviewers, comedy collective
SMOSH
who found themselves pranked while attempting to prank their guest.
Ian Andrew Hecox and Anthony Padilla tried to make Jennifer uncomfortable by shooting darts at an apple placed on the other's head, pretending to cut their hair and taking off their shoes.
Oscar-winner - and it's important to remember that she's an Oscar-winner - Jen put on a totally unimpressed face and asked, "Are you high?" We'll let you find out for yourself what happened next. Jen's
The Hunger Games
co-stars Liam Hemsworth and Josh Hutcherson are to blame, is all we're saying.
Watch:
Happily, it was all for charity.
SMOSH
created the video as a part of their online series called
Prank It FWD
which is a fund raising initiative for DoSomething.org.
Jennifer revives her role as Katniss Everdeen in the latest of the
The Hunger Games
franchise, which also stars Elizabeth Banks and Woody Harrelson. The movie had its US premiere on November 16 and will release worldwide by November 20. (Also Read:
Jennifer Lawrence on Closing the Hunger Games Chapter
)