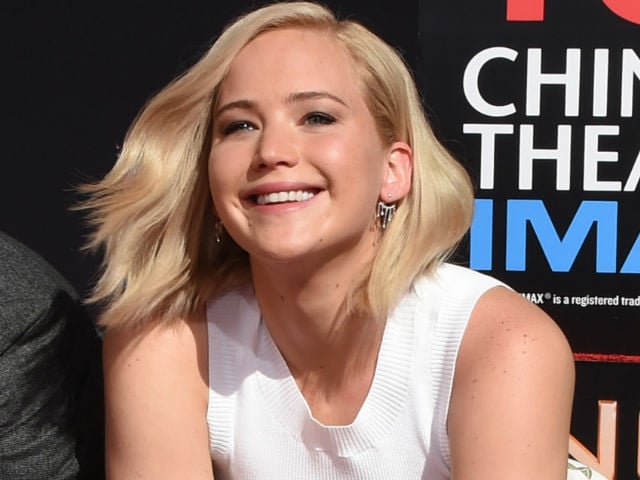 Los Angeles:
Jennifer Lawrence is bidding farewell to
The Hunger Games
the wildly popular fantasy franchise that made her a megastar and rare Hollywood action heroine.
Jennifer is back as bow-and-arrow badass Katniss Everdeen leading her rebels deeper into the fight against injustice in their dystopian world in
The Hunger Games: Mockingjay - Part 2
, opening around the globe November 18-20.
But the movie marks the final chapter in the hugely successful saga that saw Jennifer - at 25 already an Oscar winner and the world's highest-paid actress - catapulted to fame. (Also Read:
Jennifer Lawrence is Highest Paid Actress, no Indian Star on Forbes List
)
"I think it will be pretty bizarre when the movie is finally out and... everything is officially done," she told reporters in Los Angeles Saturday during a press preview.
"This movie has been my life for so many years," she added.
The series, adapted from the teen novels of Suzanne Collins, tells the story of Katniss' battle to survive in a reality TV-style life-and-death game in a post-apocalyptic future state.
In last year's
The Hunger Games: Mockingjay - Part 1
she not only battled for her life, but became the symbol of a revolution.
In the finale, she tries to lead the rebellion against the totalitarian government of District 13.
"I didn't really feel that I said goodbye to her," Jennifer noted of Katniss.
In the final installment, Katniss must cope with the emotional instability of her love-lorn admirer Peeta, played by Josh Hutcherson, while still enjoying the support of the other man in her life, best friend Gale (Liam Hemsworth). (Also Read:
Jennifer Lawrence Would 'Totally Do' More Hunger Games Movies
)
Entire World Changes
Jennifer said it took her a while to adapt to her new life in the spotlight amid the massive
Hunger Games
success - and the pressure that accompanied it.
"There were a few years of getting used to it, your entire world changes," she said.
Fans the world over have embraced
The Hunger Games
since the first film came out in 2012, with the franchise passing the billion dollar mark at the box office.
"I have a new normal now, I feel very stable and normal and happy," Jennnifer said. "But the pressure, you just can't think about it."
The blockbusters have gone down in history for having a female heroine leading the fight.
But "it's probably too soon to be able to look back and reflect" on the impact the films have had on the public, she said.
As for herself? "I hope I've grown up," added the star, who won an Oscar for her role in the 2012 comedy
Silver Linings Playbook
.
Working Woman
Jennifer also addressed a recent blunt essay for an online feminist newsletter in which she blasted pay inequality between the sexes.
"I would love to straighten up that I wasn't writing about not making as much as my male co-stars, as complaining about that I wasn't getting paid more because I'm a woman," she told reporters.
In her post for
Lenny
, a newsletter co-founded by fellow actress Lena Dunham, Jennifer said that when she found out from Sony emails leaked last year that she was paid less than her male co-stars in the hit movie
American Hustle
, she didn't get mad at Sony but at herself. (Also Read -
I'm Over Being Likable: Jennifer Lawrence on Tackling Sexism in Hollywood
)
She went on to admit she had failed to tackle the issue out of fear of being labelled "difficult" or "spoiled".
Jennifer, who topped Forbes magazine's 2015 list of best-paid actresses at $52 million, said that she loves what she does for a living. "Honestly, it's a job," she said, acknowledging that "people are going to have opinions." (Also Read:
American Hustle Director on Jennifer Lawrence's Pay Disparity Essay
)
"I really love acting, so I really just think of myself as a working woman," she added.