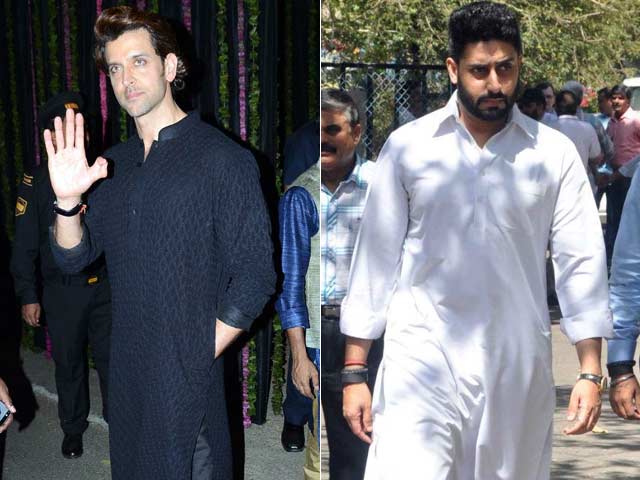 Highlights
36 people have been killed and close to 150 have been wounded
Celebrities from India and abroad have tweeted prayers and solidarity
Wonderful city wonderful people may God give them strength: Arjun
New Delhi:
As Istanbul struggles to cope with a deadly terror attack on its airport that killed 36 and injured over 140 people, celebrities from India and abroad have tweeted prayers and solidarity.
Actor
Hrithik Roshan
was at the Istanbul terminal hours before three suicide bombers opened fire and then blew themselves up. The 42-year-old star and his two young sons had missed their connection home from their holiday in Africa, and took an economy flight out. Back in Mumbai, Hrithik tweeted:
Ws helped by d kindest staff at Istanbul arport hours ago. Shocking news. Innocents killed 4 religion.V must stand united against terrorism.

— Hrithik Roshan (@iHrithik) June 29, 2016
Abhishek Bachchan, Arjun Kapoor, Anupam Kher, Dia Mirza, Soha Ali Khan, Richa Chadha, Huma Qureshi, Ayushmann Khurrana and Mallika Sherawat also tweeted:
Stay strong Istanbul. Thoughts and prayers with you.

— Abhishek Bachchan (@juniorbachchan) June 29, 2016
Feel so sad about the Istanbul airport attacks...wonderful city wonderful people may God give them strength...what's the world coming to ???

— Arjun Kapoor (@arjunk26) June 29, 2016
#IstanbulAttack is again an act of cowardice by terrorists. My heart goes out to d innocent victims & their families. I pray for d injured.

— Anupam Kher (@AnupamPkher) June 29, 2016
I was there less than a year ago... An airport I transit so often...A people that give me nothing but love. Hold on to that love #Istanbul.

— Dia Mirza (@deespeak) June 29, 2016
Terrorism has no religion, no nationality and no colour #PrayForTurkeypic.twitter.com/Zx21MMazUf

— soha ali khan (@sakpataudi) June 29, 2016
Heartbreaking news from Istanbul. #StopTheViolence!Prayers for the families of the deceased.Hell for the perpetrators#Violencebegetsviolence

— RichaChadha (@RichaChadha_) June 29, 2016
Killing people is not part of any religion .. with a heavy heart I pray for Istanbul .. #sehri#prayers#sad

— Huma Qureshi (@humasqureshi) June 28, 2016
#Istanbul attack is again a recurring reminder that we need to do a lot to change this world. Reconciliation from local to global level.

— Ayushmann Khurrana (@ayushmannk) June 29, 2016
My prayers and condolences to all those lost their loved ones in the #Istanbul attack. Senseless and heartbreaking

— Jackky Bhagnani (@jackkybhagnani) June 29, 2016
Deeply saddened by news of yet another terror attack in #Istanbul.

— Mallika Sherawat (@mallikasherawat) June 29, 2016
Terribly disturbed by the reports of yet another bomb and loss of life in an airport in #Turkey. We were not birthed to take lives #Humanity

— Lisa Ray (@Lisaraniray) June 28, 2016
They target innocent lives & families yet again..Angry & saddened to hear about the terror attacks in #istanbul#Attaturk ..All my prayers

— SOPHIE CHOUDRY (@Sophie_Choudry) June 29, 2016
Deeply saddened by news of yet another terror attack in #Istanbul#shameful#cowardly..my prayers go out to the ones effected

— Neha sharma (@Officialneha) June 29, 2016
I transited through #istanbul airport last month on my way to #Miami to be honoured by @HMilkFoundation SHOCKED to hear about terrorattack

— Celina Jaitly (@CelinaJaitly) June 29, 2016
How much blood is too much blood? When does this carnage stop? Another #blackday for #humanity...#Prayers for #istanbul & their lost lives..

— Siddharth (@Actor_Siddharth) June 29, 2016
As news of the attack broke late Tuesday, celebrities on the other side of the globe tweeted:
Sending heartfelt condolences and many prayers for those affected in Turkey.

— P!nk (@Pink) June 28, 2016
WE ALL PRAY FOR INNOCENT PPL IN TURKEY AIRPORT

— Cher (@cher) June 28, 2016
My heart goes to Istanbul.

— Elijah Wood (@elijahwood) June 28, 2016
My heart is with you #Istanbulpic.twitter.com/alBd9rXHTQ

— Enrique Iglesias (@enriqueiglesias) June 28, 2016
Very sad to hear about the explosions and gunfire at Istanbul airport. I remember someone saying they were heading to Turkey! #kosenrufu

— Boy George (@BoyGeorge) June 28, 2016
Turkish Prime Minister Binali Yildrim has said that the terrorists appeared to have belonged to ISIS.
The Istanbul airport has begun operating flights, with Turkish Air flying to Delhi and Mumbai as scheduled.