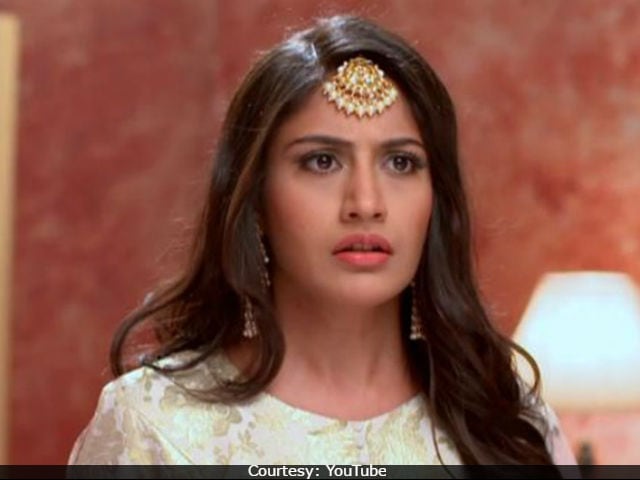 Highlights
Anika told Shivaay that she has found Dushyant
Tia accepted that Dushyant is her husband
Dushyant revealed that Tia's mother had kidnapped him
New Delhi:
The
Ishqbaaz
episode on March 1, opened on Anika calling Tia's mother, Mrs Kapoor, where she informed about Dushyant's whereabouts. She later came to the Oberoi mansion, where Shivaay and Tia's marriage ceremony is happening and asked to stop the wedding. Now, a little flashback. After leaving the house, Anika called on Shivaay's phone to inform that she has come to know where Robin (who Anika thinks is Dushyant) is. However, Mrs Kapoor received the call and learnt about the secret. Baffled with what Anika said, she went outside to check on Robin and saw that Robin is still locked in the car, where she had left him. Anika then came to know about it Robin and planned to set him free.
Meanwhile, Shivaay and Tia began take marriage vows. Omkara stopped Shivaay from doing so, however, he did not pay heed to it. Anika on the other hand, took help to set Robin free and took him to the Oberoi mansion. As soon as Shivaay and Tia are done with the
pheras
, Anika entered the venue and asked them to stop the wedding right away. She then revealed to everyone that Robin (Dushyant) has been found and introduced him to the family.
Shivaay's mother lashed out at Anika and told her that Dushyant is Tia's brother. However, Anika said that he isn't Tia's brother but her husband and Tia is pregnant with his child.
Anika then asked Robin to reveal the truth to everyone and say what relationship he shared with Tia. Shivaay got agitated with Anika and asked her to why she is desperate to stop his wedding. Shivaay said that Tia is pregnant with his child and Anika should accept that.
In a change of scene, Shivaay asked Robin to leave his house while he is mishandled by the security guards, Tia shouts out his name and called him Dushyant, which left everyone in shock.
Dushyant then revealed how Mrs Kapoor had planned to kill him and then had kidnapped him and had told Tia that he's dead.