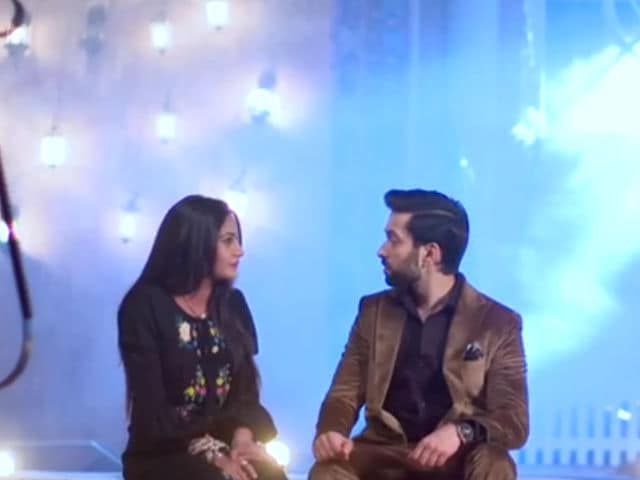 Highlights
Tia's mother blackmails Shivaay but he doesn't give up
Shivaay wanted to leave with Anika but is caught
Anika says Shivaay should marry Tia and stay with his family
New Delhi:
Tia's mother hands Shivaay divorce paper which says that he wants to file for divorce from Anika because she is not stable. Pinky also agrees with Tia's mother. Shivaay says that Anika is not insane and she has only lost her memory. Tia's mother also says that she wants Shivaay and Tia to get married before she delivers the baby. Tej also agrees with them but Shivaay cuts him and says he knows what he's doing and that
Anika is his responsibility
. Tia's mother blackmails him by reminding him about their previous conversation - Tia's mother had threatened Shivaay saying she'll reveal to everyone that Omkara is Tej's illegitimate son. Shivaay's grandmother stops him from signing the papers. Anika overhears the conversation. Shivaay throws the papers and goes to Anika.
Anika asks Shivaay if he really wants to separate and Shivaay in his mind says he wants to tell Anika he never signed the papers. Anika is upset and asks him why does he want to leave her? She then suggests he should be with Tia because she is pregnant with his child. She says let her go but Shivaay says he cannot and almost let's slip that he loves her. Instead he says it is complicated. He promises Anika that he would never let anything harm her whatsoever. He says that he cannot see her cry and everything will be fine. They make their trademark "Pinky Promise."
Svetlana and Tia discuss the fate Oberois with their mother. They are happy to have control over all significant members of the family - Tej, Shivaay and Pinky are all like pawns in their hand.
Shivaay packs up his stuff and leaves with Anika or a few days. Anika protests saying it's cheating but Shivaay forces her to leave. They are leaving in the dead of the night but are caught by everyone. Apparently, Tia rats them out. Pinky is upset that Shivaay planned to run away. Anika says that she trusts Shivaay but cannot be the reason of his separation from his family. She suggests that he should marry Tia. She says he should be with Tia because his mother wants so and because he is the father of her child. She proposes to leave the house for good.
Pinky gets emotional and says she never expected Shivaay to run away from his family and responsibilities for Anika. She gets furious with Anika when she defends Shivaay. Anika says she cannot see everything fall apart around Shivaay and Pinky asks Shivaay to let her go.
Shivaay takes Anika aside and asks her to remember their bond.