Highlights
Twitter is not pleased with Amy Jackson's performance
Amy Jackson performed to Kala Chashma
She performed at the Rajiv Gandhi International Stadium in Hyderabad
New Delhi:
Actress Amy Jackson kicked off the tenth edition of the
Indian Premiere League
, setting fire on the stage with her performance at the Rajiv Gandhi International Stadium in Hyderabad but Twitter is not pleased. Amy's performance was described with phrases like "so pathetic", "damn hilarious", "a fumbling dance" and "wasn't good." Soon after her performance, Amy Jackson started trending on Twitter with netizens incessantly sharing their brutal reviews. "Amy Jackson's dance was so pathetic, 28 dance teachers closed their academy forever and went to Kashi," read a tweet while another said: "Today's opening dance by Amy Jackson was so damn hilarious." A particular user, who is neither a fan of Sunny Deol nor Amy, wrote: "Sunny Deol is a much better dancer than Amy Jackson."
On Wednesday evening, Amy made a stunning entry dazzling in red and golden, firecrackers followed. Amy performed to songs like
Kala Chashma
and
Om Shanti Om
.
Amy Jackson's dance was so pathetic, 28 dance teachers closed their academy forever and went to Kashi. #IPL

- AstroNOT (@Stylebaaz) April 5, 2017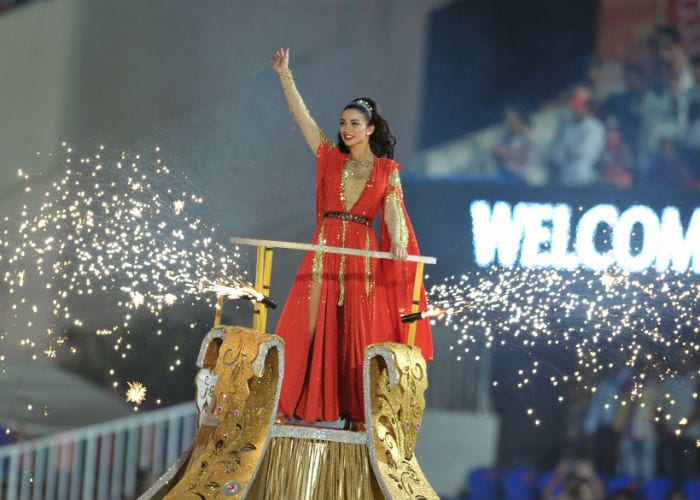 Meanwhile, this is what Twitter has to say about Amy's performance:
Amy Jackson cannot dance

- Tanvi (@ohh__teri) April 5, 2017
#IPLOpeningCeremony
My dog dances better than Amy Jackson,
It's the worst of them all#AmyJackson can't dance saala

- Subham Shaw (@shaw67218) April 5, 2017
amy jackson's performance at the IPL opening ceremony lmfaooooo i have so many things to say but i'm gonna stay mute

- abbi (@etherealgvddess) April 5, 2017
This Seasons #IPLOpeningCeremony was FLAT !
10th Season is enmarked only with the presence of Legends and A Fumbling Dance By Amy Jackson !

- Mahinoor (@BeingMahinoor) April 5, 2017
Sunny deol is a much better dancer than amy jackson

- Harshit Kanodia (@KanodiaHarshit) April 5, 2017
Amy Jackson performed at IPL-10. This will promote and benefit Amy Jackson more than IPL... #VIVOIPLEdition#IPLOpeningCeremony

- Branded Bakchod (@HelloPathak) April 5, 2017
Royal Challengers Bangalore lost to defending champions Sunrisers Hyderabad in the maiden match of this year's IPL by 35 runs. Meanwhile, this year the organisers have planned eight "opening ceremonies" at each venue which will include starry performances.
Riteish Deshmukh will perform in Mumbai on Thursday while Rajkot will witness a performance by Tiger Shroff on Friday. Shah Rukh Khan is also expected to be present at the match in Rajkot which will be between his team Kolkata Knight Riders and Gujarat Lions.
Indore will have a performance by Disha Patani
on Saturday, who says she's "excited" about her IPL gig. On April 13, Shraddha Kapoor and Monali Thakur are expected to take the centre stage at Kolkata's Eden Gardens. Lastly, Parineeti Chopra, who will next be seen in
Meri Pyaari Bindu
, is all set to perform at Delhi's Feroz Shah Kotla stadium on April 15.