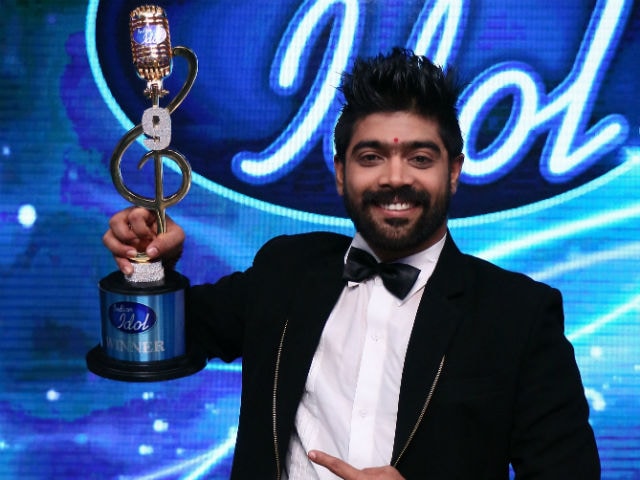 Highlights
"I am 80 to 90 per cent fine singing Hindi songs," says Revanth
Revanth is best-known for the song Manohari in Baahubali: The Beginning
He wants to provide playback for SRK, Salman and Akshay Kumar
New Delhi:
L V Revanth, the Hyderabad-based singer who won Indian Idol 9
, hopes to forge a career in Bollywood and told news agency IANS that his lack of Hindi isn't going to get in the way. Revanth, a native of Vishakhapatnam and currently a resident of Hyderabad, doesn't speak Hindi but sang in it while competing on
Indian Idol 9
. "With this win, I have proved that language is not a barrier when it comes to singing. Now I am 80 to 90 per cent fine singing Hindi songs. But sometimes that south Indian diction comes in between as I am not a trained singer," Revanth told IANS.
Revanth's Hindi diction caused some mirth, he said. "There were so many people, including my friends, who made fun of me. But I took it as a challenge. I want to make my market value," Revanth told IANS.
L V Revanth has sung for over 200 films down South and is best-known for the song
Manohari
in
Baahubali: The Beginning
. "I feel lucky to be part of
Baahubali: The Beginning
. That film completely changed my life. Sometimes I felt bad as I missed being in
Baahubali: The Conclusion
. If I had sung another song for the second part, that would have been great. But I chose to be part of
Indian Idol
. So, it's fine now. I feel
Indian Idol
was my
Baahubali 2
. I am excited about the release of the second part," he told IANS.
Next stop, Bollywood. Revanth's musical inspiration is Kishore Kumar and he wants to provide playback for Shah Rukh Khan, Salman Khan and Akshay Kumar. He's already made some good contacts - the finale of
Indian Idol
, which aired on Sunday, also featured Sonu Nigam, Anu Malik and Farah Khan. And, memorably,
Sachin Tendulkar, who is making his singing debut with Sonu Nigam
.
(With inputs from IANS)