Hyderabad:
You have every reason to envy me as I managed to watch
Baahubali: The Conclusion
before the official release. Mighty thrilled about it, will share my takeaways without making it a spoiler. The film, opening across 8,000 screens today, is the massively anticipated continuation of
Baahubali: The Beginning
, part one of director S S Rajamouli's magnum opus mounted on the grandest of scales.
Baahubali 1
was a record-breaking blockbuster and won the National Award for Best Feature Film. There are great expectations of
Baahubali 2
, especially of the
promised big reveal of why senapati Katappa
, played by actor Sathyaraj, killed the central character of Baahubali, played by Prabhas, in the first film. Rajamouli's cast and crew have dedicated five years to the films. Here are my 10 takeaways:
1. Goes without saying that it is rich visually and for the most part, the spectacular imagery is such that you don't want to miss a frame.
2. I liked
Baahubali: The Conclusion
better than
The Beginning
, and in
The Conclusion
, the half before the intermission is better than after the break because it had humour and because it was more engaging emotionally.
Katappa transforms into someone quite different from what you saw in part one, providing laughs and humour along with Prabhas as Amarendra.
3. Though the battle is meant to be between Baahubali and Bhallala Deva, it is the women who dominate the show as strong personalities, who expect to be heard and respected.
Ramya Krishna as Sivagami is striking
. Royal, beautiful and majestic, she manages to convey a lot just through her eyes.
Anushka Shetty, as Devasena, also has a meaty role. She looks beautiful and classy, in sharp contrast to her role as the elderly mother, kept chained for years. Tamannaah, as Avantika, is hardly visible.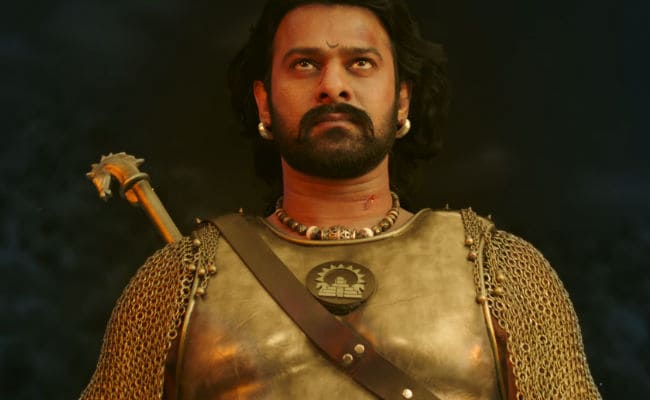 4. After some criticism of the first part about the love scene between Prabhas as Mahendra Baahubali and Tamannaah as Avantika (fiery warrior woman melts at man's touch), the director has made sure the women are portrayed as intelligent people, outspoken, decisive, with a mind of their own. References to crimes against women and sexual harassment also show gender sensitivity.
5. Sathyaraj as Katappa and Nassar as Bijjaladeva are impressive. Being the actors we know them to be, it comes as no surprise. Prabhas as Baahubali and Rana Daggubati as Bhallala Deva are convincing too, except I would have liked the director to delve more into why they turned out the way they are despite a common upbringing.
It is perhaps because your curiosity is kindled about these characters that the director has intelligently chosen to explore all that further, in depth, through the animation series and other avenues.
6. So while it is impressive that Rajamouli and team carried to completion something of this scale and magnitude, showed the passion to work on the same project for some five years, the use of latest technology, breathtaking colours and visuals, all that is impressive. I must say in the same breath it is not pathbreaking, new age, intelligent cinema.
7. You can however be proud that the film is immortalising on film your fantasy about kingdoms, valorous kings, beautiful princesses, treachery and palace intrigue, but it is not exploring new territory. You can be proud that it is using the latest technology, to tell such an Indian story. But it is an old story plot line done with a great sophistication and at a grand scale never seen before.
8. Yet there are many impressive firsts in this film - use of transmedia like never before, the licence and franchisee relationships, merchandise that has never been of this scale, the books and animation series, to make the
Baahubali
experience linger much longer than inside the theatre.
9. The war scenes show intelligent use of innovative technology. References to a penal code, swearing-in, oath of office, guard of honour are interesting. Music from the promos is obviously catchy, have been humming it for days.
10. I would say it is worth your while to take the effort to book the tickets and watch the film on a big screen.
(Uma Sudhir is Resident Editor, NDTV)
Disclaimer: The opinions expressed within this article are the personal opinions of the author. The facts and opinions appearing in the article do not reflect the views of NDTV and NDTV does not assume any responsibility or liability for the same.