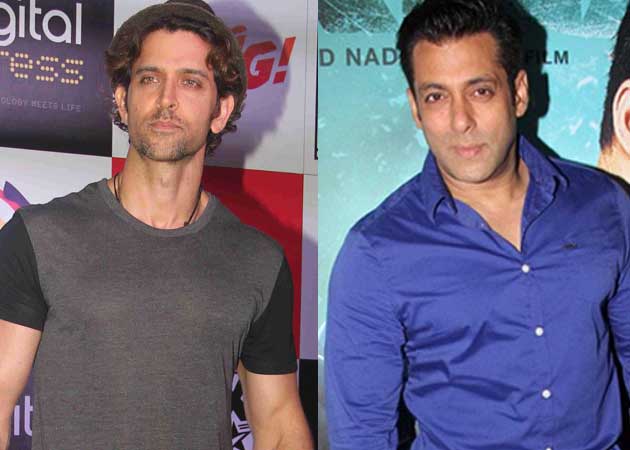 Actor Hrithik Roshan seems to have become a bit of a "task-master" lately. And as far as his Bang Bang dares go, he is not in a mood to spare any of the fellow B-Towners.

The trailer of Hrithik's forthcoming movie, which is set to release this Thursday, shows the chiseled star performing high-octane action sequences along with his leading lady Katrina Kaif.

Hrithik, who goes out of his way to work on his look and performance in his movies, is now ensuring that while he waits on his tenterhooks for Bang Bang to release, his friends don't sit comfortably either. Having gone all out daring most B-towners to perform crazy stunts in their own time, most stars are out to live upto Hrithik's expectations and prove themselves. And the most recent to be challenged is superstar Salman Khan.

Hrithik tweeted:

Here it is. 2 d one who is more about other people than himself, PAINT!! And give d world a message! ANY! @BeingSalmanKhan qubool ?

— Hrithik Roshan (@iHrithik) September 30, 2014
2 States actor Arjun Kapoor has been challenged to mimic an iconic style from cinema. Hrithik tweeted:
2days #bangbangdare goes 2 1 of d most natural talent we hv!Dats u @arjunk26 use 54321 in ANY iconic style frm cinema!tough 1! DO U ACCEPT?

— Hrithik Roshan (@iHrithik) September 29, 2014
An excited Hrithik posted another tweet for Arjun:

Hahaha he's ON!!RT @arjunk26: @iHrithik Kripiya apni seat ki paitee baandh le cause this needs some work...I'm on...let's go for it...

— Hrithik Roshan (@iHrithik) September 29, 2014
Actress Shraddha Kapoor also stands in the dare queue. She has been asked to sing a song sans make-up. Hrithik dared her on Twitter saying:

#bangbangdare 4 @ShraddhaKapoor readjusted on demand! render a song sans make up! Real beauty AUDIO And VISUAL!! Can't ask 4 more! ACCEPT??

— Hrithik Roshan (@iHrithik) September 26, 2014
Among the celebs who took up Hrithik's challenge were actors Shah Rukh Khan, Farhan Akhtar, Nargis Fakhri, Priyanka Chopra and Ranveer Singh.


Hrithik dared King Khan to share an image of his favourite abs exercise. Shah Rukh Khan went a step ahead and shared a video of his complete workout regime that helped him develop his envious eight-pack abs for
Happy New Year
.
Hrithik also dared Ram-Leela actor Ranveer Singh to pose for his fans on any busy street in Mumbai. And the dare took a dramatic turn as Ranveer danced to Hrithik's song Main Aisa Kyu Hoon wearing a Krissh mask and cape on a bustling street.

Next up was celebrity photograher Daboo Ratnani, who makes every star look too good to be true. The man whose lens makes celebs look perfect and ravishing, was asked to indulge in a rigorous skipping round. And guess what? Dabboo perfected it with ease.

Hrithik did not spare his friend Farhan Akhtar either and dared him to run/cycle in his skydiving suit. Farhan sportingly took the challenge and posted a video when he completed the task.

The leading ladies of the film fraternity were not shown any mercy either. Hrithik dared Mary Kom actress Priyanka Chopra to do a handstand and three pushups. Priyanka proved her mettle by completing her task in high heels.

Hrithik also asked Nargis to shoot a RAP video, which she did, proving that there is definitely more to her than just a pretty face.

Sparing no one, Hrithink also dived into the family pool and dared his former sister-in-law Farah Khan Ali to do ab crunches, hanging upside-down. And the jewellery designer completed her dare with utter perfection.

And just when a slew of celebrities have been painstakingly undertaking Hrithik's challenges, it is to be seen whether Bigg Boss Salman Khan will paint the town red with his talent for Hrithik or not.