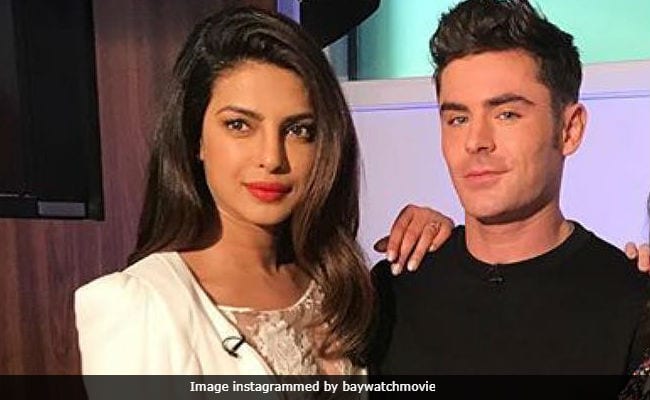 Highlights
She (Priyanka Chopra) is all over the place, says Zac Efron
Zac Efron and Priyanka co-starred in Baywatch
Zac's next film is titled The Greatest Showman
Sydney:
While speaking to Zendaya and Zac Efron, Hugh Jackman's co-stars from the spectacular Christmas offering
The Greatest Showman
, the conversation turned to very familiar ground -
desi
girl Priyanka Chopra. Priyanka is an international celebrity, has been for the last few years, because of her American TV show
Quantico
and also because her debut Hollywood film
Baywatch
which released this year.
High School Musical
alumnus Zac was Priyanka's cast mate in
Baywatch
but singer-actress Zendaya also professed herself a fan. "Oh, she is so beautiful, I love her," Zendaya told NDTV in Sydney, where
The Greatest Showman
will premiere this week.
Zac Efron, who probably knows something about Priyanka Chopra's extreme travel habits, was concerned. "She is amazing. But any idea how she is she doing? Have you met her? She is all over the place," Zac enquired anxiously.
Keeping up with Miss Chopra's itinerary is a job in itself
but we can tell you exactly where she is at the moment. Priyanka is currently at home in Mumbai, combining her Christmas break with a performance at an upcoming awards show. But thanks for asking, Zac Efron.
Priyanka wasn't the only Bollywood connection in Sydney. Hugh Jackman once said that Shah Rukh Khan (from whom he learnt some filmy dance moves) could fill his Wolverine shoes - and The Greatest Showman director Michael Gracey admitted to being something of a Bollywood fan too. "I love Bollywood, I'm so influenced by it and Akshay Kumar is the actor I have been impressed by," he told NDTV in Sydney.
Speaking of dance moves, Hugh Jackman shows off some of his in
The Greatest Showman
, as well as his considerable vocal chops. The film, a musical biopic of circus impresario P T Barnum, has been a seven-and-a-half year labour of love, made extravagantly on a budget of $ 85 million. With 10 original songs and a story packed with star-crossed lovers, drama and emotion, the ambitious movie could well be a Bollywood film.
The Greatest Showman
releases in USA this week and hits screens in India on December 29.