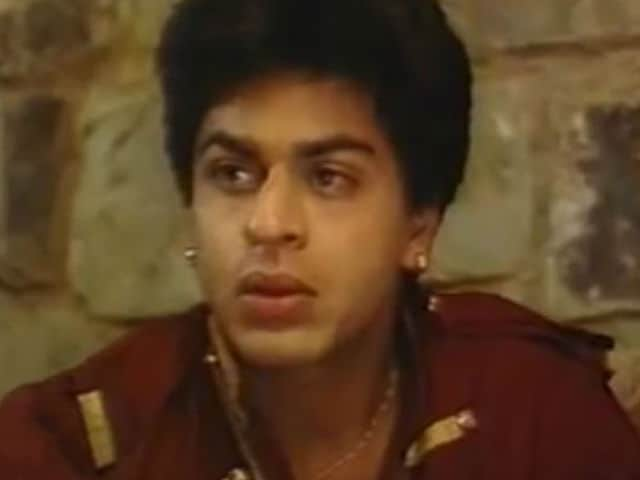 Highlights
The 17-minute film was based on a fable from the Bible
Director Dinesh Lakhanpal also wrote about his first meeting with SRK
Shah Rukh Khan received a salary of Rs 3,000 for his work in the film
New Delhi:
This week, a little bit of
Shah Rukh Khan's past was rediscovered online
and went viral. It was a short film named
Mahaan Karz
that was made in 1991 to coincide with Easter: in SRK terms, it is ancient history - he was then 25 and a year away from debuting in
Deewana
opposite Divya Bharti;
he's now 50 and a superstar
.
Apropos of nothing,
Mahaan Karz
was uploaded on YouTube some days ago and has been circulating on social media since. The 17-minute film was based on a fable from the Bible and directed by Dinesh Lakhanpal, who, as explained via mail, has incorrectly been identified as a friend of SRK from stage. "He was not my old theatre buddy but for a short while was definitely a professional buddy, and it was a pleasure working with him," wrote Mr Lakhanpal, who also revealed just how it happened that Shah Rukh Khan was cast as a young man employed by a local
maharajah
in the redemption-themed film.
It's quite a lovely story. 25 years ago, SRK's star was already in ascent. He still lived in New Delhi but already had
Fauji
and
Circus
on his resume and so, when Mr Lakhanpal was recruited to direct
Mahaan Karz
for the advertising agency Alfred Allen Advertisers, producer Allen Luther asked him to cast the actor who played Lt Abhimanyu Rai in
Fauji
as the central character.
It was past 9pm when Mr Lakhanpal spoke to the young SRK on the phone. "He told me that he had met with a minor accident and was advised rest for a week or so, but I can come to his place anytime to discuss the script and the film. As it was already late, more so in a city like Delhi, 25 years ago, I tried to fix a time for the next day," wrote Mr Lakhanpal to us.
This was when he received "the first shocker," as he put it: "SRK very casually told me to come right then, if I wanted, as he would be awake till wee hours. Bombay was different but in Delhi, it was unheard of. As it is, it would have taken me more than an hour to reach him, but he was cool," Dinesh Lakhanpal wrote about his first meeting with SRK, known now to be a night owl.
"I was also eager to save time so we met for the first time at about 10.30 pm or so. He agreed to do the film and on being asked how much he would charge, as it was an one-odd low budget episode, he even offered to do it free, being a film on Easter," wrote Mr Lakhanpal. This was the second surprise and SRK appeared to be absolutely sincere in his offer.
Shah Rukh Khan did eventually receive a salary for his work in the film - Rs 3,000, which has far fewer zeroes than his pay cheques now but was considered a respectable sum then.
Mr Lakhanpal also has another story about the famously tardy SRK from the sets of
Mahaan Karz
. The last day of filming was on a tight schedule and Shah Rukh Khan asked for a two-hour break to have a wound dressed. "He promised to be back in time but took much longer. When I asked him casually for the reasons of reporting back late, he, in his now world famous dimple-infected-smile, sheepishly whispered - I was trying to be a star," wrote Mr Lakhanpal.
SRK's wasn't the only name of note in the credits - in fact, his was not even the most illustrious, at the time. Cinematographer Binod Pradhan was then a bigger names and very busy. Producer Luther had just watched
Parinda
and asked if Mr Pradhan could be roped in and by happy chance, he had a window of four or five days - the reason for the rushed last day of shooting.
And now, in 2016, the Internet has resurrected a moment made possible by the aligning of stars. Watch
Mahaan Karz
here: