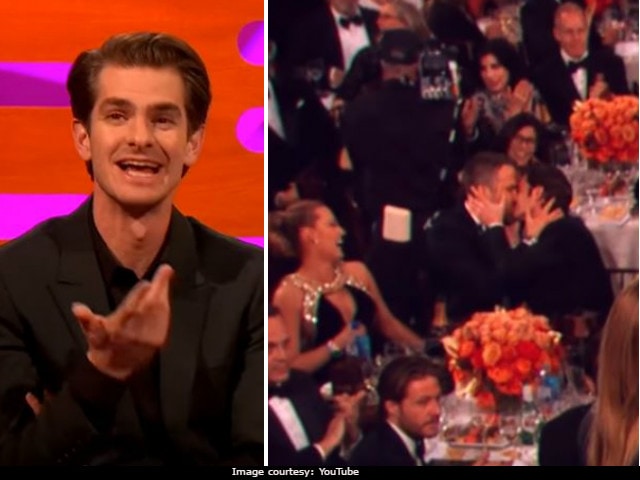 Highlights
'I told Ryan Reynolds, 'If you win, kiss',' said Mr Garfield
'I loved the fact it was so in back crowd,' said Mr Garfield
Andrew Garfield, Ryan Reynolds lost best actor award to Ryan Gosling
New Delhi:
Best actor nominees Andrew Garfield and Ryan Reynolds were seated beside each other at this year's
Golden Globe Awards
, held in January. Those who watched the award show closely would know that they kissed after they
both lost to Ryan Gosling
, who won the top award for his musical
La La Land
. Andrew Garfield provided us with the backstory of what lead to the kiss in a recent episode of
The Graham Norton Show
. Please note, Mr Reynold's wife, actress Blake Lively was seated on the other side of the actor - she was spotted laughing out loud as the two actors kissed. Meanwhile, the
La La Land
actor was busy collecting his award. Both Andrew Garfield and Ryan Reynolds held nominations in the Best Actor category for their films
Hacksaw Ridge
and< I>Deadpool respectively.
"So, are you going to do it at the Oscars?" an embarrassed Mr Garfield was asked by show host Graham Norton, and he exclaimed: "No!"
"It was a ridiculous thing," added Mr Garfield.
The Social Network
actor said that the kiss was planned to celebrate the
Deadpool
actor's win, if at all. But when Ryan Gosling was announced as the winner, the fellow actors decided to follow with the plan anyway. "He was game," Mr Garfield said about Ryan Reynolds. Here's the full backstory:
"I told Ryan Reynolds, 'If you win, kiss me instead of your wife..' and he said 'Yeah, that's great.' The plan was he would kind of move towards his wife and then last minute move to me. Then he didn't win much to our disappointment and we said we could still just do it. And he was game. I loved the fact it was so deep in the back crowd," Andrew Garfield said on
The Graham Norton Show
.
Video: Watch What Andrew Garfield Said On The Graham Norton Show
:
La La Land
swept awards
at this year's Golden Globes
while Ryan Reynold's much-loved
Deadpool
went home empty-handed.
La La Land
also fetched the Best Director and Best Actress awards for Damien Chazelle and Emma Stone.
Andrew Garfield is the star of films like
The Amazing Spider-Man
,
The Social Network
and
Never Let Me Go
while Ryan Reynolds is best known for films like
The Proposal
and
Green Lantern
.