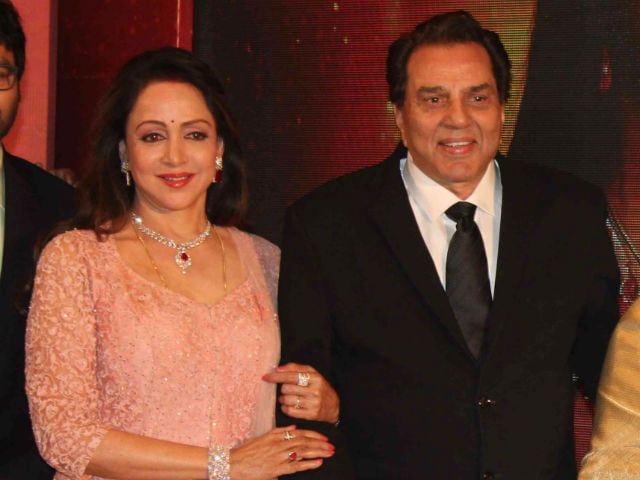 Mumbai:
Veteran actress Hema Malini launched her new album
Dream Girl
in Mumbai on February 15.
Hemaji's husband actor Dharmendra attended the event along with Amitabh Bachchan, wife Jaya and filmmaker Ramesh Sippy.
The album has been composed by Babul Supriyo. It features Hema
ji
's duet
Aji suniye to zara, kya hai manjra
with Babul, apart from two Bengali songs, which she had originally recorded for legendary singer Kishore Kumar.
"I was excited to sing those two Bengali songs, which I had recorded for Kishore
da
long back. I've been a dancer and actress. But today, I can't believe that as a singer, I am standing in front of you, which I had never thought of," said Hemaji.
Mr Bachchan also said that Hemaji can do a lot of work together at the same time.
"Jaya was saying that Hema
ji
works so much. We don't work at all compared to that. She is in politics and goes to the Parliament. She is a dancer and now she's singing too. We don't do anything. I want to assure you that after today, even we will do something like this," said Mr Bachchan. (Also Read:
Hema Malini 'Would Like' to Direct a Film Once Again
)
Dharmendra recited a poem written by him and congratulated her on the launch.
Hema
ji
said that she wanted to sing a song with Mr Bachchan written by Dharmendra.
"They say that you have to reinvent yourself. So, Dharamji has reinvested himself. I have a wish. You write such good
sher-o-shayari
. So, please write a song and I want to sing. Even Amit
ji
will sing," she said.
Mr Bachchan replied: "It has been 42 years since my marriage and for 42 years I've been singing only."
Jaya
ji
joined the banter and said, "He has been singing for 42 years and I have been dancing."