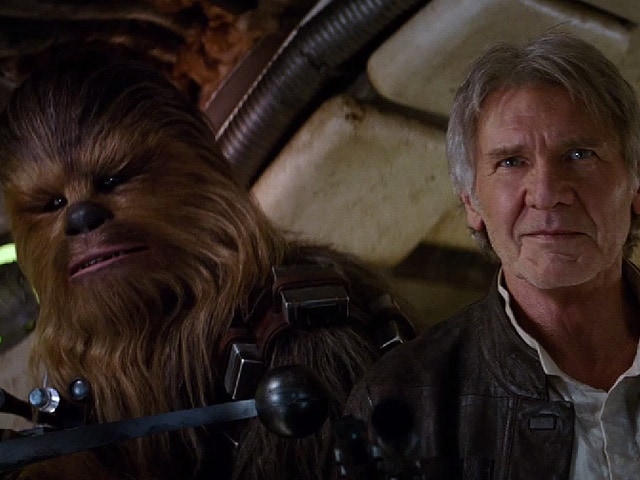 New Delhi:
The second trailer of
Star Wars: The Force Awakens
has been released and fans of the space adventure series will find it familiar.
And not just the fans. "Chewie, we're home," says an elderly Han Solo, played by Harrison Ford, to his Wookie friend and co-pilot as the board what is presumably The Millenium Falcon, the spacecraft they fly in the original hit films.
Fans unhappy with the sequels that were actually prequels starring Liam Neeson, Ewan McGregor and Hayden Christiansen will likely have no complaints about this, the seventh, film. The landscape, the space ships, the ruined Imperial Star Destroyer, the storm troopers - the calculus of man and machinery is old-world Star Wars with 2015 special effects (none of which were employed to make Han Solo look like anything but an old man).
#TheForceAwakens is trending on Twitter, which is mostly loving the trailer.
I lost count how many times I watched that #TheForceAwakens teaser.

— E.V. Kwun (@geektrooper) April 17, 2015
I AM SO EXCITED AND ALREADY CRYING #TheForceAwakens

— carly (@carlmonso) April 17, 2015
Cried again when I saw #TheForceAwakens trailer with my daughter. Someday she will learn the ways of the Force .

— Brian Bailey (@ballsinplay) April 17, 2015
Star Wars: The Force Awakens
, directed by JJ Abrams, also sees original cast members Mark Hamill and Carrie Fisher returning as Luke Skywalker and Princess Leia. Lupita Nyong'o, Andy Serkis, Oscar Isaac and Max Von Sydow are new additions.
The film releases on December 18.
Watch: