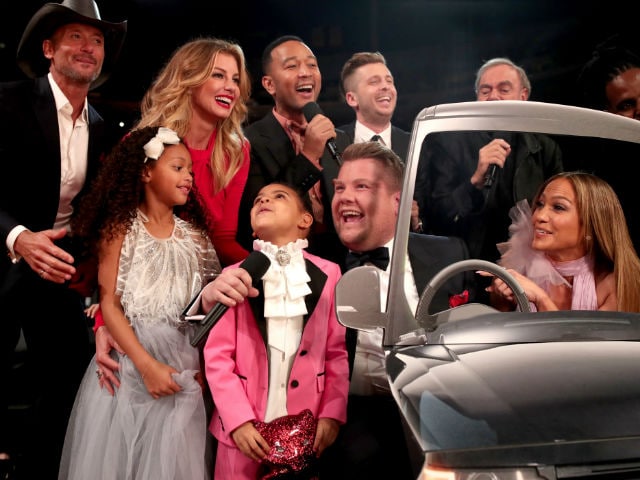 Highlights
Blue Ivy joined Neil Diamond and other stars to sing Sweet Caroline
Blue Ivy wore a Gucci suit inspired by one of Prince's looks
She had a cameo (of sorts) in her mother Beyonce's gig
New Delhi:
When it's not Beyonce hogging the headlines, it's her adorable five-year-old daughter Blue Ivy. Little Miss Carter's showbiz genes were summoned up at the
59th Annual Grammy Awards
in Los Angeles on Sunday night, where she was a tiny star dressed in an outfit miniaturized from late singer Prince's signature look, complete with ruffles cascading down the front (psst - it was Gucci). Blue Ivy has been to the Grammys before but never has she made the kind of splash she did this year - particularly when she trotted off to join host James Corden's 'cardboard karaoke' with a bunch other stars. Blue Ivy will soon be big sister to twins - Beyonce and Jay-Z are currently expecting.
Here are the top Blue Ivy moments from Grammys 2017:When She Crashed 'Cardboard Karaoke'
Host James Corden brought his famous talk show segment to the Grammys but since he wasn't allowed a real car, he made do with a cardboard version, gathering up stars on the way. 'Cardboard Karaoke' was extra special because the song that was being sung was
Sweet Caroline
and the person singing it was Neil Diamond himself. Jennifer Lopez, John Legend, Keith Urban and others joined in but it Beyonce's daughter who owned the act when she crashed their gig.
Blue Ivy is stealing the show tonight #GRAMMYspic.twitter.com/wxfJiIYb7V

— Pop Crave (@PopCrave) February 13, 2017
When All Eyes Were On Blue Ivy
Beyonce performed at the Grammys, to an audience
both awe-struck and enthralled
. From her Egyptian goddess look to the gravity-defying chair stunt - everything was just perfect. Add to that, Beyonce is heavily pregnant and no one can argue that it was probably one of the best performances in the history of the Grammy Awards. In that performance, there was a moment when Beyonce's mother Tina Knowles and Blue Ivy were (in a way) on stage. Pure. Gold.
Beyoncé, Blue & Miss Tina #GRAMMYspic.twitter.com/qwpC3VLN8P

— BEYONCE LEGION (@Bey_Legion) February 13, 2017
Hey Rihanna, What Did Blue Ivy Say?
Rihanna's expression in this picture tells us that Blue Ivy knows how to entertain her audience. Rihanna, dressed in Armani Prive, looked rather engrossed.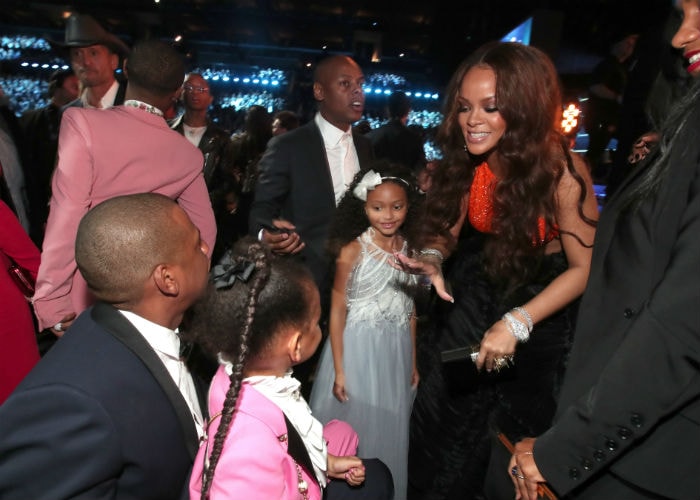 Blue Ivy, Fashionably Yours
Well, TBH, we expected Blue Ivy's couture to be as cool as any top artiste who'd walk the red carpet. Blue Ivy wore a pink Gucci suit with a ruffled shirt, inspired by one of late pop icon Prince's looks. She sat with her father Jay-Z and aunt Solange all through the evening.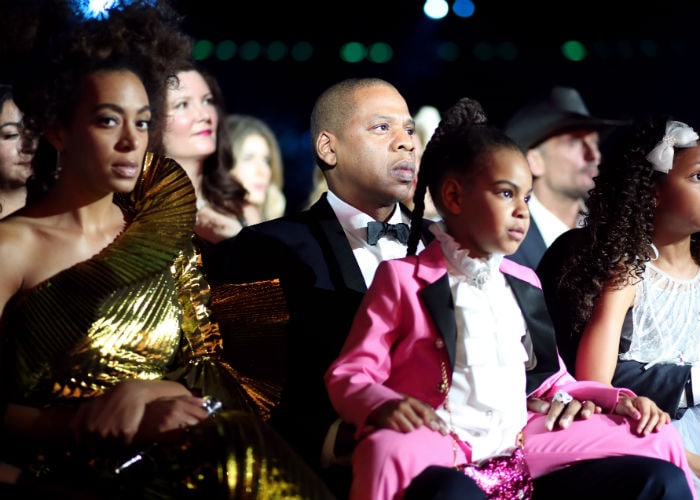 The 59th Grammy Awards concluded on Sunday night in Los Angeles. Beyonce, who was nominated in nine categories, won two awards while Adele won five trophies including Song, Record and Album of the Year. Accepting her final Grammy of the evening, Adele said: "But the artist of my life is Beyonce. And this album to me, the
Lemonade
album, is just so monumental. Beyonce, it's so monumental." She
snapped the Grammy in half
, apparently to share with Queen Bey.