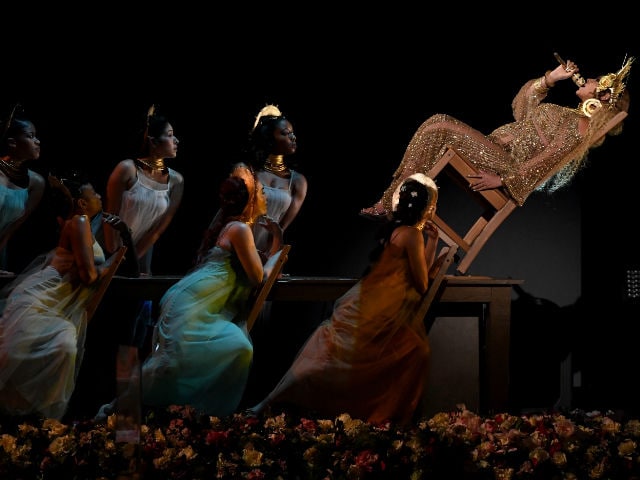 Highlights
Beyonce, pregnant with twins, performed wearing a golden crown
She performed a medley of Love Drought and Sandcastles
She was joined on-stage by her mother and 5-year-old daughter Blue Ivy
New Delhi:
Even before she won her
first award of the night
, Beyonce had
Grammys crowd
and the Internet kneeling in supplication. The 35-year-old singer is
pregnant with twins
and made her first public appearance after making the baby announcement with a stunning performance at the music awards. Beyonce, nominated for nine Grammys this year, performed a medley of her songs
Love Drought
and
Sandcastles
, channeling ancient Egypt in a shimmering cape and a golden crown. Soon after, she won the Best Urban Contemporary Album Grammy for
Lemonade
. Her music video for
Formation
had already been awarded earlier. But it was her jaw-dropping performance that will rule the Internet for now.
Here's a glimpse of Beyonce's Grammys performance:
Beyoncé performing at the 2017 #GRAMMYspic.twitter.com/L7oYE3uulE

— BEYONCE LEGION (@Bey_Legion) February 13, 2017
The performance was in keeping with the new, edgier persona of Beyonce, who has geared her music away from the more mainstream audience of her pop hits. Beyonce chose not to play it safe, instead putting on an extravagant and abstract performance with touches of Indian spirituality and ancient Egypt.
Beyonce was introduced by her proud mother before an image of the 35-year-old singer flashed on the screen. She was also shown with her mother and daughter Blue Ivy, all in gold. The real Beyonce then appeared wearing a golden crown and flowing cape alongside dozens of female dancers, who made formations around her as they turned the stage into a sea of flowers.
Beyoncé, Blue & Miss Tina #GRAMMYspic.twitter.com/qwpC3VLN8P

— BEYONCE LEGION (@Bey_Legion) February 13, 2017
But it was Beyonce's terribly well-balanced chair act which left everyone awestruck. Beyonce, queen of Grammys.
Beyoncé is literally defying gravity, time, and space. #GRAMMYspic.twitter.com/5cM5FLwRRl

— BEYONCE CAPITAL (@BeyonceCapital) February 13, 2017
Dear Beyonce, why so fabulous? The lesser mortals of Twitter would like to know. Please help us cope.
Things Beyoncé did: THAT pic.twitter.com/NxksGbiceD

— Zach Shapiro (@zachshapiro7) February 13, 2017
GOD IS A WOMAN AND HER NAME IS BEYONCE CARTER KNOWLES pic.twitter.com/40V3gOWB1p

— that one virgo (@thadoglady) February 13, 2017
That Beyonce performance was HONESTLY and TRULY a work of art. pic.twitter.com/Vmcv9pO3dV

— Erika Florita (@ErikaFlorita) February 13, 2017
Issac Newton Must Have Taken A Turn In His Grave By Looking At #Beyonce's Gravity Defying Performance. #GRAMMYs#BeyonceGrammyspic.twitter.com/iSBQ2LwqyQ

— Sir Ravindra Jadeja (@SirJadejaaaa) February 13, 2017
"If we are going to heal, let it be glorious," Beyonce said. She ended her performance with a glance towards her husband, rap mogul Jay-Z, and Blue Ivy, both of them beaming.
(With AFP inputs)