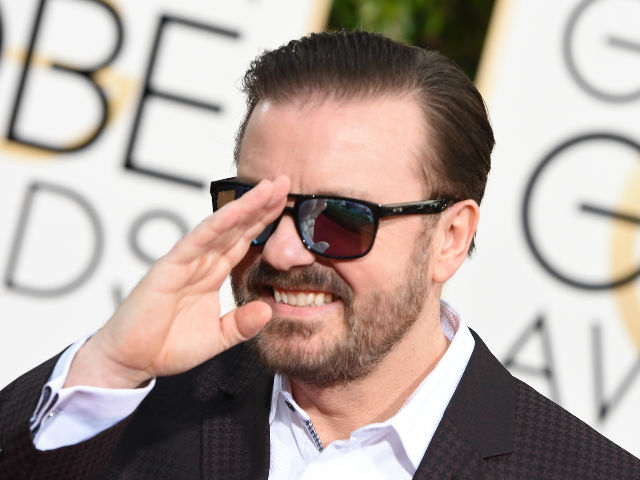 Los Angeles:
Ricky Gervais again proved his penchant for provocation Sunday as he returned as host of the Golden Globe Awards, ribbing Hollywood's A-listers with at times uncomfortable jokes.
The sharp-tongued British comic - the host of the awards from 2010-2012 before being replaced by Tina Fey and Amy Poehler - appeared to relish his reputation as he took the stage at the Beverly Hilton. (Also Read -
Golden Globes: Big Night for Leonardo DiCaprio and The Revenant
)
"Shut up, you disgusting, pill-popping deviant scum!" he said by way of greeting the crowd.
"One Hollywood publication said that me hosting would mean that some film stars would stay away for fear of being made fun of. As if film stars would stay away from the chance of winning a Golden Globe -- particularly if their film company has already paid for it," he said, alluding to longstanding criticism on the process for selecting the winners.
Ricky poked fun at Olympic decathlon champion turned Hollywood celebrity Caitlyn Jenner, a pioneer for transgender rights by speaking publicly about her gender change but who was also involved in a deadly car crash last year.
"What a year she's had. She became a role model for trans people everywhere, showing great bravery in breaking down barriers and destroying stereotypes. She didn't do a lot for women drivers, but you can't have everything, can you?" he said to applause.
Ricky got noticeably less laughter when he joked about French-Polish director Roman Polanski, who stays away from the United States to avoid prosecution for the 1977 statutory rape of a 13-year-old girl.
Referring to
Spotlight
, a nominated movie about The Boston Globe's investigation into child abuse by Catholic priests, Gervais quipped: "Roman Polanski called it the best date movie ever." (Also Read:
Complete List of Winners at the Golden Globe Awards 2016
)
The Briton also took aim at the presidential race in the United States with a jab at Republican front-runner Donald Trump, who has repeatedly criticized immigrants.
Introducing two Hispanic stars to present an award, Ricky said: "Eva Longoria and America Ferrera aren't just beautiful, talented actresses. They are also two people who your future president, Donald Trump, can't wait to deport."