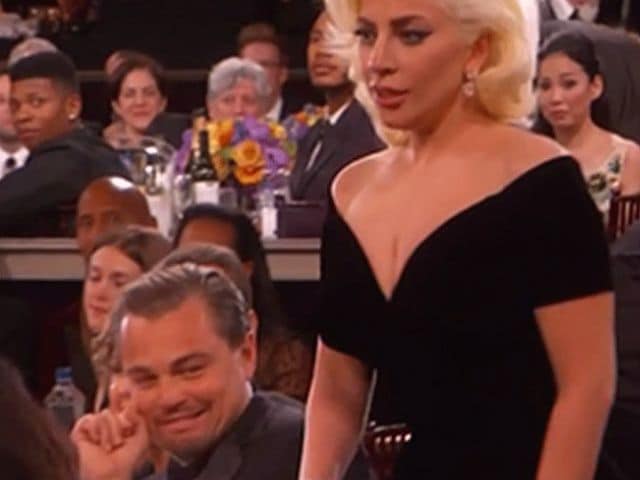 New Delhi:
Leonardo DiCaprio and Lady Gaga had a moment at the Golden Globes, and it was something of a oopsie for Leo.
Gaga, channeling Marilyn Monroe glamour in a corseted Versace gown and a blonde bob, won her first ever Globe for Best Actress in a TV Movie or Miniseries for her work
in American Horror Story: Hotel
. She appeared to have been seated towards the back of the room and so had a longer than usual stroll to the stage to collect her award. On the way, she hilariously bumped into Leonardo, shoving his elbow out of the way. Leonardo, who had been giggling for reasons unknown till then, appeared startled and gave Gaga's retreating back some side-eye. (Also Read -
Golden Globes: Big Night for Leonardo DiCaprio and The Revenant
)
Luckily for those of us not invited to the celebrities-only event, social media offers plenty ringside views of how it happened. Here's a good look:
scuse u https://t.co/dNlwVvHkCN

— LW (@lindseyweber) January 11, 2016
We know! Awkward.
Leonardo won Best Film Actor (Drama) for The Revenant at the end of the night but for that moment, at least, the joke seemed to be on him. Twitter found it hilarious:
Leo deserves a Golden Globe for this reaction. Better than the bear movie. https://t.co/mORpKiadA0

— Allison P Davis (@AllisonPDavis) January 11, 2016
Watch Leonardo DiCaprio react to a woman older than 25 https://t.co/6WJNtUj7WF

— Joel Pavelski (@joelcifer) January 11, 2016
Bwahaha congrats Leonardo for winning Golden Globe and your reaction when Lady Gaga won. Gotta keep that poker face https://t.co/pTGtjTqqaT

— Jessa Olloves (@jessalazy) January 11, 2016