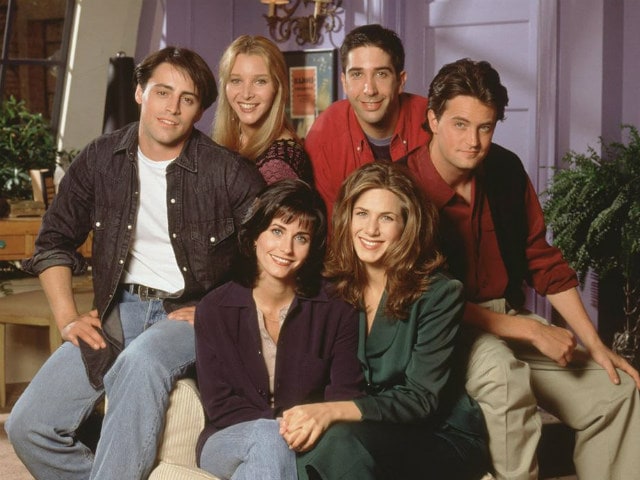 Los Angeles:
The cast of NBC's hit sitcom
F.R.I.E.N.D.S
is scheduled to come together next month for the first time on the network since the series ended in 2004 for a tribute to TV comedy director James Burrows, NBC executives said on Wednesday.
Jennifer Aniston, Courteney Cox, Lisa Kudrow, Matt LeBlanc, Matthew Perry and David Schwimmer will be part of a star-studded tribute to the 75-year-old director, NBC Entertainment Chairman Bob Greenblatt told journalists at the Television Critics Association. (Also Read:
Nothing Will be as Big as F.R.I.E.N.D.S, Says Mattew Perry
)
The February 21 special will also see the casts of other comedy shows that Mr Burrows has directed, which includes
Cheers
,
Frasier
and
Will & Grace
.
"I'm hoping that all six of them will be in the same room at the same time, but I'm not sure of that," Mr Greenblatt said of the
F.R.I.E.N.D.S
cast. "I'm not sure if we can logistically pull that off. But I think it's safe to say that all six of them will be there."
The six performers, whose careers were launched by the show, have rarely come together as a group since the show went off the air. Jennifer, Courteney and Lisa last appeared together in 2014 to spoof their
F.R.I.E.N.D.S
characters in a sketch on late-night talk show
Jimmy Kimmel Live
.
F.R.I.E.N.D.S
, which premiered in 1994, followed six adults in their mid-20s trying to navigate work, life and love in Manhattan. It became one of NBC's most-watched shows and has appeared on lists of the greatest TV shows in history. (Also Read:
Brad Pitt, Julia Roberts and Other Celeb Cameos in F.R.I.E.N.D.S
)