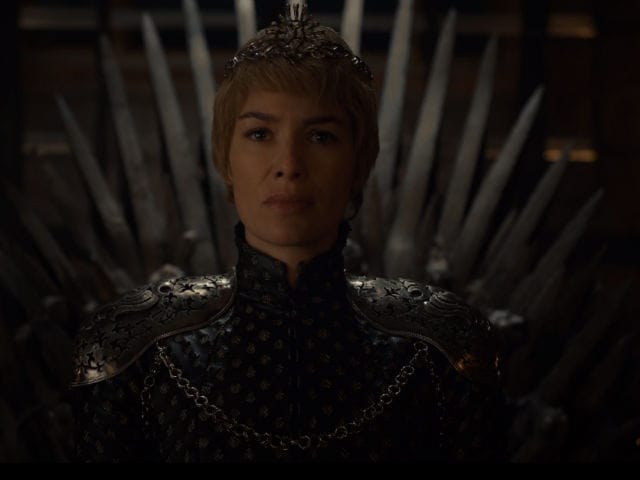 Highlights
Game of Thrones won record-breaking 12 awards last year
The People v. O.J. Simpson: American Crime Story scored 22 nods
Benedict Cumberbatch and Bryan Cranston are competing for Best Actor
Los Angeles:
Fantasy drama
Game of Thrones
led the field for television's coveted Primetime Emmy awards Thursday for a third straight year, with nominations in 23 categories.
HBO's fantasy epic about noble families vying for control of the Iron Throne will compete for the prestigious outstanding drama series trophy for the fifth year in a row, the Television Academy announced.
The show, which raked in a record-breaking 12 awards last year, faces competition from
House of Cards
,
Better Call Saul
,
Mr. Robot
,
Downton Abbey
,
The Americans
and
Homeland
.
FX's hotly-tipped
The People v. O.J. Simpson: American Crime Story
scored the second highest tally with 22 nods, followed by
Fargo
with 18.
Anthony Anderson, star of ABC's hit series
black-ish
, and
Gilmore Girls
actress Lauren Graham presented the nominations for the 68th Emmy Awards at the Television Academy in Los Angeles.
Mr Anderson whooped when Ms Graham read out his name in the Best Comedy Actor category, shouting: "Hi momma - I know you're watching!"
HBO's political comedy
Veep
, starring Julia Louis-Dreyfus as hapless President Selina Meyer - scored 17 nominations for television's equivalent of the Oscars, to be handed out on September 18 in Los Angeles.
Several hotly tipped shows missed out on widely-expected nods, however, including
The Good Wife
, which was shut out of best show honors, and Netflix's prison comedy drama
Orange is the New Black
which failed to pick up a single nomination.
"Television dominates entertainment conversation and is enjoying the most spectacular run in its history. Today marks the start of our annual celebration of the best of the best," said Academy chairman Bruce Rosenblum.
Star-studded
Empire
, Fox's debut melodrama about family feuds in a musical empire, picked up just one nomination despite its success with TV viewers, 17.6 million of whom tuned into the first season finale.
That went to Taraji P. Henson in the Best Actress in a Drama category for her portrayal of family matriarch Cookie Lyon. Ms Henson would be only the second African American actress to pick up prize.
Another black actress, Viola Davis, won the category last year and is nominated in the same category for her work on ABC's
How to Get Away with Murder
.
Comedy show
Saturday Night Live
scored 16 nominations to squeeze into the top five, edging out political thriller
House of Cards
, which managed 13 nods.
The Television Academy's 19,000 members were given two weeks in June to sift through a crowded field of more than 8,000 entries from shows aired during the previous 12 months across 113 categories.
The most star-studded category was perhaps lead actor in a limited series or TV movie which included six-time Emmy winner Bryan Cranston, who has received rave reviews for anchoring HBO's Lyndon B. Johnson biopic
All the Way
.
Benedict Cumberbatch, Idris Elba, Cuba Gooding Jr, Tom Hiddleston and Courtney B. Vance were also nominated while other big name contenders in the category including Bill Murray and Johnny Depp missed out.
The topic of race figured heavily in the Limited Series category - formerly known as "Outstanding Miniseries" - with
The People v. O.J. Simpson
matched up with historical saga
Roots
and ABC's
American Crime
.
Downton Abbey
, which picked up eight nominations last year but won only for hairstyling, marks its final season with 10 nods, including a fourth in the Prestigious Outstanding Drama Category. Emmy nominees in key categories:
OUTSTANDING DRAMA SERIES
Better Call SaulDownton AbbeyGame of ThronesHomelandHouse of CardsMr. RobotThe Americans
OUTSTANDING COMEDY SERIES
black-ishMaster of NoneModern FamilySilicon ValleyTransparentUnbreakable Kimmy SchmidtVeep
LEAD ACTOR, DRAMA
Kyle Chandler,
Bloodline
Rami Malek,
Mr. Robot
Bob Odenkirk,
Better Call Saul
Matthew Rhys,
The Americans
Liev Schreiber,
Ray Donovan
Kevin Spacey,
House of Cards
LEAD ACTRESS, DRAMA
Claire Danes,
Homeland
Viola Davis,
How to Get Away with Murder
Taraji P. Henson,
Empire
Tatiana Maslany,
Orphan Black
Keri Russell,
The Americans
Robin Wright,
House of Cards
LEAD ACTOR, COMEDY
Anthony Anderson,
black-ish
Aziz Ansari,
Master of None
Will Forte,
The Last Man on Earth
William Macy,
Shameless
Thomas Middleditch,
Silicon Valley
Jeffrey Tambor,
Transparent
LEAD ACTRESS, COMEDY
Ellie Kemper,
Unbreakable Kimmy Schmidt
Julia Louis-Dreyfus,
Veep
Laurie Metcalf,
Getting On
Tracee Ellis Ross,
black-ish
Amy Schumer,
Inside Amy Schumer
Lily Tomlin,
Grace and Frankie
SUPPORTING ACTOR, DRAMA
Jonathan Banks,
Better Call Saul
Peter Dinklage,
Game of Thrones
Kit Harington,
Game of Thrones
Michael Kelly,
House of Cards
Ben Mendelsohn,
Bloodline
Jon Voight,
Ray Donovan
SUPPORTING ACTRESS, DRAMA
Emilia Clarke,
Game of Thrones
Lena Headey,
Game of Thrones
Maggie Smith,
Downton Abbey
Maura Tierney,
The Affair
Maisie Williams,
Game of Thrones
Constance Zimmer,
UnREAL
SUPPORTING ACTOR, COMEDY
Louie Anderson,
Baskets
Andre Braugher,
Brooklyn Nine-Nine
Tituss Burgess,
Unbreakable Kimmy Schmidt
Ty Burrell,
Modern Family
Tony Hale,
Veep
Keegan-Michael Key,
Key & Peele
Matt Walsh,
Veep
SUPPORTING ACTRESS, COMEDY
Anna Chlumsky,
Veep
Gaby Hoffman,
Transparent
Allison Janney,
Mom
Judith Light,
Transparent
Kate McKinnon,
Saturday Night Live
Niecy Nash,
Getting On
LEAD ACTOR, LIMITED SERIES OR MOVIE
Bryan Cranston,
All The Way
Benedict Cumberbatch,
Sherlock: The Abominable Bride
Idris Elba,
Luther
Cuba Gooding Jr.,
The People v. O.J. Simpson: American Crime Story
Tom Hiddleston,
The Night Manager
Courtney Vance,
The People v. O.J. Simpson: American Crime Story
LEAD ACTRESS, LIMITED SERIES OR MOVIE
Kirsten Dunst,
Fargo
Felicity Huffman,
American Crime
Audra McDonald,
Lady Day at Emerson's Bar & Grill
Sarah Paulson,
The People v. O.J. Simpson: American Crime Story
Lili Taylor,
American Crime
Kerry Washington,
Confirmation
TELEVISION MOVIE
A Very Murray ChristmasAll the WayConfirmationLutherSherlock: The Abominable Bride
Top five programs with most nominations:
Game of Thrones
- 23
The People v. O.J. Simpson: American Crime Story
- 22
Fargo
- 18
Veep
- 17
Saturday Night Live
- 16
(Except for the headline, this story has not been edited by NDTV staff and is published from a syndicated feed.)