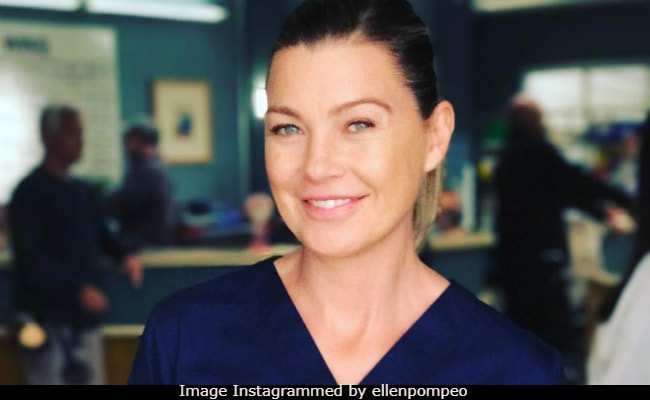 Ellen Pompeo doesn't hold back.
And why should she? It's a privilege that comes with being the highest-paid actress on a TV drama, a distinction the
Grey's Anatomy
lead earned after recently signing a two-year extension of her contract. She'll make (at least) a whopping $20 million a year.
The 48-year-old actress is known for her outspoken nature, especially on Twitter, but a candid interview published Wednesday by the Hollywood Reporter nevertheless was met with surprise. Pompeo discussed her paycheck in a refreshingly frank tone and detailed her fight "for what I deserve" throughout her 14 seasons playing Meredith Grey on the ABC medical drama.
Here are five of Pompeo's best lines from the interview, and what they say about persisting inequities in the entertainment industry.
- "I'm not the most 'relevant' actress out there. I know that's the industry perception because I've been this character for 14 years. But the truth is, anybody can be good on a show season one and two. Can you be good 14 years later? Now, that's a f---in' skill."
The
Grey's Anatomy
pilot aired in 2005 and, 13 years later, Pompeo is one of four original cast members left on the series. (Justin Chambers, James Pickens Jr. and Chandra Wilson are the others.) The show won a 2007 Screen Actors Guild award for outstanding performance by an ensemble in a drama series but no longer garners critics' attention as it once did - and Pompeo said she's "not necessarily perceived as successful, either."
But the show remains wildly popular among fans. It ranked as ABC's No. 2 drama last fall, and continues to draw nearly 12 million viewers. Pompeo, who won a People's Choice Award in 2016 and was nominated last year, said the series has generated almost $3 billion for Disney. Yes, billion.
- "So, what does it look like when (Patrick Dempsey) leaves the show? First, it looks like a ratings spike, and I had a nice chuckle about that."
Showrunner Shonda Rhimes has implied that Dempsey was difficult to work with - we'll get to other behind-the-scenes drama later - and it doesn't sound like Pompeo had it any easier. The actress called Dempsey's exit after his character was killed off in 2015 "a defining moment, deal-wise." Though Meredith is the lead character, she hadn't been able to secure $5,000 more than Dempsey in previous salary negotiations.
"They could always use him as leverage against me - 'We don't need you; we have Patrick' - which they did for years," she continued.
The situation recalls last week's controversy over the profound difference in how much lead actress Michelle Williams and supporting actor Mark Wahlberg were paid for "All the Money in the World" reshoots. Despite being a four-time Oscar nominee,Williams was paid just 1 percent of Wahlberg's $1.5 million paycheck. (He later donated the money to the Time's Up legal defense fund.)
As Pompeo implied, experienced actresses aren't always valued.
"I mean, Faye Dunaway is driving a f---in' Prius today," she said. "Now, there's nothing wrong with a Prius, but my point is, she had no financial power. If we're going to invoke change, that has to be part of it."
- "I grew up around some very tough people, so I probably would have picked up a vase and cracked him over the f---ing head. But I also feel completely comfortable saying that I walked into that room batting the s--- out of my eyelashes. My goal in that room was to charm him, as it is in most rooms like that."
Pompeo has addressed her encounter with Harvey Weinstein before, but she divulged more information this time around. Though he "didn't try anything" after agents sent her to his hotel room at the Peninsula, she recognized the uncomfortable power dynamic right away.
Pompeo said she has attended a number of meetings held by organizers of the Time's Up initiative.
"And I'll tell you, sitting in rooms full of Oscar-winning actresses listening to how they've been preyed upon and assaulted is frightening," she said. "And it confirmed that my path really was the right one for me, because I've chosen to financially empower myself so that I never have to be ducking predators and chasing trophies."
- "That's actors: They want to do whatever they're not doing. You could give them a f---ing beautiful chocolate ice cream cone with sprinkles and they're gonna say they want strawberry."
Network TV can be "super-mundane and there are super-long hours," according to Pompeo, and some actors get frustrated with other members of the team. There have been multiple behind-the-scenes scandals on the set of "Grey's Anatomy" that ended with the actors leaving.
"On the outside, we were a massive success, but there was all of this tumult on the inside: It was a lot of rivalry, a lot of competition," Pompeo said. "It starts with actors behaving badly, and then producers enabling them to behave badly."
Isaiah Washington, who played Preston Burke, called his co-star T.R. Knight, who played George O'Malley, a homophobic slur. Washington was fired soon after.
In 2008, Katherine Heigl, who played Izzie Stevens, withdrew from the Emmy race because she "did not feel that I was given the material this season to warrant an Emmy nomination." Heigl left the show in 2010. Four years later, Rhimes told the Hollywood Reporter, "I don't put up with bulls--- or nasty people. I don't have time for it."
Pompeo said the way to please actors is to "make them feel part of the process," connecting it to Jay-Z's method of paying artists on Tidal, his music-streaming service.
"With Tidal, Jay-Z's empowered artists by giving them a piece, and it makes them more invested. I love it," she said. "And I think, like the music business, we need to get to a place where actors have more ownership over what they do."
- "Look, I only have a 12th-grade education and I wasn't a great student, but I've gotten an education here at Shondaland. And now my 8-year-old daughter gets to come here and see fierce females in charge."
Rhimes signed a massive deal with Netflix last summer, and Pompeo said this led her to ask the showrunner for more to do: "I need to be incentivized. I need to feel empowered and to feel ownership of this show." As a result, Pompeo became a producer on "Grey's" and a co-executive producer on an upcoming spinoff series and secured the eye-popping paycheck.
"She loves to sit in the director's chair with the headphones on yelling 'Action' and 'Cut,' " Pompeo said of her daughter. "She's growing up in an environment where she's completely comfortable with power. I don't know any other environment in Hollywood where I could provide that for her. Now I hope that changes ... and soon."
There's been some progress for women working in television. Lifetime announced at the Television Critics Association press tour on Sunday that all of its scripted series are created and run by women. A study released in the fall by the Director's Guild of America found a 45 percent increase from the 2015-16 season to 2016-17 in the number of female directors employed by episodic television, according to IndieWire.
"I don't believe the only solution is more women in power, because power corrupts," said Pompeo, who has directed for
Grey's Anatomy
as well. "It's not necessarily a man or a woman thing. But there should be more of us women in power, and not just on Shonda Rhimes' sets."
(c) 2018, The Washington Post
(Except for the headline, this story has not been edited by NDTV staff and is published from a syndicated feed.)