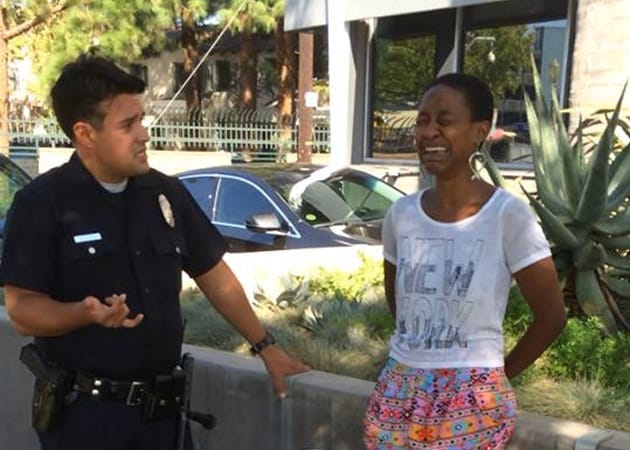 Los Angeles:
Django Unchained actress Daniele Watts is livid after she was handcuffed and detained briefly by the LA police who mistook her for a prostitute for being affectionate with her husband in public.

The African-American actress said in a Facebook post that she was handcuffed and detained on Thursday, when she and husband Brian James Lucas, who is white, were being affectionate in public, said The Hollywood Reporter.

"Today I was handcuffed and detained by 2 police officers from the Studio City Police Department after refusing to agree that I had done something wrong by showing affection, fully clothed, in a public place," she wrote.

"When the officer arrived, I was standing on the sidewalk by a tree. I was talking to my father on my cell phone. I knew that I had done nothing wrong, that I wasn't harming anyone, so I walked away. A few minutes later, I was still talking to my dad when 2 different police officers accosted me and forced me into handcuffs," she added.

The Partners actress also posted a photo of herself crying standing beside the officer and wrote that her wrist was bleeding in pain.

"As I was sitting in the back of the police car, I remembered the countless times my father came home frustrated or humiliated by the cops when he had done nothing wrong," she continued.


"I felt his shame, his anger, and my own feelings of frustration for existing in a world where I have allowed myself to believe that 'authority figures' could control my being, my ability to be!!" she said, while accusing the police for indulging in racism.
Lucas supported his wife and slammed the police, while saying, "Today, Daniele Watts and I were accosted by police officers after showing our affection publicly. From the questions that he asked me as D was already on her phone with her dad, I could tell that whoever called on us (including the officers), saw a white boy and a black girl and thought we were a prostitute and a client. This is something that happened to her and her father when she was 16. What an assumption to make!!!" he posted on his Facebook page.
Meanwhile, the LA Police Department (LAPD) said in a statement that the officers were responding to a radio call of indecent exposure.
"The citizen who called the police to complain told the 911 operator that a male and a female were involved in indecent exposure inside a Silver Mercedes with the vehicle door open," reads the statement. The police added that Watts and Lucas were briefly detained until it was determined that they had not committed a crime, at which point they were released.
"An internal complaint investigation has been initiated regarding this matter," the LAPD said.