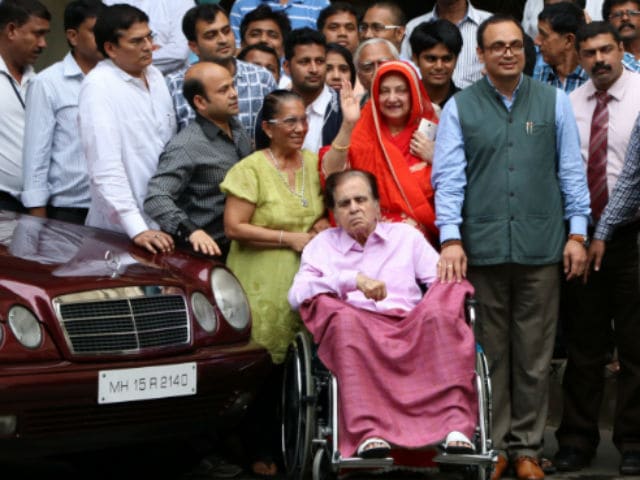 Highlights
"He is in good health now," says Saira Banu
Saira Banu said Dilip Kumar's recovery is a 'miracle'
Saira Banu said Dilip Kumar have been married over 50 years
New Delhi:
Actor Dilip Kumar
was discharged from Mumbai's Lilavati Hospital yesterday.
His wife Saira Banu says Dilip Kumar's recovery from kidney-related problems is a miracle, reported news agency IANS. Saira Banu also added, "It was a nightmare for him to deal with the sudden deterioration of his health." The 94-year-old actor, who was admitted to the hospital last week, has been married to Saira Banu over five decades now and is 22 years elder to her. Saira Banu accompanied her husband Dilip Kumar when he was discharged from the hospital on Wednesday evening. She said: "He is in good health now. All of it felt like a nightmare, how he suddenly fell sick. I am thankful to the Almighty. This has been a miracle," told IANS.
Saira Banu thanked the management, doctors and staff members of the Bandra West facility for taking good care of Dilip Kumar and even expressed gratitude to the fans who prayed for his well-being, reported IANS. Saira Banu said, "The prayers were accepted by Allah and he is feeling well now. I can't tell you how grateful I am to God that we have come out of this."
Ajay Kumar Pande, Vice President, Lilavati Hospital
, told IANS on Wednesday that Dilip Kumar was critical when he was admitted to the hospital over complaints of dehydration and urinary tract infection and that the actor may have to be put on dialysis.
But Dilip Kumar started responding well to the treatment in a few days.
Mr Kumar also said that Saira Banu is a
Sati Savitri
referring to her dedication towards her husband. Saira Banu said: "If a woman's husband is India's Kohinoor, why won't his wife be a
Sati Savitri
. All wives love their husbands and it's no big deal. Whatever I am doing I won't say that I am taking care of him. It is my love for him and I am ready to do it 100 times more for him," reported IANS.
Saira Banu and Dilip Kumar have shared the screen space in films like
Duniya
,
Bairaag
,
Sagina
,
Chhoti Bahu
and
Gopi
.
Dilip Kumar, who is known for his films like
Devdas
and
Mughal-e-Azam
for which he received great appreciation, was last seen in 1998's
Qila
.
(With IANS Inputs)