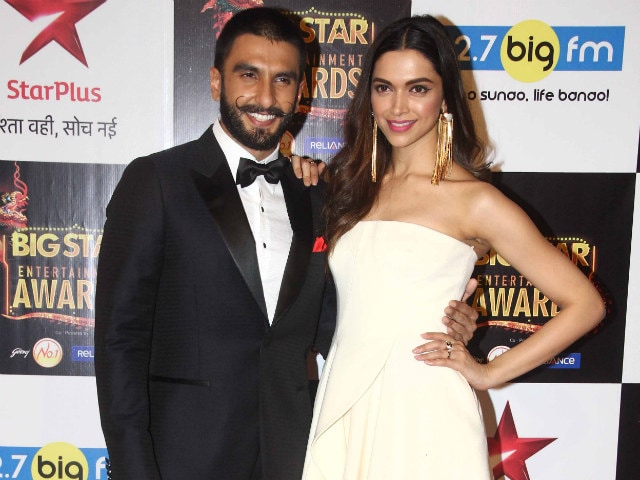 New Delhi:
Fans might swoon over Bollywood actor Ranveer Singh's cheeky, flirtatious nature but
Bajirao Mastani
co-star Deepika Padukone said that the actor's emotional side is what she connects with more.
Deepika, who has also worked with Ranveer in
Ram Leela
, said that she finds his hidden side more relatable.
"From the little bit I know him, he is a different person when he is with him family and friends than what he is out there in public. I feel the public does not get to see a certain side of him. I have accepted him for both his very contrasting sides but I think I relate to the more emotional side of him; the vulnerability is probably what I connect to more," Deepika told PTI. (Also Read:
Deepika Padukone Reveals the 'Real Side' of Ranveer Singh
)
Besides her
Bajirao Mastani
co-star, the 29-year-old actress shares a special equation with director Sanjay Leela Bhansali also.
Deepika said that while working on
Ram Leela
she felt intimidated by the filmmaker but the duo reached a comfort level during
Bajirao Mastani
.
"I didn't feel intimidated by him. I felt that during
Ram Leela
because I took time to understand him as a person. But we found our comfort while working on
Bajairo Mastani
. Now, I understand and have adapted to his way of working," she said.
"We have found a beautiful equation with this film where we did not say much to each other but we understood what the other person is trying to communicate," she added.
Being at the peak of her career, a historical film seems a risk. Though this is not the first time she has ventured into the genre - she did Ashutosh Gowariker's
Khelein Hum Jee Jaan Sey
in 2010. B the grandeur of and the hype around
Bajirao Mastani
is bigger.
"The success of
Bajirao Mastani
is of course important for me but then that is regarding every film, be it big or small. It would be incorrect for me to say that
Bajirao
is more important than my other films. My hard work and hope for every movie is same. The only thing that changes with every film is that I try keep to better myself. That has been my only aim as an actress," she said.
She was last seen in Imtiaz Ali's
Tamasha
with Ranbir Kapoor, which opened to mixed reviews, even though performances have received unanimous praise.
Many fans, who went to see the movie hoping to see Ranbir and Deepika recreate their chemistry previously seen in
Yeh Jawaani Hai Deewani
, were disappointed by the movie.
"We kept on saying in the promotions that only the faces are similar but
Tamasha
is a very different film from
Yeh Jawaani Hai Deewani
. Those, who went to see
Tamasha
with that expectation, had wrong expectations. I am happy that the audience that we were targeting got the film and they liked it," said Deepika.
After
Piku
and
Tamasha
, Deepika hopes to end a "good" year on a high note with
Bajirao Mastani
.
"
Piku
surpassed my expectations.
Tamasha
surpassed my open expectations. I hope
Bajirao Mastani
surprises me as well. 2015 has been a very special year for me and I hope to sign it off with a bang," she concluded.