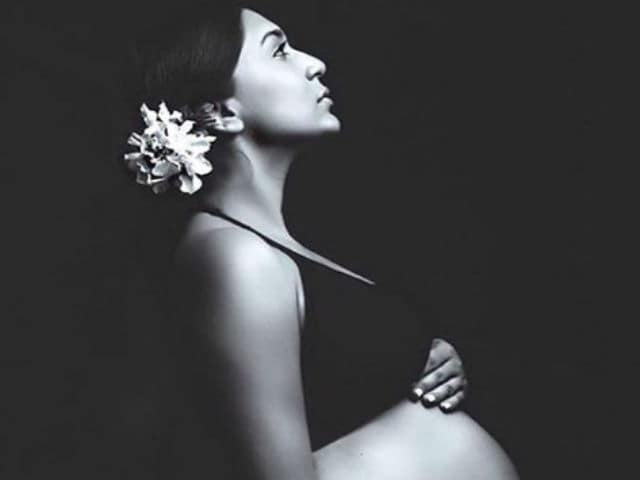 Highlights
Shveta Salve is expecting her first child
Shveta Salve married Hermit Sethi in 2012
Shveta has appeared on reality shows like Jhalak Dikhhla Jaa
New Delhi:
If you are expecting and don't know what to expect, you should read TV star and mom-to-be Shveta Salve's wise and funny
blog
about her pregnancy, concluding with a note to her unborn baby that will make your heart melt.
Shveta is expecting her first child
with husband Hermit Sethi. They married in 2012.
The
blog, written for Pyjama People
, documents Shveta's adventures in preparing for baby. She writes of the person she has most depended on through her pregnancy: "They say your pregnancy mirrors your mother's. If she had stretch marks, you probably will too; if she had strange cravings, you might have the same ones; if she overshot her due date, you will too. So, my advice is: when in doubt ask mom, that usually applies to most things in life but in this case it's bang on the money. She is the one person who will know what you are experiencing and will empathise with you when needed and encourage you when you are down. After all, her baby is having a baby."
Shveta's first trimester 'was a breeze,' the second had 'minor changes,' the third had 'all new cons.' She craved chocolate, was sleep deprived and 'everything grew.'
She also wore a bikini with her baby bump proudly to the beach.
Shveta, who is known for her roles in shows like
Hip Hip Hurray
,
Kittie Party
and
Left Right Left
, also wrote that she didn't have any pregnancy woes during her first trimester. She craved for chocolates during her second trimester and had mood swings when she didn't get them. The actress' doctor told her that her second trimester was the 'honeymoon phase' of her pregnancy.
Took other awesome pictures like this one.
And ended her
post
with the letter below. You can read Shveta's entire post
here
.
Shveta Salve is a familiar face from shows like
Kaahin Kissii Roz
and
Kittie Party
. She has also appeared on reality shows like
Jhalak Dikhhla Jaa
,
Khatron Ke Khiladi
and
Dance India Dance
.
The Letter
So dear baby,
Now it's all on you.
Your mamma is as ready as she can be! I promise you this: no matter what, I'm going to be by your side just like always. I've been these last few months - with every breath I take and every morsel I eat. I will continue caring for you and putting all your needs before mine.
I can't wait to hear your first cry, to feel your soft skin against mine, smell your beautiful babyness. Sorry, you heard me complain about silly stretch marks, saggy boobies and no sleep. I promise to wear my Tiger stripes with pride. It means I've nourished your body, and that's what matter. I'll stay up with you all night long (and make sure Daddy does as well!).
Know this: I already love you so much! You make me complete.