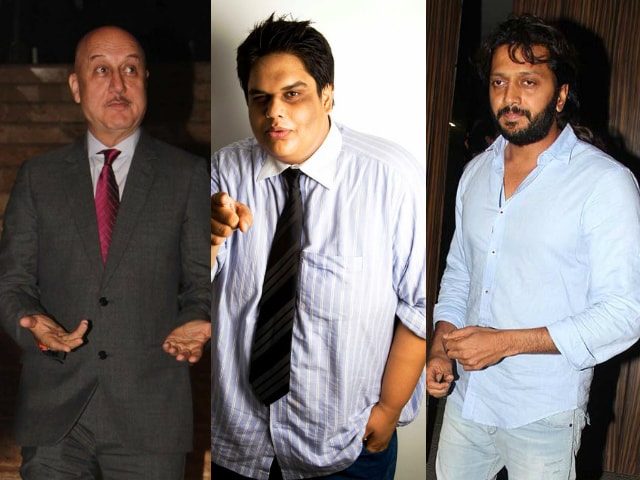 Highlights
Tanmay Bhat shared the video on Facebook on May 26
"This is not humour," Anupam Kher wrote on Twitter
"Absolutely shocked and appalled," wrote Celina Jaitly
New Delhi:
Bollywood celebrities like Anupam Kher and Riteish Deshmukh used strong words to slam a video shared by Tanmay Bhat, a member of comedy group AIB, on his
Facebook page
on May 26. The video features an imaginary conversation between cricket legend Sachin Tendulkar and veteran singer Lata Mangeshkar over the subject - who is a better player, Sachin or Virat Kohli.
Tanmay referred to the controversial AIB Roast and tweeted on Sunday:
Roast wale din yaad aa gaye by god pic.twitter.com/VgEPkaZy9e

- Tanmay Bhat (@thetanmay) May 29, 2016
The video appeared as offensive to Mr Kher, who tweeted:
I am 9 times winner of #BestComicActor. Have a great sense of humor. But This's NOT humor. #Disgusting&Disrespectful https://t.co/sTuTfbAOrU

- Anupam Kher (@AnupamPkher) May 29, 2016
Here's what Riteish said:
Am absolutely shocked. Disrespect is not cool and neither is it funny. https://t.co/ymYPi9hxuv

- Riteish Deshmukh (@Riteishd) May 28, 2016
Actress Celina Jaitly wrote:
Absolutely.. Shocked n appalled!! Not amused @mangeshkarlata ji needs to be apologised to .. NOW !! @rasheshshahhttps://t.co/viTcXyBSI0

- Celina Jaitly (@CelinaJaitly) May 28, 2016
Meanwhile, this is what Twitteratti had to say:
Forget offensive, Tanmay Bhat's video is not even funny.

- s h i v a n g i (@TranceCosmos) May 29, 2016
Watched the Tanmay Bhat video. The Sachin-Virat joke was okay, but the ones abt Lata Mangeshkar's aged face & abusing her was in poor taste.

- Mihir Bijur (@MihirBijur) May 29, 2016
Tanmay, who captioned the video as 'Sachin vs Lata Civil War'on Facebook, also posted a disclaimer, which read: "I make such nonsense on my Snapchat." Tanmay however, sensed trouble and tweeted on Sunday:
When you guys write about me tomorrow can you please use my snapchat ID - it's thetanmay thanks

- Tanmay Bhat (@thetanmay) May 28, 2016
AIB, which also comprises of Gursimran Khamba, Rohan Joshi and Ashish Shakya, were in the midst of a controversy last year, following an expletive-loaded Roast that took digs at actors
Ranveer Singh
, Arjun Kapoor and Alia Bhatt to name a few. It was attended by an audience of 4,000 in Mumbai in December, 2014.