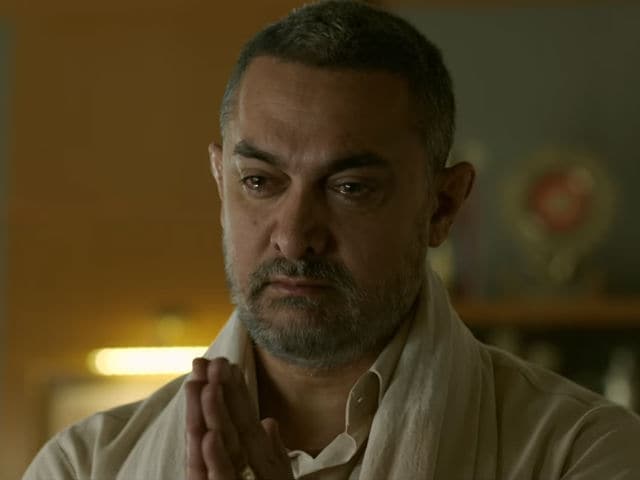 New Delhi:
The year was 2001. My friend and colleague Barkha Dutt was set up on Juhu beach in Mumbai to shoot a special episode of her show
Reality Bites
with Aamir Khan. The actor was leaving for Los Angeles that night to attend the Oscar Awards ceremony where his first film as producer,
Lagaan
, had been selected in the Best Foreign Film category. As the camera person figured out his shots, I saw a dapper, fresh off his
Dil Chahta Hain
cool Aamir looking into the mirror his make-up man was holding - applying, believe me or don't, kohl in his eyes!
It was a moment for me, a shock to my middle-class Delhi upbringing - a man applying
kajal
was so uncool. As he looked at me out of the corner of his eyes, I walked up to him and asked him if he realised what it meant to shoulder the burden of 1 billion (were we those many back then?) expectations and bring that first elusive Oscar home. Inside, I was cringing looking at those kohl-lined eyes. Men were not supposed to be vain, vanity was a woman's prerogative. 15 years later, as I
watched him perform in Dangal
(I had an advance preview of the film three months ago) as the pot-bellied, balding, grey-haired Mahavir Phogat, I had trouble reconciling the two images.
Aamir Khan's Phogat is a strong, rustic man with a bulging tummy and kind eyes. Eyes that portray despair, hopelessness when his wife fails to deliver the son who would have fulfilled his dream of getting the Olympic gold for wrestling. Eyes that light up at the realisation that gold medals don't differentiate between boys and girls. Those eyes plead with the daughter when she rebels, also turn stony and cold as he lets go. Those eyes, don't know if they are kohl-lined this time round, just express like words never could.
I am no fangirl of Aamir Khan, only Shah Rukh Khan invokes that side of me, but my respect/awe for Aamir the actor just grows with every film. He manages so much drama without
dramebaazi
, if that makes any sense or if you know what I mean. I moved from Amitabh Bachchan to Shah Rukh Khan as a cinegoer with a few - very few years - of being a Jackie Shroff junkie in-between. Other than his first film Raakh, which I really liked, I don't remember watching too many Aamir Khan films as a young adult. Unlike the husband,
who watched QSQT
(
Qayamat Se Qayamat Tak
for the ignorant, whoever you are and wherever you be) multiple times, I watched it on a VHS tape at a friend's house and was not impressed with the lead pair. Did go to the theatre to watch
Dil
and felt the same disgust then which I felt last week after AIB's latest video
Harassment Down The Ages
, recreating Dil's hit song
Khambe Jaisi Khadi Hain
. Skipped all his following films, including the much acclaimed
1947 Earth
, till
Dil Chahta Hain
came along. In one song, although it was called
Tanhai
which means solitude, I cried along with Aamir's character, Aakash. Then there was
Lagaan
's Bhuvan,
Mangal Pandey
, Ram Nikumbh in
Taare Zameen Par
, Rancho in
3 Idiots
, Inspector Shekhawat in
Talaash
,
PK
, Mahavir Phogat - there was no ego clash between them and the actor we know as Aamir Khan.
That Aamir shares the
process of becoming that character
with everyone in the run up to the release of his films is just to remind you that it is him. In
Dangal
, even his physical transformation from fat to fit again, doesn't matter to him. At the cost of being a spoiler, I have to share the fact that Aamir's toned eight-pack makeover gets hardly any play time in the movie. Unlike Salman Khan in
Sultan
, Aamir exposes his voluminous middle unbashedly and you don't cringe. He could be anyone's 40-plus
chacha/mama
- the ones we were/are sometimes ashamed of calling our own in front of friends. Despite all the exposing, it's the female actors who form the heart of the film and not once is there an effort to take the limelight away from them. And to me, that is the greatness of the superstar - he just checks in to stay in the background. The
actors playing his daughters are brilliant
- I'm awed by Mukesh Chhabra's casting perfection - and
Sakshi Tanwar aka TV's Parvati is a revelation
. Learned critics will discuss the finer details of the film craft. For me,
Dangal
is Aamir Khan's best till date.
Sonal Joshi is a consultant with NDTV 24x7
Disclaimer: The opinions expressed within this article are the personal opinions of the author. The facts and opinions appearing in the article do not reflect the views of NDTV and NDTV does not assume any responsibility or liability for the same.