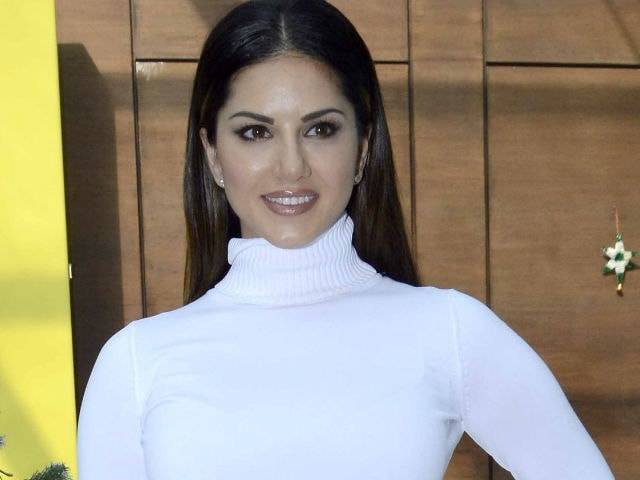 New Delhi:
It's a particularly delicious twist of irony that Sunny Leone is the hottest topic on Twitter today, and if Bhupendra Chaubey, the interviewer responsible for it, is watching and paying attention, hopefully he'll find a lesson in it. Though you shouldn't hold your breath, his
blog
last evening said this: "Ever since the first airing of the interview, I am only seeing positive feedback for her. So Sunny, you did well!" Because a little scoop of condescension was all that was missing after an interview that has been widely pilloried for its smugness, its judgementalism and its utter inappropriateness. "I'm wondering if I'm being morally corrupted because I'm well, I'm interviewing you..." (He wishes. No really. You could tell.) Also, this. "There are many Indian, not just housewives, many Indian married women who look at Sunny Leone as a threat towards their husbands and they believe their husbands are all gonna be taken away by Sunny Leone. " (Some of them probably wish that too.). You think an Aamir Khan would ever work with you? And here, oh sweet sound of justice - Aamir is willing.
Sunny,I wil b happy 2 wrk wid u.I hav absolutely no problems wid ur "past", as the interviewer puts it.Stay https://t.co/jX4V3wULJ8.a.2/2

— Aamir Khan (@aamir_khan) January 20, 2016
It's actually wound up being a turning point for the actress who said in
this
interview to Shekhar Gupta on NDTV that her reception was less than warm when she first moved to Bollywood. "At first, I definitely felt like an elephant in the room, people stare. I remember one of the first award shows that I went to, they wanted to put me on stage with another woman or any actor, they all said 'no'. Someone really nice ended up saying 'yes', they were more open minded." (Also Read:
Yes, Aamir Khan Will Work With Sunny Leone. He Tweeted, She Replied
)
Today, that narrative changes. Here she is with top stars tweeting their support, vocally speaking out for her. Media and social media have been almost unanimous. Not just Aamir Khan - over the last few days everyone one from Farah Khan to Alia Bhatt, from Shahid Kapoor to Anil Kapoor have all tweeted their support and, most critically, their admiration for poise in the face of, well, see para above. That, people, is justice.
Now, we realise that it's not strictly cricket to criticize a colleague and competitor, especially if we're going to compare him to one of our own. But, let's just for a second hold one interview up against the other. Come on. It'll be fun. Won't it? A primer in how it COULD have gone.... Especially since
The Hotseat
and
Walk the Talk
aired on the same night. (Also Read -
Sunny Leone Won't 'Disown' Her Past: Full Transcript of Walk The Talk
)
Shekhar Gupta on her life:
Tell us your story. I know everybody asked you the same question, so I am not asking you five questions. Tell me your story.
(Aside: See gentle, non-judgmental, easy going and curious.)
Bhupendra Chaubey on her life:
By and large it seems the world - at this point in time - seems to be celebrating the success, y'know, that you've got. So I thought I'll begin this interview by asking you, tell me one thing that you regret, one thing which you believe that went wrong for you.
(Aside: and the tone is set..... )
Bhupendra Chaubey on people's perceptions:
I am told that Kapil Sharma, the host of
Comedy Nights With Kapil
, at one point of time had said that he wasn't comfortable shooting with you because he thought that he had family audiences and Sunny Leone did not fit into the description of family audiences. Is this true?
Sunny Leone:
I have no idea because I've been on his show multiple times. I'm happy that I got to be a part of his show. I'm sure if he had an issue… I wouldn't be on his show multiple times.
Aside: this was followed by the Aamir volley, but as established, that worked out nicely!)
Shekhar Gupta on people's perceptions:
So you're a person behind many persons. Are you judged often?
Sunny Leone:
I think when you pull yourself in front of the camera, you're judged every day. No matter what.
Shekhar Gupta:
No, not just about you're performance on the camera. Judged in terms of your life and what you've been doing.
Sunny Leone:
Yes, of course.
Shekhar Gupta:
This is a very judgmental society.
Sunny Leone:
But it's a judgmental society anywhere you go.
(Aside: I like her. Don't you like her?)
Bhupendra Chaubey on her career in porn and porn in India:
Your identity remains... that.. uh... of your past, which is your association with pornography and porn stuff. People believe that you're actually not an actor, that you're *still* not an actor and you're doing nothing else but... some are accusing you of literally lowering the level of the fine art of cinema. You believe that... is that a just criticism?
(Aside: Nothing to be added here. Stuff pretty much speaks for itself. )
Shekhar Gupta on her career in porn:
Is it entertainment, is it notoriety?
Sunny Leone:
What do you mean by notoriety?
Shekhar Gupta:
Notoriety of your past which you haven't disowned, which is a wonderful thing.
Shekhar Gupta:
So you said earlier in our conversation, that nobody was forcing you to do anything. So, you don't have a sob story from your past.
Sunny Leone:
No, I don't. I don't have a sob story. I wasn't hurt, I wasn't raped, I wasn't molested. I wasn't treated badly growing up as a child.
(Aside: Acknowledging her agency because that's the only way to do it)
And while there's more, really, if you think about it, the moral is no one likes a bully, no matter what guise we wear while doing it. So well did Sunny Leone acquit herself that even the moral police have stayed strangely silent through all of this. Barely a peep out of them. And that's saying something.
Aneesha Baig is NDTV's Lifestyle Editor and Anchor, Will Travel For Food
Disclaimer: The opinions expressed within this article are the personal opinions of the author. The facts and opinions appearing in the article do not reflect the views of NDTV and NDTV does not assume any responsibility or liability for the same.