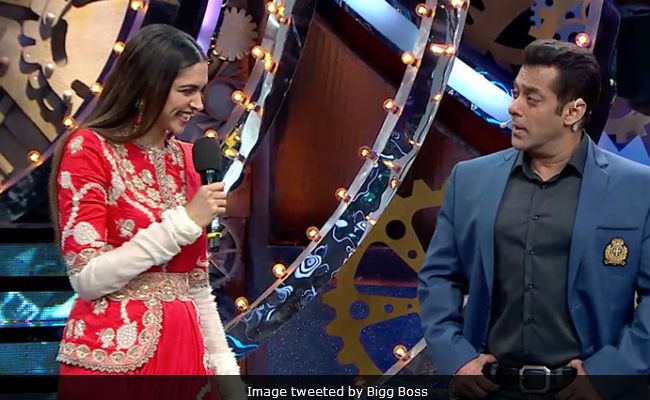 Highlights
Deepika Padukone was a special guest on Bigg Boss 11
Deepika clarified about her romantic scenes with Ranveer in Padmavati
Deepika features as Rani Padmini in the film
New Delhi:
Actress Deepika Padukone, Sunday night's special guest
on the Salman Khan-hosted episode of reality show
Bigg Boss 11
, grabbed the opportunity to set the record absolutely straight on her new and beleaguered film
Padmavati
. Critics of the film have expressed (rather violently) concern that
Padmavati
wrongly attributes a romantic relationship between Rani Padmini, played by Deepika, and Sultan Alauddin Khilji, played by Ranveer - legend says that Padmini committed jauhar or self-immolation to escape the invading Khilji. In response to a question from Salman, Deepika said on
Bigg Boss 11
, "It is strange because we (she and Ranveer) are there in the movie, but have not worked together as there are no scenes."
Watch Deepika on
Bigg Boss 11
here:
Deepika's comment reiterates what
Padmavati
director Sanjay Leela Bhansali has repeatedly said. It is, however, unlikely to pacify those opposing
Padmavati
, which has been postponed indefinitely from its scheduled release date of December 1. The Censor Board last week rejected the film's application for certification on the grounds that it was 'incomplete.'
Salman Khan, star of Mr Bhansali's previous films
Khamoshi
and
Hum Dil De Chuke Sanam
, has already backed
Padmavati
earlier, saying that the director's films never have 'vulgar and disgusting content' and that he 'cannot portray anyone in a bad light.'
Amarinder Singh and Shivraj Singh Chouhan, chief ministers of Punjab and Madhya Pradesh, have lately added their voices to the protests against
Padmavati
, which has been the focal point of controversy ever since a fringe Rajput group called Karni Sena attacked the film's set and assaulted Sanjay Leela Bhansali when they were shooting in Jaipur in January.
Actor Shahid Kapoor, who plays Rani Padmini's husband
Rawal Ratan Singh of Chittor, told news agency ANI today, "I don't think there is anything in the film that is unacceptable or not in good taste. Eventually,
Padmavati
will come out in full force."
Shahid is a new addition to the team of Deepika Padukone, Ranveer Singh and Sanjay Leela Bhansali who previously collaborated on
Ram-Leela
and
Bajirao Mastani
.