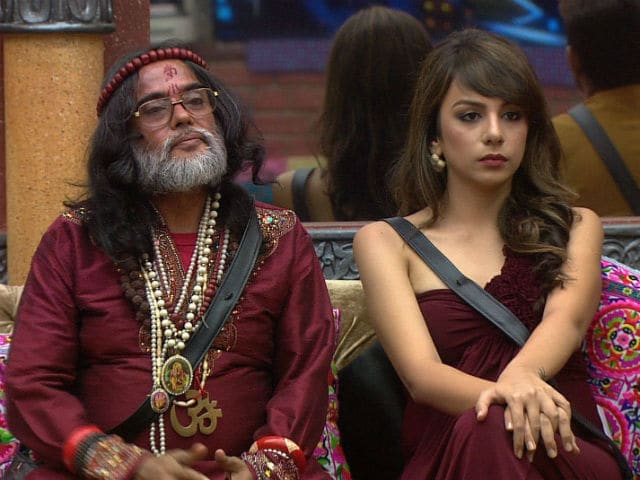 Highlights
During the luxury task Nitibha and Swami Om get into an ugly spat
Swami Om threatens to slap Nitibha
Lopa and Manu have been given a secret task to steal gold
New Delhi:
Bigg Boss 10
is a mine of controversies and seems like
Swami Om is the biggest dynamite
of them all. In the new episode which will air on November 23, Bigg Boss gives a luxury task to the 10 contestants-Manu Punjabi, Monalisa, Rohan Mehra, VJ Bani, Gaurav Chopra, Manveer Gurjar, Rahul Dev, Lopa Mudra Raut, Swami Om, Nitibha Kaul. The Bigg Boss house turns into a gold mine where captain Rohan is the business man and the rest are workers. The workers have to find gold from the mine, put it in a test tube and give it to Rohan in his office. And if Rohan is able to generate enough gold he could retain captaincy for another week.
The race to captaincy has begun but a big twist is on its way! What do you think it is? #BB10pic.twitter.com/vPC5earLfj

— Bigg Boss (@BiggBoss) November 23, 2016
But it is Swami Om and Nitibha who catch your attention in today's episode. In yesterday's viral video contest, Team Lopa won which made all the team mates- Swami Om, Manu, Monalisa, Rohan and Lopa safe from this week's elimination.
In today's episode, Swami Om is seen trying to find gold in the mine when Nitibha cautions him that he could land into jail because of his antics. Now we don't know what prompted Nitibha to make such a comment but since Swami Om is not the kind who would take anything lying low, he in turn warns Nitibha not to poke him since she is nominated. This irritates Nitibha and she asks Swami Om if he is trying to threaten her. Swami Om says, 'Yes. I am'. He further threatens her and says, 'You know what I have done on Television'.
For the uninitiated, Swami Om gained notoriety when he lost his temper during a talk show on a news channel and slapped astrologer Deepa Sharma.
This infuriates Nitibha and they get into an ugly spat.
The realty TV show's twitter handle posted a teaser on Thursday morning:
#NitibhaKaul accuses #OmSwami of threatening her! Tune in tonight at 10:30PM to watch the drama unfold! #BB10https://t.co/1c7sekwkoo

— Bigg Boss (@BiggBoss) November 23, 2016
In another development,
Bigg Boss calls Lopa
to confession room and gives her and Manu a secret task. The duo has to steal half of the gold from the mine. Lopa and Manu discuss and device a plan.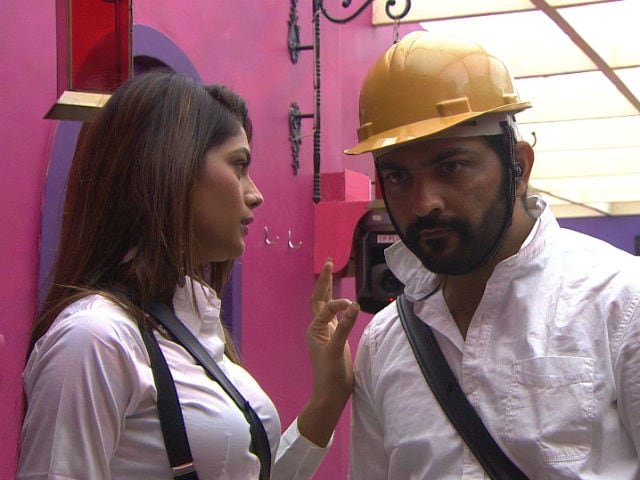 Lopa tries to lay her hands on the jewels collected but Rohan gets a hint. He warns Lopa to stay away. Rohan even tells Lopa that he would not tolerate being cheated even if it's a secret task. Lopa still tries her best while Rohan sleeps
As a part of secret task, @lopa9999 tries her best to steal the gold! Will she succeed? #BB10pic.twitter.com/elUbIoa28s

— Bigg Boss (@BiggBoss) November 23, 2016
Manu, on the other hand,
gets Monalisa
and Maveer Gurjar on his team to steal the gold.
#ManuPunjabi, #ManveerGurjar & @MonalisaAntara discuss their master plan of robbing the gold mine in the kitchen! Will they succeed? #BB10pic.twitter.com/v8hM8Y3QlU

— Bigg Boss (@BiggBoss) November 23, 2016
Will Lopa and Manu win their secret task? Will Rohan and Lopa's friendship get affected due to the task. Most importantly, will Swami Om lose his temper again? Find out in tonight's show.