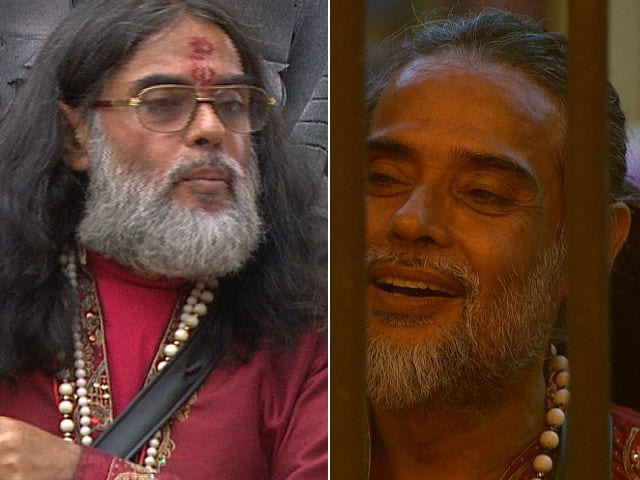 Highlights
Lopamudra Raut was Swami Om's stylist
Manveer and Manu convinced Swami Om for the makeover
He now sports a trimmed beard and sleek hairdo
New Delhi:
Bigg Boss 10
contestant Swami Om may not have transformed his arbitrary and unwanted habit of moral policing, which
irked the contestants
, Bigg Boss and weekend show host Salman Khan last week, but there's definitely a change in the self-styled godman. Swami Om let Lopamudra Raut give him a makeover after a funny turn of events. Swami Om, after the
episode which aired on November 28
, sports a trimmed beard and sleek hairdo, which definitely gives him a clean look. Swami Om initially looked reluctant to show his new look to the housemates but then he was completely at ease.
Let us know what you think about #OmSwami's makeover in replies below. #BB10pic.twitter.com/QC0i00JQkl

- Bigg Boss (@BiggBoss) November 28, 2016
After Swami Om ate egg
bhurji
contestants asked him how is it that he's going against his words to which he replied saying he ate it by mistake but since he ate once, he'd continue eating egg while participating in the show and ask for forgiveness later. Manu Punjabi and Manveer Gurrjar find Swami Om's convenience theory pretty amusing and ask him to get rid of his unkempt beard and hair too. Swami Om agrees and Lopamudra takes charge as stylist.
Lopamudra, who until now has stayed clear from Swami Om's misogynistic remarks like Monalisa and Nitibha Kaul, turned his stylist. She trimmed Swami Om's beard and hair and then tied his hair in a ponytail giving him a sleek look.
.@lopa9999 does #OmSwami's makeover and you can't afford to miss it! #BB10pic.twitter.com/V0dYo0oQdp

- Bigg Boss (@BiggBoss) November 28, 2016
Swami Om is infamous for his unwanted moral policing and misogynistic remarks aimed at other contestants. He called Monalisa his
premika
and later questioned her character due to her closeness to Manu and Manveer. Next he created quite a scene when he threatened to slap Nitibha and said she wore "short clothes to look attractive." Last week, Swami Om dragged Rohan's family in an argument slandering his upbringing and moral values. All these incidents outraged the housemates who even boycotted Swami Om. Bigg Boss also had a
one-on-one conversation warning Swami Om
to keep a check on his temper and behaviour. Weekend episode host
Salman Khan tried to reason with Swami Om
but ended walking off after Swami Om paid no heed.
Meanwhile, contestants are currently fighting four wild card entries
Priyanka Jagga, who was the first contestant to be eliminated
from the reality show, international supermodel Jason Shah, Russian model-actor Elena Kazan and Indian actor Sahil Anand, also MTV Roadies alumna. Bigg Boss recently set-up a task called 'The Dome' wherein the contestants were required to remain inside the aired domes for as long as required - whoever came out first lost and was subsequently nominated. The wild card entries were asked to challenge any four of five nominated candidates to secure a place inside the house.
Elena challenged Nitibha Kaul saying she doesn't know anything about her while Sahil wanted to compete with Rahul Dev as he thinks he can be more entertaining than him on the show. Priyanka chose VJ Bani saying it'll be fun to compete with a strong candidate while Jason named Gaurav, leaving Manveer safe in this week's elimination. Rahul Dev and VJ Bani make way for the wild card entries Sahil and Priyanka while Nitibha and Gaurav reclaim their positions. Elena and Jason are therefore nominated.
Bigg Boss is currently hosting 14 contestants - Swami Om, Nitibha Kaul, Gaurav Chopra, Monalisa, Manveer Gurjar, Manu Punjabi, Priyanka Jagga, Rohan Mehra, Sahil Anand and Lopamudra Raut, who are safe from this week's elimination process and VJ Bani, Rahul Dev, Jason Shah and Elena Kazan, who are nominated for the elimination process.