Highlights
VJ Bani, Gaurav Chopra, Rahul Dev were punished for speaking English
'Bigg Boss should forbid people from profanity,' read a tweet
'What comedy is going in name of task,' tweeted another
New Delhi:
Talking, walking, laughing English will do nobody any good in the
Bigg Boss
house because Bigg Boss utterly, utterly frowns on
angrezi
-speaking and just punished three contestants for breaking this rule.
Day 18 ended with VJ Bani, Gaurav Chopra and Rahul Dev being handed a task
that kept them up all night
for speaking in English. As per usual, it ended in drama and tears (Bani's) and today, a day later, Twitter has much to say about this linguistic recalcitrance.
A lone user suggests that it wasn't English that offends but the foul language used:
Rather than english hindi rules @biggboss should forbid people from profanity #BB10#Biggboss10

— Purvi (@Quirky_Purvi) November 4, 2016
Bani, who appears to be fairly unpopular, has been singled out for scorn:
#BB10 Bigg Boss punished Bani for speaking English ; still she is not relenting and speaking the same language..This kind of behaviour is

— Sidarth Pratap Singh (@sidtweets_) November 4, 2016
Gaurav was resting on bed while the punishment and bani was still speaking english.. What comedy is going in name of task #bb10@BiggBoss

— Pooh (@iPGaur) November 4, 2016
The amount English Bani is speaking while doing her punishment - thy should have turned the sirens on right then #BB10

— Bigg Boss 10 USA (@BigBoss10USA) November 4, 2016
But not everyone is against her:
Arey yaar @BiggBoss .. everyone speaks English in the house! Not only these three. Bani is still wounded and you have no humanity. #bb10

— Jheshna KS (@jheshnaks) November 3, 2016
Lopa speaks in English a lot too! #BB10

— Bigg Boss 10 USA (@BigBoss10USA) November 4, 2016
Bani's misdemeanours aren't the only topic of discussion online. Two other contestants - Lopamudra Raut and Mona Lisa - went for a swim in the pool which, apparently, stopped both
the Bigg Boss house as well as Twitter
in its tracks.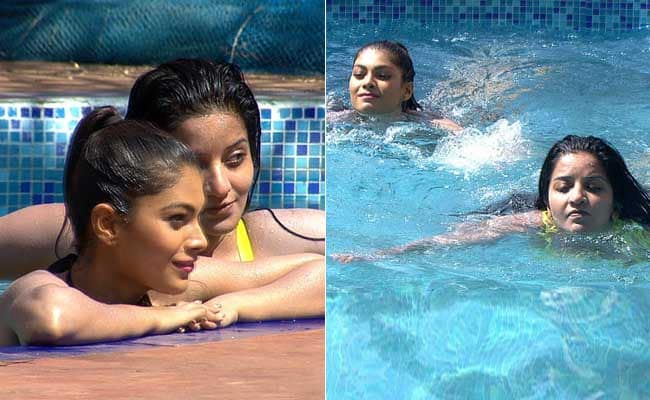 Among some tweets from those easily shocked was this person outraging over Swami Omji's gawking at the two swimsuit-clad women:
Baba!!!!!! I dnt even find him funny...he is plain gross..shamelessly ogling at lopa n mona swim in the pool @BiggBoss#BiggBoss10

— Apoorva (@Apoorva_Says) November 4, 2016
At least someone other than us is outraged.
Bigg Boss
, the Indian version of the international reality show, is now in its tenth season and is hosted by actor Salman Khan. This is the first year that non-celebrity contestants are in the house.
Australian TV personality of
Indian-origin Priya Malik told NDTV
, "I feel that
Bigg Boss
in India is way more dramatized and is driven more towards entertainment." Priya has been on both
Bigg Boss
and
Big Brother Australia
and is rooting for VJ Bani.