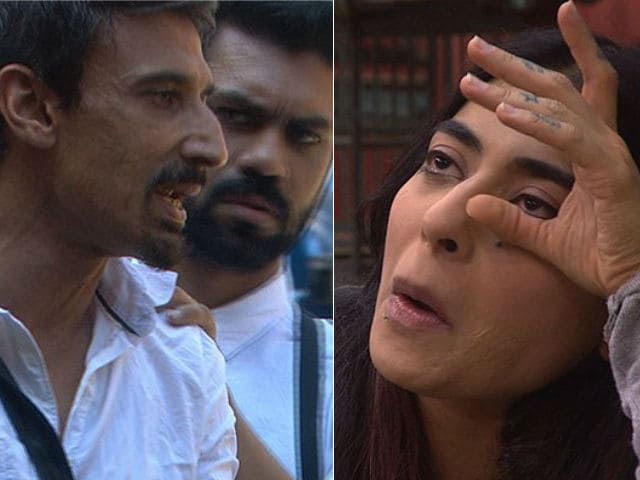 Highlights
Swami Om accused Rahul Dev of stealing gold which started the fight
Bani got into a scuffle with Monalisa, Nitibha Kaul and Swami Om
Rohan Mehra retained his captaincy for another week
New Delhi:
Almost six weeks into the show,
Bigg Boss 10
has finally started taking a toll on celebrities who have remained calm or have shown immense strength of character. In most of the cases, Swami Om seems to be the trigger. In the episode which aired on November 24, contestants Rahul Dev, who has enjoyed the least controversial journey away from major feuds, lost his cool when
Swami Om accused him of stealing gold
, in the
Bigg Boss
Gold Mine task, the luxury budget task of the week. Meanwhile, after a scuffle with Swami Om, Monalisa and Nitibha Kaul, VJ Bani went on a complete emotional tangent, something which the audience had never witnesses before.
Swami Om was acting difficult in last night's episode when it came sharing work load, performing tasks or even basic courtesy (well, most of us have given up here). Captain Rohan, also the '
malik
' of the mine, asked everyone to turn out their pockets to see if anyone's taken gold from the mine or not. While Rahul Dev was being checked, Swami Om quite unnecessarily says that he's hidden gold elsewhere at which the actor lashes out at the self-styled godman and accuses him in turn. Turns out Rahul's accusations were true and Swami Om did have a piece of gold with him. When Rohan asked him to return that, Swami Om refused and said that he found this inside the house and hasn't taken it from the mine directly. No one believed him.
#OmSwami tries to provoke the calm & cool @rahuldevrising and succeeds!
Entire #BB10#video scoop here! https://t.co/33kKKJzVuZ

— Bigg Boss (@BiggBoss) November 24, 2016
Meanwhile, it wasn't a good day for VJ Bani in the house. Bani, who is assigned to cook food, complained when she found the utensils in sink and asked everyone to wash their dishes after their meal. Monalisa in particular took offense and predictably they were at no loss of words and exchanged morning (un)pleasantries. After Monalisa, Bani had a fught with NItibha Kaul and finally with Swami Om. In a segment Bigg Boss' cameras captured Bani crying looking at pictures hidden by her jacket. She later refused to join Gaurav Chopra and Rahul (her friends, so to say) for dinner and stayed aloof.
.@bani_j tells Bigg Boss that she Is not having fun anymore in #BB10 house! pic.twitter.com/bGS7z0hnet

— Bigg Boss (@BiggBoss) November 24, 2016
Towards the end, Bigg Boss also announced the end of the luxury budget task and lauded Rohan for his performance. Meanwhile Lopamudra and Manu Punjabi, who had a secret task to steal half of the gold collected by Rohan, were rebuked for their abysmal performance. Bigg Boss said that they failed miserably at the task and couldn't even keep it a secret from the others. At this point Manu says that he had no idea for the longest time that he was not supposed to tell this to anyone and that Lopamudra never shared the details with him until last night and by that time he had confided in some of his friends.
Due to his excellent performance in the luxury budget task,
Rohan retained his captaincy
for another week.
Currently, Bigg Boss houses 10 participants divided in two teams - Celebs and Indiawale. Rahul Dev, Gaurav Chopra, Lopamudra Raut, Rohan Mehra, Monalisa and VJ Bani make up team celebs while Manu Punjabi, Manveer Gurjar, Nitibha Kaul and Swami Om make team Indiawale.
Meanwhile, Priyanka Jagga, who was eliminated in the first week, will re-enter the house with a new strategy. She will re-join team Indiawale. International supermodel Jason Shah, Russian model-actor Elena Kazan and Indian actor Sahil Anand will strengthen team celebs. Sahil is also VJ Bani's competitor form
MTV Roadies
days.