New Delhi:
Even a celebrity has to have serious body confidence to wear this dress, to the Met Gala or anywhere else. Uber-celeb Beyonce showed up at the annual Costume Institute Gala, or the Met Ball, in New York on Monday night in the sheerest of dresses, little more than beaded floral embellishments held together with sequins.
Here's a good look at what Bey was passing off as a dress. She certainly wasn't shy about posing in it.
The dress was created by Givenchy. It didn't look any less revealing in black and white.
The 33-year-old singer was accompanied to the Met Gala by her rapper husband Jay-Z, who was clearly outshone by his wife and knew it.
A Met Gala drama with Beyonce as its centerpiece appears to have become a tradition of sorts. Almost every year, Bey shows up in a dress that gets progressively more revealing. Last year, a post-Gala fight broke out between Beyonce's sister Solange and Jay-Z in a hotel elevator.
Meanwhile, more red carpet drama (in a good way) was provided this year by Rihanna, fully-clad in a showstopping yellow Chinese gown with a planet-sized train.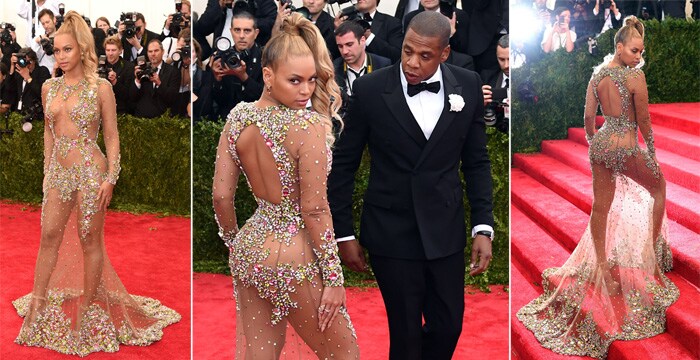 Other celebrity attendees at the Met Gala included the Clooneys, Sarah Jessica Parker, Kim Kardashian and Kanye West, Jennifer Lopez and Madonna.