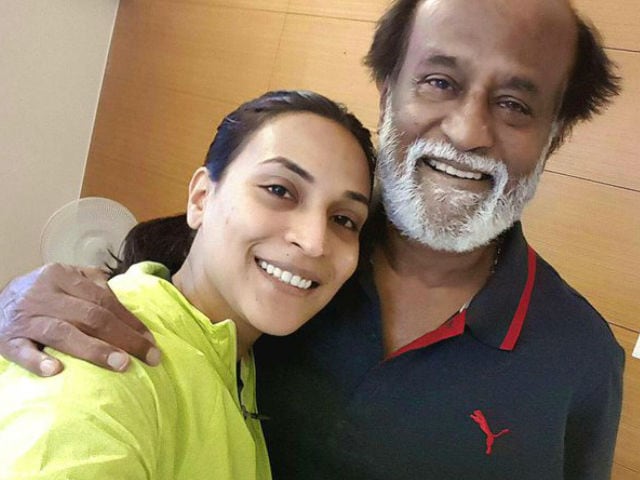 Highlights
Aishwaryaa wants to release her memoir on her Rajinikanth's birthday
She's an introvert and not the socialising type people expect her to be
Aishwaryaa, director of 3, wants to 'make a name for myself'
New Delhi:
Being superstar Rajiniknath's daughter - was it usual or unusual, normal or abnormal?
Aishwaryaa R Dhanush is all set to spill the beans
in her upcoming memoir
titled
Standing On An Apple Box
which she hopes to release on her father's birthday on December 12. In an interview to the
Times of India
, Aishwaryaa talked about how her book will break the 'myths' surrounding their lives.
"My growing up years were very simple and as conventional as others. My memoir touches upon all the aspects of my life. People may be interested in knowing what it would take to be Rajini's daughter. Was it usual or unusual, normal or abnormal? I thought I will break all the myths surrounding our lives,'" she said.
That feeling within ....before shows begin #KabaliFeeling#NoWordsToExpresspic.twitter.com/GZ7oYCcFMF

— Aishwaryaa.R.Dhanush (@ash_r_dhanush) July 21, 2016
Aishwaryaa also said that she's not the extrovert people expect her to be, instead she's an introvert. "When I was 18, I told my dad that I want to visit a discotheque and he made it happen. One might think I don't need permission as we are all branded as pampered and spoiled but it's quite the contrary. I do not take off to Bali or Cambodia with friends. I am an introvert and like to be in my comfort zone," Aishwaryaa told
TOI
.
Aishwaryaa, who is
married to Tamil superstar Dhanush
, says she may be surrounded by 'overshadowing and overpowering people,' but she wants to 'stand out' due to her perseverance. Last month, she was appointed UN Women's Advocate for Gender Equality and Women's Empowerment in India.
Blessings...Blessed pic.twitter.com/VGbP4PCJMt

— Dhanush (@dhanushkraja) July 28, 2016
"There is a purpose to everyone's life. Since I am Rajini's daughter and Dhanush's wife, people may think why she is even bothered to work hard. But
I want to stand out, make a name for myself
. I have been surrounded by overshadowing and overpowering people. I do not want to shop and spend the rest of my life partying. Trivialities of life do not give me any pleasure. Actually, through the book I have explained how I have learned from my mistakes," Aishwaryaa told
TOI
.
"This is the time to look back and celebrate how far we have come on #genderequality"@ash_r_dhanush#Planet5050pic.twitter.com/AEenBolUIU

— UN Women India (@unwomenindia) August 29, 2016
Aishwaryaa, first time author, has written and directed Tamil films
3
and
Vai Raja Vai
. Her debut film
3
, a psychological thriller
featured her husband in lead role
. "Screenplay writing is fiction, suited for movie audiences but a book like this one needs to be a truth teller," she said.
"I have experienced writer's block as well and since I was travelling with my dad to the US, I had to stop and restart. Some days writing flows like a stream and there are times I get stuck. I am planning to release the book on my dad's birthday, December 12, so fingers crossed. I am actually racing against my deadline," she added.
Aishwaryaa and Dhanush are parents to six-year-old Yatra and two-year-old Linga.
One a king n the other a rockstar !!!! On our way to their annual school day #sonspic.twitter.com/pQevEnpO4M

— Aishwaryaa.R.Dhanush (@ash_r_dhanush) August 31, 2016
Aishwaryaa is Rajinikanth and Latha's elder daughter. Her sister Soundarya recently announced separation with her industrialist husband R Ashwin and would initiate the process for divorce soon. Soundarya and Ashwin have a son named Ved, who was born last year.
When a Tuesday felt like a Saturday night.with the birthday girl @soundaryaarajni last night .God bless you ! #sisterspic.twitter.com/i97Y3x2uiK

— Aishwaryaa.R.Dhanush (@ash_r_dhanush) September 21, 2016