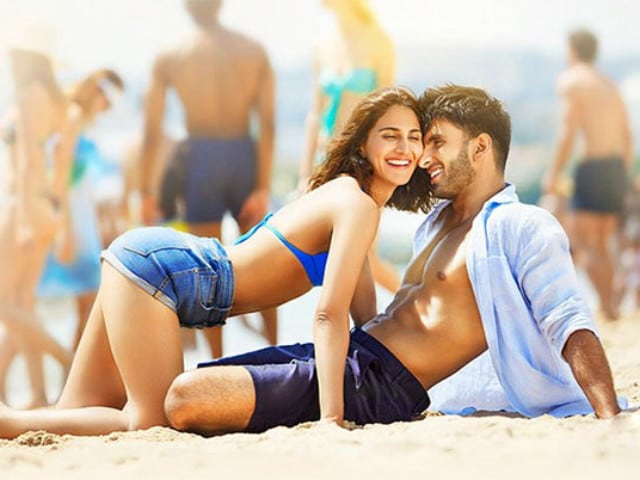 Mumbai:
Believe it or not! Censor Board chief Pahlaj Nihalani has let Bollywood actor
Ranveer Singh's butt-naked shot
in
Befikre
stay, but has deleted
kissing scenes
featuring gay couples in the film.
The kissing scenes in question are from
Befikre
song titled
Labon Ka Karobaar
, a track that celebrates diversity.
The official video of the song, which was released online, shows at least two gay couples kissing.
You can watch the song here:
The scenes of the gay couples kissing, however, have been removed from the film which released on December 9.
In an interview to
The Quint
, Pahlaj Nihalani admitted that he got the kissing scenes featuring gay couples deleted.
Pahlaj Nihalani said, "Yes, we have removed the gay kiss from the first song in
Befikre
. The whole song is about various couples of different ages kissing all over Paris. We felt the gay kiss would not be acceptable to all the viewers."
Apparently, the Censor Board chief discussed the removal of the gay kisses from the song's theatrical version with director Aditya Chopra, who raised no objection at all.
Meanwhile, in an interview to
DNA
, Pahlaj Nihalani defended Ranveer Singh's butt-naked shot in
Befikre
.
The CBFC head said, "We shortened Ranveer Singh's butt shot quite a lot (in
Befikre
). Right now it's just a glimpse, no more. What's wrong with it? He is alone with his girlfriend in a room. They are doing what couples do when they are alone. Why is a butt shot objectionable? We've allowed butt shots in some recent Hollywood films. Also in Madhur Bhandarkar's
Jail
."
Nihalani also defended
Befikre
smooching scenes and said, "See, unlike
Ae Dil Hai Mushkil
,
Spectre
or
Tamasha
where the kisses were done in lengthy shots, in
Befikre
the kisses are scattered and largely fleeting and all over the place. They are part of the narration. As a filmmaker, I know what can be cut without hampering the flow of the narrative. In
Befikre
there is no way we could cut the kisses without interrupting the flow of the story. Aditya Chopra has treated the kisses
as part of the story
. If we removed the kisses we'd be hampering the storytelling."
Nihalani added that the kisses were curtailed where they could. "We've cut all the close-ups of the kisses and the climactic kiss has been reduced by 50 per cent. The rest we couldn't cut for apprehension of being accused of creative interference," he told the newspaper.
What are your thoughts on the Censor Board's decision? Tell us in the comments below!
(This story has not been edited by NDTV staff and is auto-generated from a syndicated feed.)