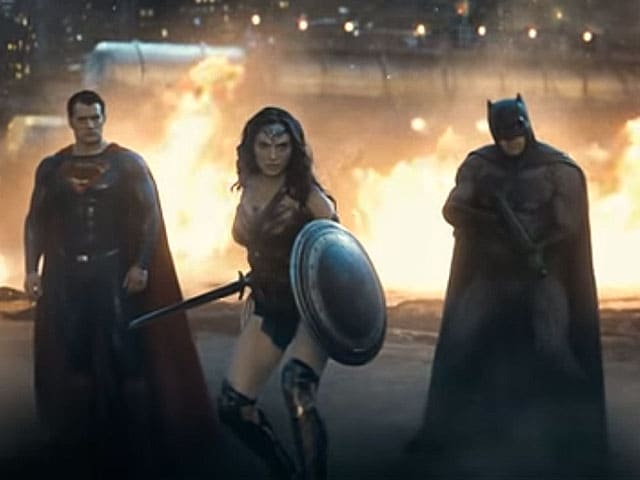 New Delhi:
Director Zack Snyder's DC Comics superhero Trinity - Superman, Batman and Wonder Woman - come together for the first time in the latest trailer of
Batman v Superman: Dawn of Justice
, the sequel to 2013's
Man of Steel
starring Henry Cavill. The trailer was introduced by the film's lead actor Ben Affleck on the show Jimmy Kimmel Live on Wednesday.
While the first look had only one scene in the end which showed the two superheroes facing off, the second trailer shows plenty of fight sequences between the two, ending with "the greatest gladiator match in the history of the world," engineered by Jesse Eisenberg's Lex Luthor. Wonder Woman, played by Gal Gadot is shown on the battlefield in the final scene. "Is she with you?" asks Henry Cavill's's Superman. "I thought she was with you," an intrigued Batman replies.
The three-minute long clip begins with Batman/Bruce Wayne meeting Superman/Clark Kent at a Gotham party. And it's not very pleasant. "Civil liberties are being trampled on in your city, people living in fear," Clark Kent tells Bruce Wayne. "The Daily Planet criticising those who think they are above the law - a little hypocritical wouldn't you say?" Bruce Wayne retorts.
The film also features Jeremy Irons as Alfred, Amy Adams as Lois Lane, Laurence Fishburne as Perry White and Holly Hunter as Senator Finch. It will hit theatres in March, 2016.
Watch