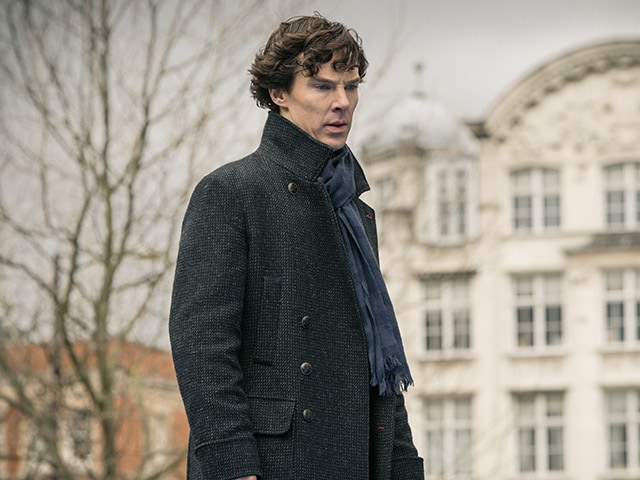 Mumbai:
There are few who have played the eccentric sleuth from 221B Baker Street better than Benedict Cumberbatch. And now, the 38-year-old British actor has been nominated for the third time for his portrayal of Sherlock Holmes in as many seasons for the BAFTA TV Awards.
Only nine episodes have been produced so far. Each episode, with 90-minute duration, is almost as long as a feature film. The first of the three seasons were broadcast in 2010. Season two was broadcast in 2012 and a third season was broadcast in 2014. This third season became UK's most watched drama series since 2001.
Benedict, of course, isn't alone. His competition this time includes Toby Jones who is nominated for his portrayal of a man with learning difficulties in
Marvellous
, and James Nesbitt, shortlisted for his work in BBC One's
The Missing
.
The nominations were announced today by actor Freddie Fox and Benedict's Sherlock co-star Amanda Abbington. The awards will be held at the Theatre Royal Drury Lane in London on April 26.
Complete List of Nominations: LEADING ACTOR
Benedict Cumberbatch -
Sherlock
Toby Jones -
Marvellous
James Nesbitt -
The Missing
Jason Watkins -
The Lost Honour Of Christopher Jeff
LEADING ACTRESS
Georgina Campbell -
Murdered By My Boyfriend
Keeley Hawes -
Line Of Duty
Sarah Lancashire -
Happy Valley
Sheridan Smith -
Cilla
SUPPORTING ACTOR
Adeel Akhtar -
Utopia
James Norton -
Happy Valley
Stephen Rea -
The Honourable Woman
Ken Stott -
The Missing
SUPPORTING ACTRESS
Gemma Jones -
Marvellous
Vicky Mcclure -
Line Of Duty
Amanda Redman -
Tommy Cooper: Not Like That, Like This
Charlotte Spencer -
Glue
ENTERTAINMENT PERFORMANCE
Ant And Dec -
Ant And Dec's Saturday Night Takeaway
Leigh Francis -
Celebrity Juice
Graham Norton -
The Graham Norton Show
Claudia Winkleman -
Strictly Come Dancing
FEMALE PERFORMANCE IN A COMEDY PROGRAMME
Olivia Colman -
Rev.
Tamsin Greig -
Episodes
Jessica Hynes -
W1A
Catherine Tate -
Catherine Tate's Nan
MALE PERFORMANCE IN A COMEDY PROGRAMME
Matt Berry -
Toast Of London
Hugh Bonneville -
W1A
Tom Hollander -
Rev.
Brendan O'Carroll -
Mrs Brown's Boys Christmas Special
SINGLE DRAMA
A Poet In New York CommonMarvellous Murdered By My BoyfriendMini
SERIES
CillaThe Lost Honour Of Christopher JefferiesOur World WarPrey
DRAMA SERIES
Happy ValleyLine Of DutyThe MissingPeaky Blinders
SOAP & CONTINUING DRAMA
CasualtyCoronation StreetEastendersHollyoaks
INTERNATIONAL
The Good WifeHouse Of CardsOrange Is The New BlackTrue Detective
FACTUAL SERIES
15,000 Kids And CountingEducating The East EndLife And Death RowProtecting Our Parents
SPECIALIST FACTUAL
David Attenborough's Conquest Of The Skies 3dGrayson Perry: Who Are You? The Great War: The People's StoryOur Gay Wedding: The Musical
SINGLE DOCUMENTARY
Baby P: The Untold StoryChildren Of SyriaThe Miners Strike And MeThe Paedophile Hunter
FEATURES
George Clarke's Amazing SpacesGrand DesignsThe Great British Bake OffLong Lost Family
REALITY & CONSTRUCTED FACTUAL
The ApprenticeI'm A Celebrity...Get Me Out Of Here! The Island With Bear GryllsThe Undateables
CURRENT AFFAIRS
Children On The Frontline (Dispatches) Ebola Frontline (Panorama) Inside Kenya's Death Squads (Al Jazeera Investigates) Terror At The Mall (This World)
NEWS COVERAGE
BBC News At Ten
Channel 4 News - Inside Gaza: Children Under Fire
ITV News At Ten: Iraq Crisis
SKY News Live At Five: Ebola
SPORT & LIVE EVENT
2014 Fa Cup Semi Final Hull City V Sheffield United
Monty Python (Mostly) Live: One Down, Five To Go
Tour De France, 2014, Stage 1
Ww1 Remembered - From The Battlefield & Westminster Abbey
ENTERTAINMENT PROGRAMME
Ant And Dec's Saturday Night TakeawayDynamo: Magician ImpossibleStrictly Come DancingThe Voice
COMEDY AND COMEDY ENTERTAINMENT PROGRAMME
Charlie Brooker's Weekly WipeThe Graham Norton ShowStewart Lee's Comedy VehicleWould I Lie To You
SCRIPTED COMEDY
DetectoristsHarry & Paul's Story Of The TwosMoone BoyThe Wrong Mans
RADIO TIMES AUDIENCE AWARD (Voted For By Members Of The Public)
CillaEastendersGame Of ThronesThe Great British Bake OffThe MissingSherlockStrictly Come Dancing